Additive Manufacturing for Aerospace, Defence & Space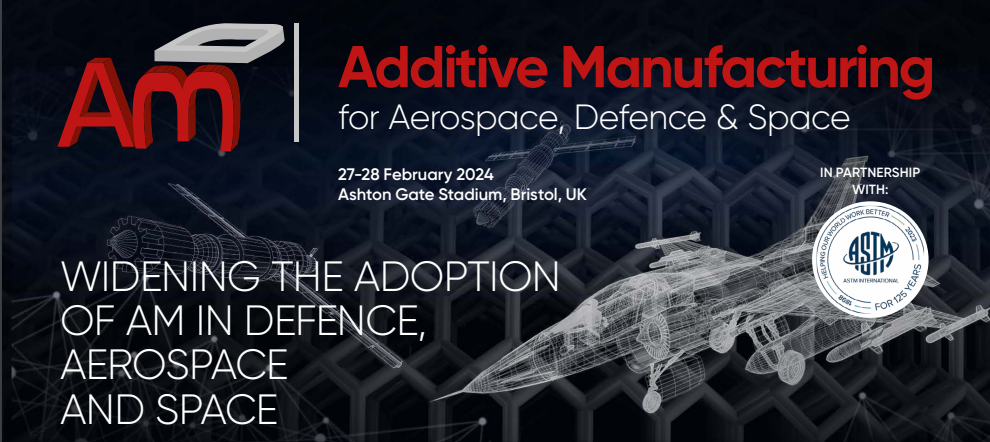 The 10th Additive Manufacturing for Aerospace, Defence & Space will take place in Bristol, in February 2024. Join to gain world-class expertise from leaders within the West of England's aerospace, advanced engineering and digital manufacturing hub, including DE&S, GKN Aerospace, and Babcock. As the UK's largest aerospace cluster, with more AM users from the defence and space community, Bristol is the optimal location to bring all the stakeholders from the Advanced Manufacturing and 3D Printing ecosystem together to address the current challenges, including:
Promotion of sustainability in additive manufacturing processes
Digitisation of AM processes
Procurement issues in deploying additive manufacturing solutions
Leveraging emerging AM technologies in process monitoring to maximise quality
The testing and qualification of structures built with additively-designed materials
Post-production quality assurance ensuring that materials are checked in a way that is cost-effective
NEW for 2024:
More interactive sessions panel discussions and roundtable discussions to explore the key issues in the adoption of AM. Allowing the creation of tangible solutions that suit different sectors without the sharing of intellectual property
Innovative academic perspectives from leading engineering universities and AM users from commercial sectors such as automotive and healthcare
Pre-event site visit to GKN Aerospace Global Technology Centre where you will have a guided tour and see live demonstrations of the factory floor, powder rooms  and the 3D printers used to support wider aerospace projects.
Pre-event short-course dedicated to implementing Additive Manufacturing for critical applications.
Conference workshops on enabling digital integration to support AM projects, Integrating autonomous systems into Additive Manufacturing and Changing Procurement Cultures to Speed Up the Adoption of AM.
Exclusively to the 2024 conference, we will welcome new perspectives from Dr Prabhjot Singh, Director, Additive Manufacturing at RTX, Lieutenant Colonel Ramon Macias, Project Coordinator (Materiel Management) at NATO Allied Command Transformation and Fernando Lartategui, Associate Technical Fellow in ALM at ITP Aero.
The pre-event short course will provide attendees with an update on global trends and standardisation. It will also explore challenges for structural Integrity in Additive Manufacturing and overcoming barriers to the implementation of AM in a highly-regulated industry. This will focus on the implementation of Additive Manufacturing for Critical Applications, which has direct relevance to Aerospace and Defense organizations. Additive Manufacturing Engineers, Structural Integrity Engineers, and Business Leaders are the target audience. You will learn the latest movements in Additive Manufacturing, based on global trends, which can steer your business towards the right applications. To do this, you will learn about the Standards landscape and how to leverage this through certification and de-risking your operations. Routes to Certification will be discussed, as well as current examples of how AM is being used in industries such as Aviation.
For more information, pricing, and agenda, visit their website.