ADDITIV digital World 2020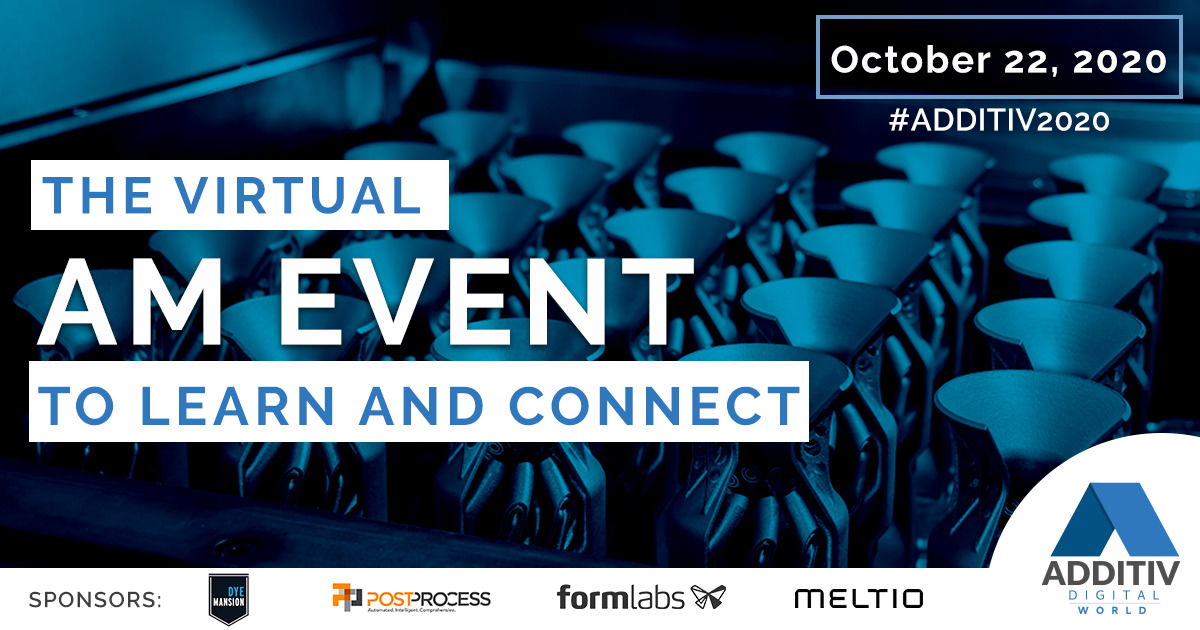 Having organised 3 virtual events already, we believe, if done right, these hold tremendous potential for the future, even beyond the global health crisis. This is why we are excited to announce our 1-day virtual event on October 22 from 8AM to 6PM EDT (2PM to 12AM UTC+2), called ADDITIV digital World! Free for all attendees and exhibitors, the online event will present an opportunity for the Additive Manufacturing community to learn, share and connect!
Register for free to attend ADDITIV Digital World!
During ADDITIV digital World, visitors, just like exhibitors, will be able to move around trade show-like floors that will display exhibitors' virtual booths and sponsors' lounges. A back and forth between networking sessions and conferences aims to provide the right mix of knowledge exchange and business discussions. We're proud to announce DyeMansion, Formlabs and PostProcess as sponsors for the event too. The conferences, which will follow the format of panel discussions aim to share the expertise from leading institutions and companies such as NASA, MIT, Ford Motor Company or Facebook. You can find all the details on the conferences and speaker lineup on our website.
The digital platform we use provides the virtual space to welcome the AM community. Thanks to its simple and intuitive user interface, registrants will be able to move from floor to floor to meet the exhibitors at their virtual stands. Private tables will also be available for 1-on-1 meetings! To conclude a full day, ADDITIV digital World will host a bit of fun: 3Dnatives is concluding the event with an afterwork party to network, chat and catch up in a more casual and relaxed setting.
We are excited to see you on the 22nd! Let us know what you think in a comment down below or on our Facebook and Twitter pages! Don't forget to sign up for our free weekly Newsletter.