ADDITIV Aerospace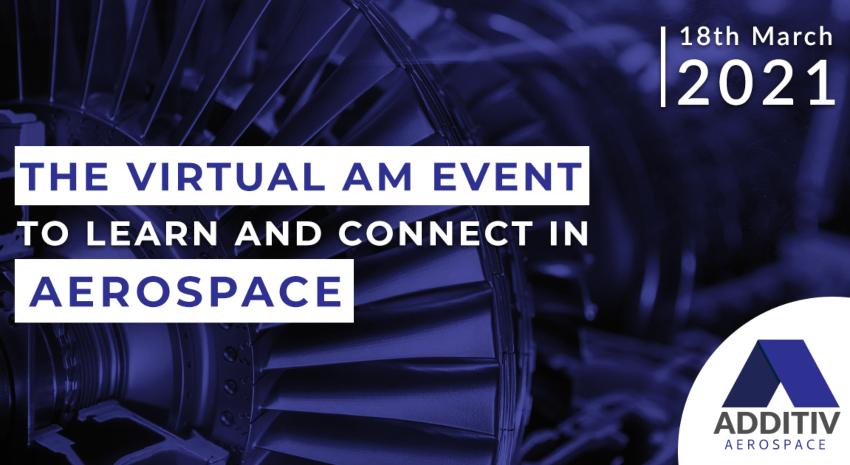 After the success of previous ADDITIV events, including ADDITIV medical France and ADDITIV digital World, the 3Dnatives team is organizing a new 100% virtual event, this time dedicated to additive manufacturing in Aerospace, a growing field due to the immense benefits that AM brings to the Aerospace sector. ADDITIV Aerospace is a free 1-day virtual event offered by 3Dnatives, the leading online magazine about 3D printing and Additive Manufacturing.
Additive manufacturing is becoming increasingly important in the Aerospace sector. Covering everything from the creation of aircraft or helicopter parts, making lighter and more efficient engines, 3D printed turbines and more. 3D technologies allow manufacturers to save on time, money and create stronger, more efficient finished products. As technology continues to advance with new materials and applications, AM will only continue to grow in this dynamic sector.
This international event will take place on March 18th, from 8AM to 6PM EDT (1PM to 11PM CET) and will offer expert panel discussions, multiple networking sessions, workshops and inspiring professionals throughout the day. Participants will be able to meet the users and makers of technology related to aerospace as well as hear from the most innovative experts in the sector, all from the comfort of your home!
Register for free today for ADDITIV Aerospace. We welcome people to join both from inside and outside the exciting worlds of AM and Aerospace! You find all the latest information about ADDITIV Aerospace HERE.
We are excited to see you on the 18th! Let us know what you think in a comment down below or on our Facebook and Twitter pages! Don't forget to sign up for our free weekly Newsletter.