Equinor brings critical 3D printed part to offshore location with a drone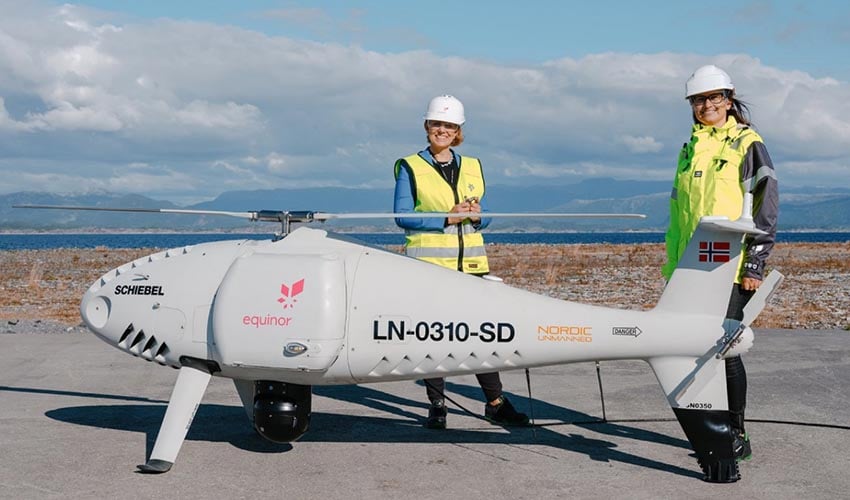 First established in 1972, Equinor has been pushing the boundaries of technology to solve challenges in the oil & gas industry. Today, the company aims to be the world's most carbon-efficient oil and gas producer, as well as driving innovation in offshore wind and renewables. In recent years, the company has been interested in using drones and 3D printing to boost production efficiency and lower CO2 emissions from Norwegian oil and gas. In fact, even more recently, Equinor successfully flew a drone to bring a 3D printed spare part from the Mongstad base (Norway) to the Troll A platform (Norway's largest gas producer) in the North Sea.
Why put in place such a system to bring a 3D printed part to another location? Arne Sigve Nylund, Executive Vice President for Development and Production Norway, explains: "Equinor aims to lead the way in utilizing new technology on the Norwegian continental shelf. Development is rapid, and we see a huge potential within drone technology that could transform the way we operate, both under and above the sea surface." Drones can be used as efficient transportation systems to bring necessary parts on-site, introducing more flexibility in traditional supply chains, but also reducing CO2 emissions.
For example, Equinor explains that the flight spanning around 80 kilometers to the Troll field took about an hour, at an altitude of approximately 5,000 feet. Even though the flight was just a test, it was conducted under normal conditions. The 3D printed part transported was a diesel nozzle holder, a critical component in the lifeboats on Troll A. Given that the part is no longer manufactured and difficult to obtain, additive manufacturing technologies allowed to re-model it, and using an advanced metal process, a replica was produced in a sturdy industrial alloy (Inconel 718). After all, one of the key benefits of 3D printing technologies, which has been demonstrated time and time again, is their ability to manufacture completely unique pieces at a competitive price (no need to invest in a mold) and under strict time constraints.
 Of course, delivering critical parts fast is not the only reason to use drone technology. Equinor sees drones playing a very important role is their operations and facilitating many aspects of their activities. For example, drones are capable of inspecting wind turbines, or can be used to deploy equipment to be used by personnel performing maintenance. Using drones will also avoid some vessel lifts that can be both more costly and leave a greater environmental footprint. On their website, it reads: "In addition to conducting logistics operations, airborne drones can also be used for inspections and observations of the technical condition of our offshore installations and onshore facilities. They have extremely advanced camera equipment and can be used in search and rescue operations, for example to locate people who have fallen into the sea, or for early detection of pollution on the sea." You can find more information HERE.
Did you imagine companies would work with drones in this way? Let us know in a comment below or on our Facebook and Twitter pages! Sign up for our free weekly Newsletter, all the latest news in 3D printing straight to your inbox!