EOS Has Developed a Solution for Support-Free Metal 3D Printing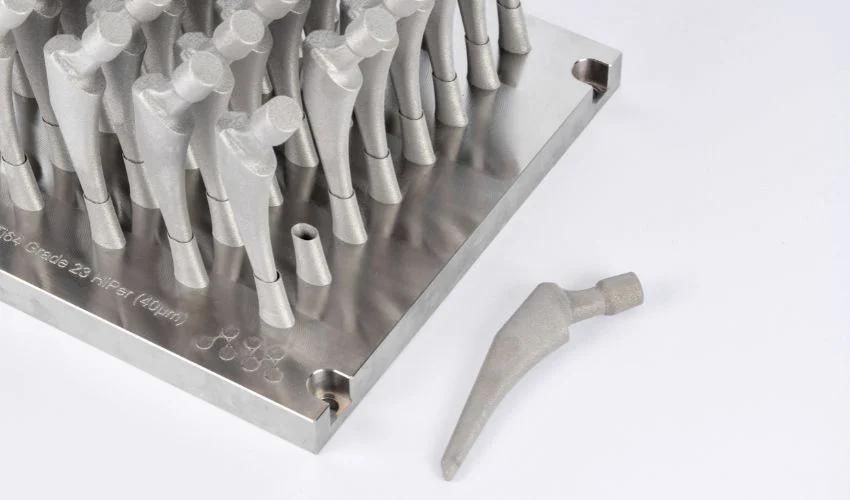 Today, metal 3D printing is primarily aimed at professionals, opening up new avenues for them in various industries. Indeed, a study by Grand View Research while the market value in 2022 was already $4.06B, this value is already forecast to reach $22.60B by 2030. DMLS (standing for Direct Metal Laser Melting) in particular stands out. Patented by EOS in 1994, this process is now used in all sectors, including aerospace, medicine and automotive, and combines the advantages of metal 3D printing with excellent and repeatable part quality.
DMLS technology, like other additive manufacturing technologies, also requires support structures (supports). To take the technology a step further and thus realize the full potential for users, EOS has developed a range of solutions that enable metal 3D printing of complex geometries with a drastic reduction of support structures. This is because supports in metal 3D printing are associated with additional time, material as well as effort in post-processing.
The Challenges Around Support Structures in Metal 3D Printing
For users of DMLS technology today, it is perfectly normal to have to add supports depending on the desired part. This is because it is only then that one is able to 3D print geometries that have much more complex and detailed designs. This includes, for example, the design of overhangs smaller than 30 degrees, entire bridges or even recesses in the component. All of these geometries would deform without support structures.
To get around this challenge, supports are added during the design process and then have to be removed manually or automatically after 3D printing. As we can see, adding supports is a must for a number of parts, but also brings some challenges that are reflected in costs. The innovative ability to print with a reduced number of support structures in the DMLS process therefore opens up entirely new possibilities for 3D printing with metals and takes the technology to a new level.
How EOS Supports its Customers in the Implementation of Support-Free 3D Printing
In order to also benefit from the possibility of support-free 3D printing, three factors in particular need to be taken into account: the process, the tools and the appropriate know-how. With these aspects in mind, EOS demonstrates a prime example of support-free DMLS 3D printing using an impeller, which normally relies on support structures due to its complex geometries. In particular, the fact that each impeller has large differences due to properties such as diameter, number of blades or covers makes support-free printing more complicated. However, according to EOS, it is important to provide the necessary knowledge extensively and at all levels.
In order to be able to use the possibilities of metal 3D printing with few supports, additive thinking is required, which can be brought about by everything from targeted training through to appropriate consulting. The importance of this knowledge is crystallized in aspects such as the design, the layout of the component on the build platform or even the material used in the process. The Smart Fusion tool, which should soon be available to users, is also an important piece of the puzzle when it comes to support-free metal 3D printing. This tool adjusts the energy input from the laser to the geometry at hand and can reduce thermal stresses. Reducing support structures in metal-based additive manufacturing can thus benefit not only from shortened build times, but also from less effort in post-processing and material savings.
"Even though we are pushing the boundaries of what is possible in support-free 3D printing, you are still dealing with real physics and therefore not everything is possible. But our solution will be a game changer. Both our pilot customers and the customers who have tested the technology with us are excited about the possibilities. I would say challenge us – we are ready to innovate metal 3D printing together," expands Davy Orye, team leader at Additive Minds Consultants.
This means that, based on the support-free additive manufacturing of metals, enormous progress can be made with and attractiveness of metal 3D printing. The cost analysis carried out alone shows that 35% of the costs could be saved in the example of the impeller. In detail, these savings were achieved primarily in the areas of post-processing, material as well as construction time, whereas costs and effort for the design process with few support structures increased from 8 to 14%. In addition to the cost benefits, support-free 3D printing helps users to print more sustainably, as they thus require less material and produce less waste. Finally, this enables a safer work process, as users are no longer forced to perform post-processing by cutting and grinding. If you want to learn all the details around support-free metal 3D printing, then you can download the whitepaper from EOS for free HERE.
What do you think about the possibility of metal 3D printing with reduced number of support structures? Let us know in a comment below or on our LinkedIn, Facebook, and Twitter pages! Don't forget to sign up for our free weekly Newsletter here, the latest 3D printing news straight to your inbox! You can also find all our videos on our YouTube channel.
*Cover Photo Credits: EOS GmbH (hip stems produced by optimizing the Ti64 process on an EOS M 300-4 for 100% support-free manufacturing).