Endurance Laser turns your 3D printer into a hybrid machine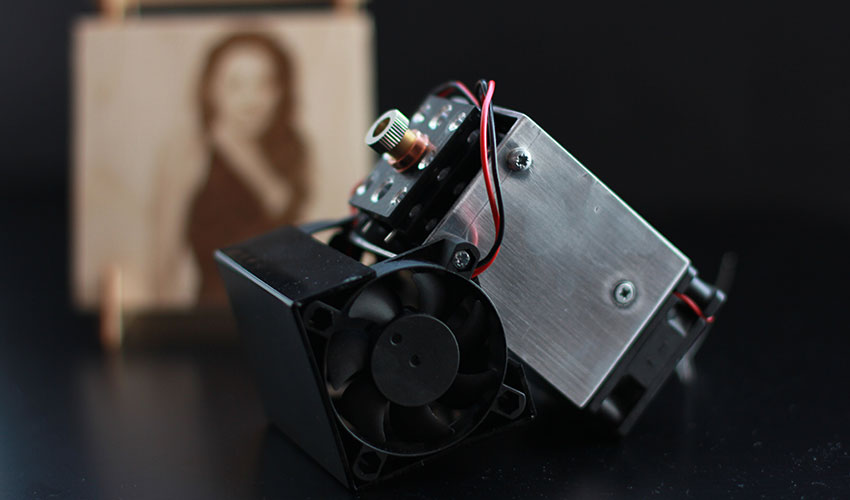 What if you could combine a 3D printer, cutter and laser engraver all into one machine? This is exactly what the Russian-American startup Endurance Lasers is proposing today, with a range of diode lasers that can be easily installed onto a 3D printer or a CNC machine. With the lasers, the user is able to obtain a hybrid machine that will allow them to go even further in their manufacturing process.
Lasers capable of cutting or engraving many materials
Some 3D printer manufacturers have embarked on the development of a 3-in-1 machine that combines 3D printing, cutting and engraving to offer more possibilities, all at a rather attractive price. The success of ZMorph or Snapmaker printers comes to mind. Other companies have also designed solutions to add functions to an existing machine.
Endurance Lasers relies on the idea of adding these functions to your 3D printer with solid state lasers. Based in the United States and Russia, the firm offers lasers of greater or lesser power depending on the needs of the user. They currently have a range of 6 lasers that are available today, with a power ranging from 2.1W to 10W, and are able to run continuously from 48 to 72 hours. The startup says that their lasers can cut up to 8 to 10 mm of wood, plywood, acrylic, cardboard or plastic. The most powerful – from 8W to 10W – could also burn on aluminum, brass, stone, copper, ceramics and even stainless steel. An interesting solution to customize any type of object.
The CEO and founder of Endurance Lasers, George Fomitchev, explains: "Our goal is to make laser engraving easy, more comfortable and to offer new possibilities for 3D printers and CNC machines. We have an advanced R&D department that allows us to develop more innovative solutions. Every day, we want to show how our lasers can be used, whether at home, in a workshop or even for small and medium businesses. "


A kit compatible with many 3D printers
Fomitchev goes on to explain that the lasers are compatible with more than 250 3D printers like the Makerbot Replicator 2, the Ultimaker 3, and more generally any machine with 3 axes. This is a flexibility that even allows it to be equipped on SLA machines, such as Formlabs printers for example, but also professional machines like Stratasys or EnvisionTec. In terms of price, the range is wide since the first price is available starting at $195 while the most advanced is at $795. An alternative to a 3-in-1 machine that can be more advantageous and avoids having to buy extra equipment.
Endurance Lasers offers its lasers in the form of self-assembled kits. You will need between two and eight hours of assembly, depending on the 3D printer model. Basic knowledge of electronics and mechanics is however recommended. However, if you are not a maker at heart and you do not have a 3D printer, the startup also offers packs already mounted such as the Wanhao Duplicator i3, delivered with their laser; a solution that will print, burn and cut.
Find all the lasers and Endurance Laser kits on their official website.
Have you already thought about turning your 3D printer into a hybrid machine? Let us know in a comment below or on our Facebook and Twitter pages! Don't forget to sign up for our free weekly Newsletter, with all the latest news in 3D printing delivered straight to your inbox!