Emerging Objects on their unique approach to materials and architecture thanks to 3D printing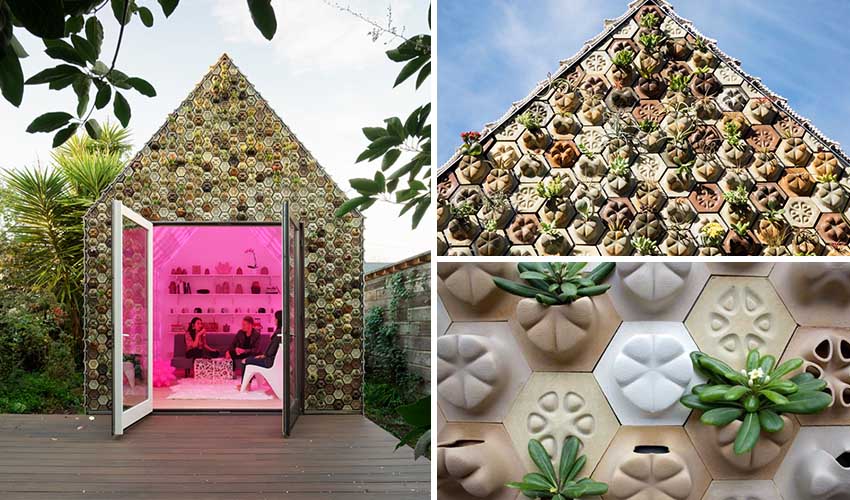 Last year we were telling you about the Cabin of Curiosities, a 3D printed building project a little out of the ordinary from the American company, Emerging Objects. This 3D printed hub is composed of 4,500 3D printed ceramic tiles made from a mixture of cement, sawdust, salt and even grape skins – the way the tiles were designed give the exterior the appearance of a garden. The company is specialised in innovations in 3D printing architecture and building components, and has demonstrated this through many innovative projects that could not have been designed without 3D printing. In order to learn a little bit more about the company we spoke to the CCO and co-founder, Virginia San Fratello who told us how Emerging Objects came about and its use of additive manufacturing to create original projects.
3DN: Can you introduce yourself and your link to 3D printing?
I'm Virginia San Fratello, Chief Creative Officer and co- founder of Emerging Objects. I started 3D printing back in 2004 using a Zcorp, binder jet printer. At that time I was printing architectural models, specifically of the Hydro Wall concept that I had developed for the Metropolis Magazine Next Gen Competition. There were definitely moments when I was filling the 3D printer with the proprietary powder mixture that I had bought and I was thinking "Why can't I just put flour or my own powder in the printer?" Several years later, my partner Ronald Rael, bought a 3D printer and we did in fact put our own materials in it. We started with ball clays and porcelain and moved on to materials such as sand, cement and salt. 
3DN: How did the idea of creating Emerging Objects come about? 
Emerging Objects was essentially a project started by our design firm Rael San Fratello. In 2010 we were invited to participate in the Biennial of the Americas and we decided to 3D print our exhibit out of sand. We used our own 3D printer and hacked it to print sand. We printed about 20 or 30 different objects for the exhibit at a fraction of the cost of what it would have been had we been forced to use proprietary materials or to out source our prints. We were also able to print small pieces that we could stack together both horizontally and vertically to make larger structures. That was when we realized we could use this technology to print things like bricks and tiles which could me make into walls and buildings.
3DN: Can you tell us about the latest project Emerging Objects is working on?
Yes, we have been working with deltabots to develop a robotic arm for large format 3D printing. Our goal is to 3D print a very large adobe structure in the high Colorado desert this summer.  This next project will focus on traditional building, technology, design, culture and the future of construction!
3DN: Any last words for our readers? 
Desktop 3D printers have come down in price, some as low as $200, and there are many interesting materials on the market that are being made into filament, including hemp, biomass, copper and wood. Companies like us are also starting to develop easy to use software geared towards 3D printing that take the hard work out of learning a new software application and make it easier for novices to enter the world of 3D printing. I think every month we get closer to a 3D printed future and I'm excited to see 3D printing become more and more accessible!
You can find more information on Emerging Objects' website HERE.
What do you think of Emerging Objects' future project? Let us know in a comment below or on our Facebook and Twitter pages! Sign up for our free weekly Newsletter, all the latest news in 3D printing straight to your inbox!