Elix, the 3D Printed Bicycle Stem by Mythos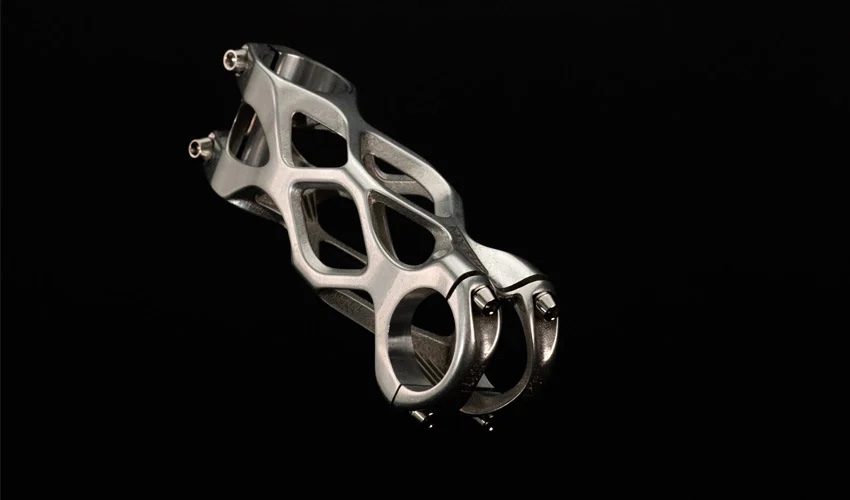 British brand Mythos has introduced a new, 3D printed bicycle stem, called Elix, which is now available on the market for £500. The stem is the spare part of a bicycle that connects the handlebars to the fork steerer tube. This part is said to be the first of its kind in the entire world, made from an alloy containing scandium, aluminum, and magnesium and originally developed by APWorks, a subsidiary of Airbus. The special alloy, which is called Scalmalloy, has high strength properties that makes it ideal for aerospace and professional cycling applications. Dimitris Katsanis, the man behind the design of this part, previously equipped racing bikes with 3D printed parts and has previously worked with British Cycling and Team Sky. The stem is available in several sizes, with a starting weight of only 150 grams.
The design of the part is unique and was designed to be made using additive manufacturing. It is unusual looking, immediately catching the eye, as it has been designed using a lattice structure, with the material only being on the stressed areas. Mythos explains, "Having been designed specifically around the most extreme load-paths experienced by a stem, the Elix stem is 15% stiffer in torsion than an equivalent alloy stem while maintaining the same bending stiffness, so you can put more power down when you need to and still stay comfy on the rough stuff." 
The teams tested several iterations by running FEA (Finite Element Analysis) simulations and by using CAD software to find the areas that required less material. Mythos adds: "We wanted to eliminate areas of high stress with small local reinforcements and reduce weight around other areas by skilfully removing any non-essential material. Not only that, but the fact that all of this happens in-house, without the need for any part-specific tooling, means that we can create one-off products and prototypes in days that would normally take months."
The use of additive manufacturing might have been the reason why the British brand gained the flexibility that made bring the part to the market more quickly. The component costs 500 pounds – about 625 dollars – and is therefore among the most expensive parts available today. It measures between 3.9″ and 5.1″, depending on which bike it will be mounted on, with a starting weight of 150 grams. The stems will all be made in the UK and are going to be available in silver or black. You can already order your part HERE.
What do you think of the Elix Mythos? Let us know in a comment below or on our LinkedIn, Facebook, and Twitter pages! Don't forget to sign up for our free weekly Newsletter here, the latest 3D printing news straight to your inbox! You can also find all our videos on our YouTube channel.