ECO3D November: The latest economic news in 3D Printing
Published on December 5, 2017 by
Jamie D.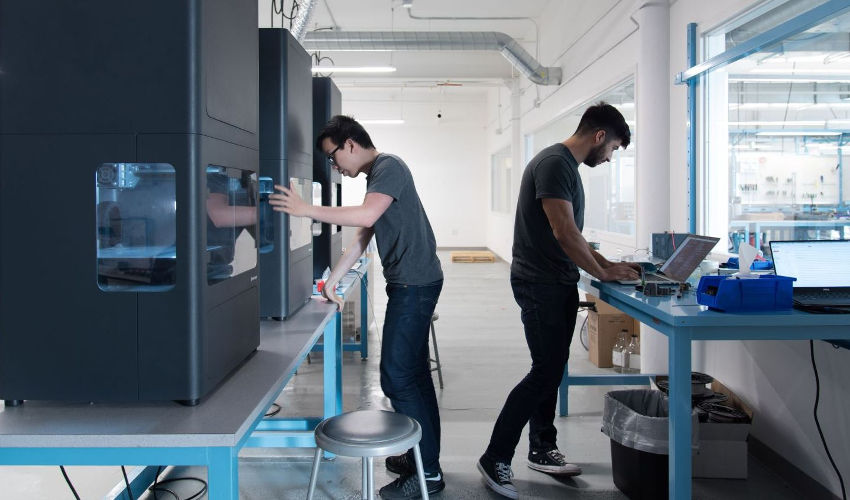 This month's ECO3D contains a wide variety of business and economic news in the world of 3D printing. This month, many new and established companies secured investments, were purchased by larger companies, or announced big news regarding their future. We've included all the best news summarised below.
3YOURMIND secures $12M investment
Berlin-based 3D software company 3YOURMIND has raised $12M through a funding round. The company has already expanded into the US since last year but will use this to open an office in New York City, in addition to developing new software tools and programs to increase the ease and efficiency of industrial 3D printing processes. The investment round was led by UVC Partners, and included TRUMPF and AMV, a sister companyy of 3D printer manufacturer EOS.
ANSYS acquires 3DSIM for undisclosed fee
ANSYS are an engineering simulation software developer, and has acquired 3DSIM who create software to simulate 3D printing. Their products, such as their exaSIM software, allow users to predict and identify areas that may come under stress in production. This avoids build failures without requiring printing. It is thought that ANSYS will use this to offer customers a complete additive manufacturing simulation through their software.
Proto Labs purchase Rapid Manufacturing Group for $120M
Proto Labs, a global 3D printing service, have acquired Rapid Manufacturing Group, who are a custom parts supplier who specialise in CNC machining and sheet metal fabrication. The acquisition allows Proto Labs to further expand their product offerings and CNC machining capabilities.
$347K Grant for Australian uni 3D bioprinting facility
Australia's University of Wollongong has been granted A$347,000 ($262,358) to establish a 3D bioprinting facility. This will allow the university to develop 3D printable bioinks, as well as new bioprinting systems.
Stratasys with losses in the third quarter
Stratasys, a leading 3D printer manufacturer, published gross sales of $155.9M in the third quarter, with a total loss of $10.2M. This was however less than last year's losses, at $21M. In addition, American printing giant 3D Systems also reported disappointing numbers. Their revenue declined 2% to $152.9M compared to 2016. Nevertheless, the company believes it is "on track" and has created "the appropriate structure for future sustainable growth."
Arcam post $4.3M loss
Arcam had recorded a net loss of 36.1 million Swedish kronor in the past quarter, roughly $4.3M. At the same time however, the company was able to increase its total revenue to $20.7M, an increase of 27% compared to 2016.
Dassault Systèmes with strong growth
The French manufacturer of SolidWorks and CATIA reported total sales of €751.4M between July to September 2017, an increase of 2% over 2016. Most importantly, the company generated 60% of its revenue outside Europe and Dassault Systèmes has more than 15,000 new SolidWorks users since the beginning of 2017.
Markforged raises $30M
Markforged, a US company, raised $ 30 million more than the $27M already invested earlier this year by different companies. Microsoft and Porsche SE join them, helping the US manufacturer to develop its carbon and metal 3D printers and simplify the additive manufacturing process as much as possible. A promising investment when you consider that Markforged increased its revenues by 300% in the second quarter of this year.
Candid raises $15M
Candid, an additive manufacturing startup, has raised $15M. This is to develop its transparent 3D printed gutters. No need to go to the dentist to make custom gutters, Candid prints them in 3D after making a fingerprint directly feasible at home. Thanks to this new investment, the American startup will be able to propose its personalized gutters in new markets
MakeX launch Migo 3D Printer on Kickstarter
MakeX launched its Kickstarter campaign for its new FDM 3D printer, Migo. This small machine easily transportable thanks to its handle and its weight of 2.5 kg has already raised more than 100 000 €, far exceeding its initial objective. Available in two different sizes, it offers a print volume of 100 x 120 x 100 mm or 150 x 150 x 150 mm for the large version.
APWORKS and TOYAL partner to develop Scalmalloy 3D powder
Airbus subsidiary APWORKS are specialised in developing a Scalmalloy powder in the additive manufacturing process. The aim is to create this scandium alloy that is compatible with all SLM machines that will give great benefits in the automotive and aerospace sectors. APWORKS have partnered with TOYAL, a leader in aluminium production, which will produce and and develop the alloy.
Divergent gets $65M injection
The automaker Divergent has received $ 65 million additional to the $ 23 million already obtained in 2014. The American behind the Blade car and the Dagger motorcycle, both designed in part through additive manufacturing will be able to develop a second plant that would include high-tech machines including large format 3D printers.
Arconic & Airbus partner in metal 3D printing
Arconic, a company specialized in aerospace 3D printing materials, has signed an agreement with Airbus to supply nickel and titanium pieces created with manufacturing additive for commercial aircraft. This alliance unites two of the most powerful companies in the aerospace sector and marks the beginning of a much more prosperous future in the development of additive metal manufacturing.
XYZPrinting signs worldwide deals
Chinese company XYZprinting has signed several deals within FormNext 2017 to expand its brand worldwide. Firstly, they closed a deal with Spanish company Sicnova 3D for the development of the JCR600. A similar deal was signed with DWS, a specialist in SLA and DLP technology machines. In addition, partnered with Nexa 3D, one of Avi Reichental, former CEO of 3D Systems' companies. This deal is to develop 3D printers specialized for the dental sector. These agreements will make the XYZprinting brand more known in the western market.
Last month's article, ECO3D October, is available here.
Did you find this month's ECO3D interesting? Let us know in a comment below or on our Facebook and Twitter pages! Sign up for our free weekly Newsletter, all the latest news in 3D printing straight to your inbox!