3D Printing: A Summary of 2017
Posted On December 27, 2017
---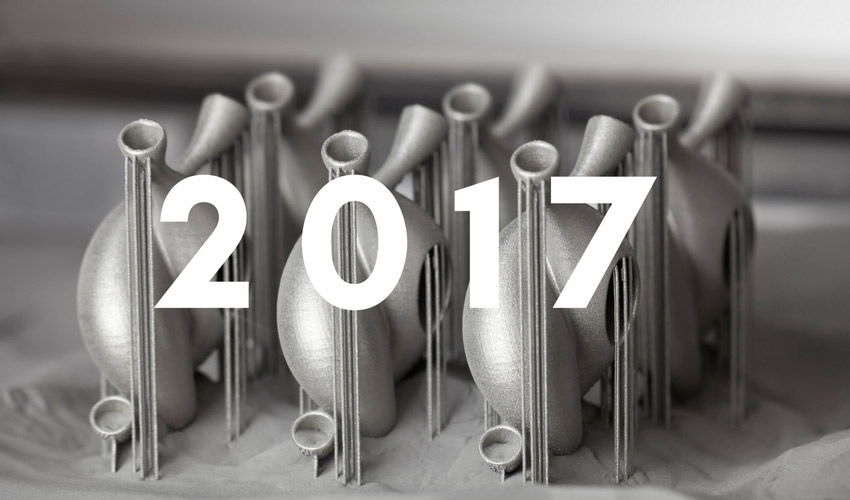 2017 was an eventful year in 3D printing and additive manufacturing. 3D printing startups received hundreds of millions of dollars in investments, announced intentions to build 3D printed supercars and flying cars, and well-established names like GE and HP made their moves into 3D printing. 2017 was also the year of metal 3D printing instead of the usual plastics, with many brands vying to create metal 3D printers.
January
Markforged announced the Metal X, to enter the metal 3D printing market. The printer uses new special 3D printing technology, and has a print volume of 250 x 220 x 200 mm. The Metal X costs just under $100K, which is actually cheap in a market where machines can each millions of dollars. Full article here.
A team of researchers at MIT have conducted several experiments on graphene, a form of carbon crystal. By compressing it, they were able to create a super-strong variant with a density of 5% which was 10 time stronger than steel. Full article here.

February
Ferrari's F1 team announced they will use 3D technologies to improve their F1 car engines. The Italian company will use 3D printed plates inside the pistons of their 668 engine, hoping it will help restore Ferrari's glory days.
Daqri is an American startup that has developed a 3D printer that prints through holograms. They also operate in the VR market and manufacture smart glasses and heads-up displays for cars. Daqri has developed a very fast 3D printing process using holograms with lasers to transform a photosensitive monomer into solid plastic. Instead of creating the object layer-by-layer, this technology can print the whole part at once.
March
Cazza Construction are to create the first 3D printed skyscraper, in Dubai. Dubai has claimed that in the future 25% of its buildings will be created with additive manufacturing, and plans for this skyscraper have the building's height at 750 metres. Full article here.
Apis Cor, a Russian company, have managed to 3D print a house in just 24 hours, in addition to having extreme weather occurring whilst printing. The printers were capable of operating at -35 degrees however, so this was not a problem. Full article here.
April
Desktop Metal announced their first two 3D printers capable of printing metal, the DM Metal Studio and the DM Production System. They intend to make 3D printing of metal 10x cheaper, and make the process significantly faster than it currently is. Full article here.
Adidas and Carbon have announced a partnership to create a brand new 3D printed shoe called the Futurecraft 4D. Using Digital Light Synthesis, a process created by Carbon, the companies aim to create 100,000 pairs of the shoes by 2019. Full article here.
May
Blackbelt, the creators of the 3D printer on a conveyor belt, raised over €100K to finance the development of their ambitious project. This printer would allow for printing pieces of potentially unlimited lengths. The conveyer belt acts as a Z-axis, and a tray at the end of the bely collects the prints once they are finished. This means the printer can operate without the need of someone to aid the process. Full article here, and we also interviewed Blackbelt here.
Researchers at the Lawrence Livermore National Laboratory have successfully 3D-printed transparent glass. This is important as it was previously impossible to do this using traditional manufacturing. Glass is a very useful material for scientific tests due to its chemical and heat resistance, so hopefully this leads to more successful experiments in the future to benefit our lives. Full article here.
GE Additive, who are the main shareholders in Concept Laser and Arcam, have invested €100M in an expansion. By the end of the year, the number of employees will increase from 200 to 300, and are anticipating selling 10,000 machines in the coming years. Full article here.
June
Researchers from the University of Science and Technology Pohang in South Korea have announced developments to 3D print human skin. They claim to 3D print a collagen-based skin with a polycaprolactone (PCL) membrane. This exciting development may lead to better treatment for burn victims, and the testing of drugs on skin. Full article here.
GE unveiled a new printer, the ATLAS. This printer has a huge print area of 1000 x 1000 x 1000 mm. GE announced that after only a few days since the announcement, they received $31M worth of orders. The printer is intended for use in the aerospace industry. Full article here.
Formlabs unveiled its first SLS printer, the Fuse 1. What differentiates their new printer however is that this 3D printer would be around 20 times cheaper than the industry average. The printer is set to retail at $9,999, and will deliver these printers in mid-2018. Full article here.
July
Researchers in Zurich University of Applied Sciences have developed a 3D printed heart made from silicon. Complex parts of the heart required a 3D printer to create as they couldn't be created by other methods. These hearts however only last around 3,000 beats, or around 30-45 minutes. The challenge now is to create hearts from materials that can withstand the pressures of human organ systems for longer periods of time. Full article here.
Snapchat and Royal Caribbean have collaborated to create a 3D printed diving mask. The mask, called the SeaSeeker, incorporates the Snapchat spectacles to enable users to snap whilst underwater. Full article here.
Designer Martí Guixé built the first 3D-printed bar in Barcelona, which he called the "Ex-Designer Bar". Everything from the glasses to the stools was created using 3D printing. What's even more impressive is that with 3 Cartesian 3D printers at the bar, they are constantly printing our new improvements for the bar's interior. You can find out more here.
August
Made In Space unveiled plans to create systems able to 3D print large structures in space with their Archinaut project. They have tested their printers in anti-gravity simulators, and intend to eventually become a "build-to-order space platform." This would involve vehicles and satellites docking for construction or maintenance work in space. Full article here.
The 2017 Gartner report on 3D printing laid out its predictions for the future adoption and development of 3D printing. It listed 3D printed hearing devices and prototyping as two areas where mainstream adoption will occur within 2 years, in addition to many other developments. Full article here.
The US Army have 3D printed a concrete army barracks. This 512 square foot building was created with in house 3D printing technology developed in partnership with NASA. This was part of their ACES program focusing on the development of semi-permanent buildings 3D printed from locally available materials. Full article here.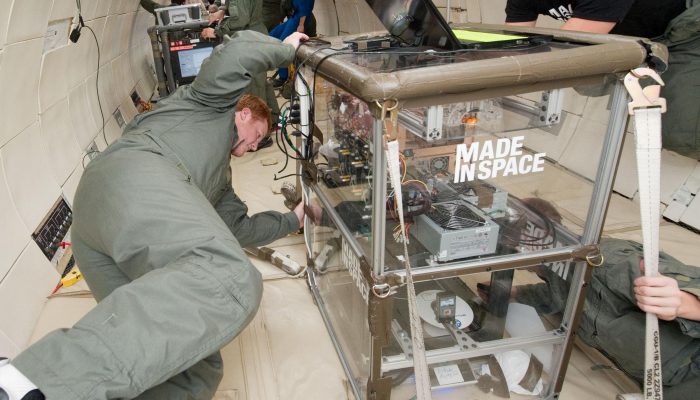 September
The new T3D mini-printer is impressive because it can print in multiple colours, and directly from your smartphone. In addition, it can even do this outside. Their successful Kickstarter campaign means they will begin to ship a number of these printers in the near future. Full article here.
3D printer manufacturer Layer One revealed their latest machine, the Atom 3. The difference between the Atom 3 and other printers is that this printer combines FDM and stereolithography together. This allows both the accessibility of FDM, with the quality of SLA. The printers are planning to ship within the next year. Full article here.
October
The UK Government published a review concluding that tech such as 3D printing could add £455bn and 175,000 jobs to the economy. Whilst dealing with Brexit, Britain is searching for a lifeline, and thinks this could be it. The report states that by investing in tech such as 3D Printing, AI, and more, Britain can improve its economic climate. Full article here.
Researchers at New Zealand's Massey University have made a new 3D Printer. This printer is special as it can 3D-print corneas, which can then be transplanted into humans. The printer creates these corneas from Hoki fish scales, previously considered a waste product. There are an estimated 10M people in need of a cornea transplant worldwide, therefore this has far-reaching implications. Full article here.
Amazon announced the acquisition of Body Labs, a startup using 3D technology to scan an entire person's body. This makes it possible to try on clothes virtually. The deal was for between $50-70M. Full article here.
November
Vietnamese security experts Bkav used a 3D printed mask to bypass the iPhone X's Face ID. They used a mask with a 3D printed frame with a silicone nose to trick the phone into thinking it was a real person. Full article here.
HP announced a new 3D printer called the Jet Fusion 3D 4210. This printer designed for industrial-scale 3D production, and aims to lower operating costs whilst increasing production volume. The printer claims to save 65% on costs per piece vs other rival technologies. Full article here.
Engineers at MIT created an FDM 3D printer that prints 10 times as fast as the average printer. This extraordinary printer uses a new kind of extruder with a laser (like in SLS) and a new screw mechanism to speed up the printing process. Full article here.
December
Formlabs announced a range of colored resins, allowing for color printing for their SLA 3D printers. This color kit is available for the Formlabs Form 2 3D printer, allowing you to create your own colors or choose from those available. This eliminates the need to paint the part after printing. Full article here.
A study conducted by the Lawrence Livermore National Laboratory (LLNL) in collaboration with MIT, the University of Rochester and UC Berkley, demonstrates how the use of holograms in the printing process can dramatically speed it up. This could lead to far faster 3D printing in the future. Full article here.
Researchers at the Zurich Institute of Technology (ETH Zurich) have developed a biocompatible ink for 3D printing from living bacteria. This breakthrough could lead to the production of biomedical cellulose or biological materials capable of destroying toxic substances.
Do you think 2017 was a big year for 3D printing? Let us know in a comment below or on our Facebook and Twitter pages! Sign up for our free weekly Newsletter here, the latest 3D printing news straight to your inbox!

---
You may also like