Earth Day: can 3D printing help preserve our planet's resources?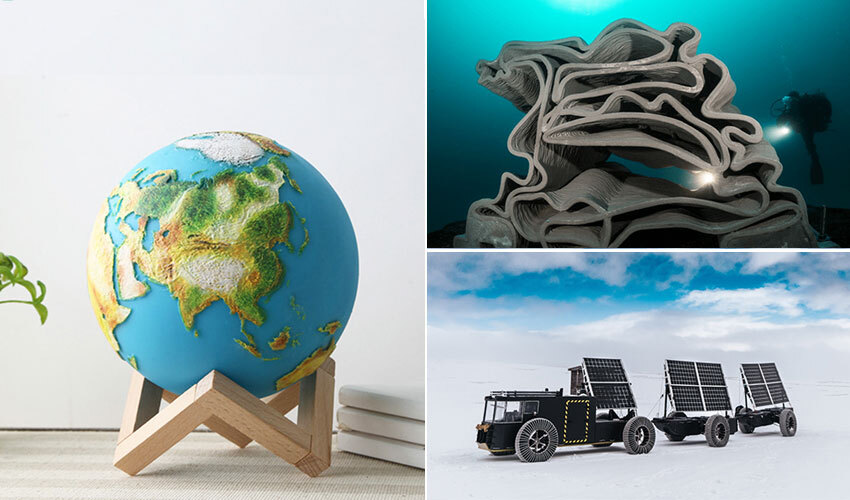 In honour of Earth Day, 3Dnatives has decided to showcase different 3D printing technologies through the 4 elements: Earth, Wind, Fire and Water. All resources on earth are precious and when it comes to new technology, it is important that they incorporate sustainability and responsibility into it. That's one of the things that make 3D printing so special; its constant search for new ways to preserve the world we live in, to make it a better place for all. As you may have seen in our previous articles, such as filaments made from recycled plastic and beer to using moon dust to 3D print our way to a future on the moon; 3D printing is always pushing the boundaries to come up with more ecological ways to help bring us into the future. In this article, you will learn about some of the special companies and items that have been created thanks to 3D printing, and the ways that they are helping to make our world even brighter!
Earth
Created by WASP in September 2018, Gaia is a 3D printed eco-sustainable house. Over the last few years, you will probably have noticed the growing number of projects that have flourished in the 3D printing construction sector. In most cases, manufacturers are using concrete to build the walls of 3D printed houses. However, this was not the case of WASP that relied on sustainable and organic materials to manufacture this house prototype. 
More precisely, the house is about 30 square meters and is located in Shamballah, a small Italian village. WASP used its Crane 3D printer to build the house from raw soil and other natural materials coming from the rice production chain. The manufacturer explained that it took about ten days to complete the Gaia project, and it cost about 900€ (in terms of construction materials). 
The aim was to disrupt the traditional supply chain of constructing a house with this project. Instead of bringing materials to the construction site, Gaia was made from materials surrounding it. In fact, WASP explains that in collaboration with RiceHouse which supplied the vegetable fibers, it created a compound made of 25% soil taken from the site, 40% straw chopped rice, 25% rice husk and 10% hydraulic lime. Then, the company relied on the versatility of the computational design made possible from its 3D printer to construct solid walls that offer natural ventilation and thermo-acoustic insulation. Finally, WASP explained that Gaia represent a huge potential for guaranteeing minimum environmental impact in the construction sector.
Air
Wind energy is one of the largest renewable energy resources that we have today. Since the early beginnings of 3D printing technologies, companies and researchers have worked hard to develop turbines that create a better use of energy at a lower cost.
With the many projects that work towards this type of energy today, one that sticks out to us the most is from Texas Tech University. This project was aimed at the development of turbines that are designed to further exploit energy and avoid interference between turbines. In order to fully reach their projects potential, the research team knew that the best way to develop their turbines would be through 3D printing. By incorporating 3D printing into their design, it allowed them to create a turbine that was more efficient and able to generate even more energy than may of the turbines that you find today. Another example is the Californian company RCAM Technologies, for example, which launched into the design of an offshore wind turbine using concrete 3D printing.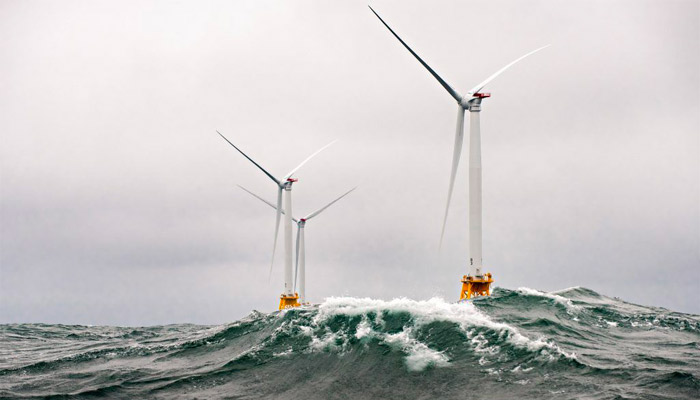 In addition, while these researchers were able to help propel the future of wind energy even further, there are other companies and startups who are working to help detoxify the air we breath, starting with the use of 3D printers. A startup we have in mind is Zimple; a company who has created a new, simple attachment for your 3D printer that removes the toxins that are created during the 3D printing process. Another company with a similar mission is Alveo3D, which we interviewed back November last year.
Fire
From reckless destruction to a much-needed renewal, fire is a key part of our world. But while we don't have the possibility to 3D print fire, we do have an element that can create it, that can now be used in 3D printing. What could this element be? Well, it's the sun! Our key provider of warmth, light and a clean energy source. Among the projects related to additive manufacturing and the use of the sun's light, is the company Clean2Antarctica. This Dutch organisation is focused on the development of sustainable alternatives to what is currently damaging the environment.
Its main project is the Solar Voyager, an electric vehicle made from 3D printed recycled plastic parts. In addition to this, the vehicle is powered solely by the heat and energy given off by the sun. The Solar Voyager is made up of 10 solar panels of 1.7 square meters and 25 kilos each. It also integrates infrared interfaces into the cabin that help absorb sunlight and keep the cabin warm.
Another startup worth mentioning is 6K, which uses the UniMelt technology to manufacture parts. At almost 6000 degrees, UniMelt is the only microwave plasma in the world capable of processing ceramics, metals and alloys previously unavailable for additive manufacturing. Using sustainable sources as the raw material, plasma technology offers the highest premium powder for 3D printing. This enables the creation of alloy powders that are truly spherical, non-porous and satellite-free, offering improved flowability.
Water
Coral reefs are among some of the most fragile ecosystems on the planet and are essential to marine life, providing a natural habitat to marine animals. Over the years, coral reefs have been fighting a war against climate change that they are continuing to lose, causing these sacred reefs to gradually start dying out at a very rapid rate. In order to help give coral reefs a second chance at life, there are those who have embarked on a mission to 3D print structures that imitate a coral reef.
This is the case of the French company XtreeE, which has worked in partnership with Seaboost to 3D print a coral reef from concrete. Installed in the Parc national des Calanques in the south of France, it mimics the Coralligène, a habitat that is home to thousands of fish, corals, algae, crustaceans, etc. The concrete structure reproduces the complex shape of the reef and includes porous walls.
On the bioprinting side, things are also happening: recently, British and American researchers have designed coral-inspired 3D printed structures capable of growing dense populations of microscopic algae. They worked with a combination of polymer gels and hydrogels doped with cellulose nano-materials. The algae can then take shelter in this bioprinted coral, which in turn help them grow. 
We are proud that 3D printing is paving the way for technology and sustainability to come together as one. We hope that over the next year we will be able to continue reporting on new technologies and techniques that help bring a brighter future for all of us here on earth! Let us know what you think of these different eco-friendly 3D printing technologies by leaving a comment below or on our Facebook and Twitter page!