Earth Day: Can 3D Printing Help Preserve our Planet's Resources?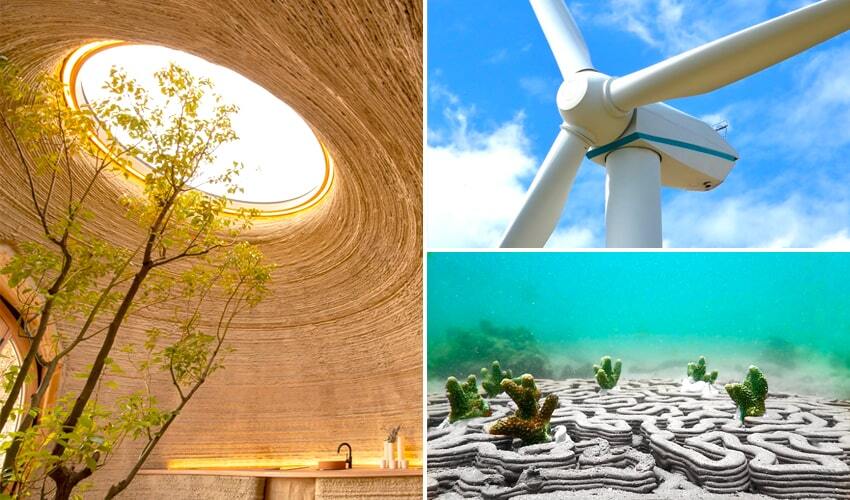 Preserving our planet has become one of the main challenges facing our current society. But it is difficult and long to change mentalities, still there are a number of initiatives that have been developed with the aim at protecting the Earth's resources. And in fact, quite a few have turned to additive manufacturing as a solution. This is because, by definition, 3D printing involves the addition of material to build a part, which results in a reduction of the amount of waste. It is in this sense that it is more "green" than other manufacturing methods. 3D printing also allows for a focus on local production while promoting a more circular economy. And in honor of Earth Day (April 22nd, 2023), and in order to help you learn more about some of these initiatives, we decided to take an original approach, via the 4 elements: earth, water, wind and fire. How does additive manufacturing help preserve them? How does it rely on these resources to build a more sustainable world? Here are some examples that put our planet in the spotlight!
Earth
TOVA, Spain's First 3D Printed House Made With Local Soil
TOVA was created by a group of students and professionals from the Institute of Advanced Architecture of Catalonia in Barcelona (IAAC) using WASP's 3D printing facilities and Rhinoceros 3D's Grasshopper software. To build it, they combined traditional construction with additive manufacturing, getting the best of both processes and applying them to the project. Why are we interested it? Well the construction materials were fully sustainable: clay and water. To achieve the perfect mix of natural materials for printing, research was done on the soil conditions. This made it possible to find the right mix of clay and water to mold the walls. In addition, geopolymers were used for the substructure and wood for the roof. The creators managed to build a 3D printed housing prototype on a 1:1 scale, using clay and wood for the roof and making sure it was weather-resistant. Moreover, it isn't just sustainable, the house was also designed to be cozy and sustainable.
TECLA, an Eco-Sustainable Habitat 3D Printed With Raw Earth
TECLA is an eco-sustainable habitat that was 3D printed with local raw earth in Massa Lombarda, Ravenna. Its creation was possible thanks to the collaboration between the architect Mario Cucinella and WASP, relying specifically on Crane WASP 3D printing technology. TECLA is a carbon-neutral house made from local raw earth, eliminating the need to bring construction materials to the site while also reducing waste. Its shape has been designed with climate and latitude in mind. The soil mix has been optimized to balance the thermal mass and ensure the best conditions in terms of thermal insulation and ventilation. TECLA is about 60 square meters and is divided into a day area with kitchen and a night area with bathroom. Some of the furniture is integrated into the raw earth structure, while others are designed to be recycled or reused in the future.
Water
Using 3D Printing to Treat Polluted Water in Mar Menor
Water makes up about 71% of the Earth's surface in the form of oceans, lakes, seas, glaciers, icecap, rivers and more. Not only that, but it is critical to the health of our planet. But despite that, we have been faced with a number of industrial disasters centered on water, notably in terms of pollution. But it seems 3D printing could play in helping solve these issues. A few years ago, Mar Menor, a coastal saltwater lagoon in Spain, was victim to an environmental disaster wherein thousands of organisms were killed due to the effects of pollution of anthropogenic origin, notably chemicals from agriculture. Indeed, extreme eutrophication or a massive growth of algae killed 85% of the seagrass which then in return killed the fish who were unable to breath due to a lack of oxygen and changes to salinity in the lagoon. It was absolutely critical therefore that the pollutants be removed in order to restore the health of the lagoon. This is where additive manufacturing comes in. In a project funded by the Spanish State Research Agency (AEI) and the European Regional Development Funds (ERDF), 3D printing was used to manufacture devices that were then combined with synthesized adsorbent carbon, a material that is capable of holding molecules in any form as a thin film on its outside or internal surfaces in order to remove it from water. The tests were a success, proving that pollutants could be removed in under 24 hours and thus could contribute to large scale efforts to purify contaminated waters in the long term.
3D Printing Could Restore Coral Reefs
One of the worst consequences of climate change that our planet is facing is the devastation of coral reefs around the world due to global warming and pollution. Fortunately, many initiatives have sprung up to try to restore marine ecosystems, thanks in part to 3D printing. In Hong Kong, for example, there have been a few different projects in recent years in order to restore its bay, including those of D-shape and archiREEF which use additive manufacturing to create artificial coral reefs. Specifically, archiREEF uses clay to 3D print structures. Additive manufacturing has been fundamental in the development and realization of these bioattractive modules. Indeed, it has enabled the use of a complex and flexible design that can be adapted to different marine environments. In addition, 3D printing allowed for the use of naturally occurring natural materials, and was also more convenient in terms of time and cost for scientists. And by restoring the coral reefs, humans are coming yet another step closer to addressing water pollution in the Ocean, as these ecosystems are critical for its ongoing health.
Air
GE Is Using 3D Printing to Take Carbon Dioxide Out of the Air
When it comes to saving the planet, many 3D printing projects are also being implemented centered on the topic of "air" to help address global warming. Such is the case with GE Research, which has turned to additive manufacturing to create a system that can extract carbon dioxide from the air. The researchers in charge of the project collaborated with chemists and engineers from UC Berkeley and the University of South Alabama. They combined 3D-printed heat exchanger technology with sorbent materials. All three entities contributed their expertise. GE Research was responsible for providing the 3D printed heat exchangers. No information was given on the technology used. However, given the 3D printing solutions offered by GE, it is likely to be some sort of metal powder-based process. For their part, UC Berkeley researchers specialized in the development of sorbent materials and modeling. The University of South Alabama, meanwhile, helped choose the right materials. According to David Moore, GE Research's principal investigator and technology lead for materials physics and chemistry, the carbon dioxide capture system could become a cost-effective, large-scale solution for decarbonizing the energy sector.
3D Printing is Key to Better Wind Turbines
Another project aimed at reducing air pollution and developing more sustainable energy sources was launched by the National Renewable Energy Laboratory (NREL). Here, a team of researchers has tested the production of modernized wind turbine blades using 3D printing. To be more accurate, a thermoplastic resin system was used for the designs. This allows the structures to be recycled, which is not possible compared to conventionally manufactured turbines made of thermoset materials. In addition, the 3D-printed turbines are lighter and less expensive, by at least 10%, according to the press release. Efficient production is also a given, as the duration of manufacturing can be reduced by 15%. Ultimately, the main goal of the project is to reduce greenhouse gas emissions through new technologies. Renewable energies are becoming more and more relevant in view of the advancing global warming, for this reason projects like this are particularly important.
Fire
3D Printed, Fire-Resistant Houses in California
In the American state of California, numerous fires continue to occur, destroying homes and the surrounding area. Global warming notably is cintributing to the intense heat that causes uncontrollable fires in the summer and keeps the state's firefighters on their toes. In one city, 300km away from San Francisco, Redding, there are, on average, more than 100 fires a year. But American 3D printing company Emergent3D wants to remedy the situation. For this purpose, the company developed a 3D-printed fire-resistant house, which should protect people, in case of fire. The house, which is over 100 square meters, has several rooms, including 3 bedrooms and 2 bathrooms. For the material, D.fab concrete solution, developed by COBOD and CEMEX, was used and printed with the help of COBOD's BOD2 printer. In fact, the fire-resistant house was financed by the city of Redding itself, with the aim of establishing the technology more widely. In total, seven of these houses will be printed in Redding. Though not exactly a way to protect the planet, we included it for fire in our Earth Day ranking since it is a way to resolve problems caused by fires which have become out of control due to environmental concerns worldwide.
Axle Box's 3D Printed Drones Help Fight Wildfires
A public safety technology developer, Axle Box Innovations is utilizing additive manufacturing to support the development of 3D printed drones for fire management and protection. With the increasing threat of wildfires in the United States and other countries, firefighters rely increasingly on innovative technologies, such as additive manufacturing, to get an accurate view of the situation. To address this issue, Axle Box turned to 3D printing to help solve strength, speed, and cost obstacles in creating fire-safe drones.
The engineers at Axle Box have developed a heat-resistant drone made with high-temperature nylon with a 25% carbon fibre core, which will be used for the drone's mid-body and side covers. The material allows for creating of lightweight and robust drone bodies, critical components for flying and safety applications. Axle Box chose Essentium's HSE 3D Printer for manufacturing, which uses an independent dual extrusion system and filaments. This technology has transformed Axle Box's manufacturing floor, with the ability to go from design to production in under four weeks. This innovative technology will significantly benefit first responders and help combat the increasing threat of wildfires.
In any case, it is clear through these different examples that 3D printing is paving the way for technology and sustainability to come together as one. We hope that over the next year we will be able to continue reporting on new technologies and techniques that help bring a brighter future for all of us here on earth! And what do you think of these different eco-friendly 3D printing technologies? Let us know in a comment below or on our LinkedIn, Facebook, and Twitter pages! Don't forget to sign up for our free weekly Newsletter here, the latest 3D printing news straight to your inbox! You can also find all our videos on our YouTube channel.