With the E-2 Liquid Rocket Engine, Metal Additive Manufacturing Is Improving Critical Rocket Engine Performance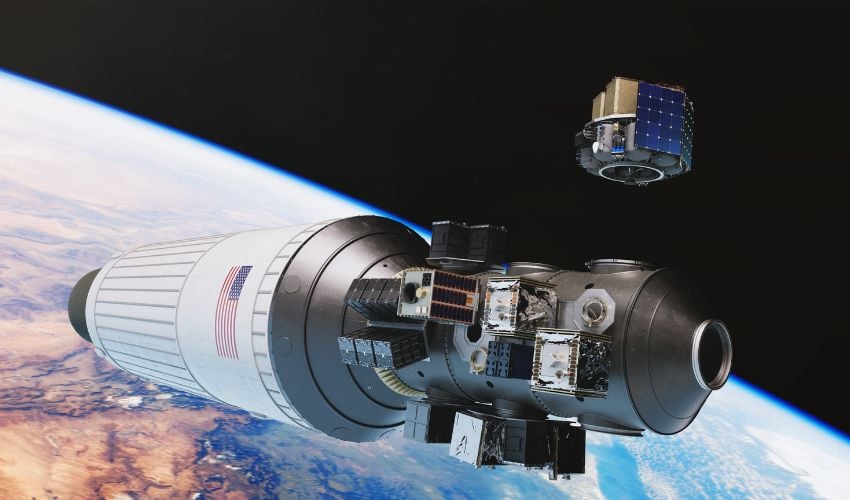 There is no doubt that satellites play a critical role in our lives. They not only provide information about Earth's clouds, oceans, land and air (thus allowing scientists to predict weather and climate), but they are also critical for daily communications and more. But did you know that satellites have been shrinking? Today, satellites are cheaper to produce because they are lighter than previous versions resulting in lower launch costs. As a result, companies are also moving to create smaller, lower-cost rockets to support them. One of the most notable on the market is Launcher.
Californian start-up Launcher was founded in 2017 to address increasing launch demand, which is outpacing supply in the satellite launch market (expected to grow from $8B to $38B in 2030). The company combines liquid propulsion technology and metal 3D printing to create efficient rockets and transfer vehicles to deliver small satellites to orbit. Notably, they have conceived the low-cost Launcher Engine-2 (E2) rocket engine which has been optimized for mass production. It is aimed to be the highest performance liquid rocket engine of its class and is destined to be the central thrust component for Launcher's Light rocket. And to realize this innovative design, Launcher turned to Stratasys Direct Manufacturing and Velo3D's metal AM technology.
A Closer Look at the E-2 Liquid Rocket Engine
As mentioned, the Launcher E-2 liquid rocket engine has been designed to be part of Launcher's high-performance rockets. The 22,000 lbf (pound-force) engine, propelled by LOX (liquid oxygen)/RP-1 (kerosene), is considered to be the world's highest performing engine for small launches. 3D printed with a copper alloy, it has a 98% Combustion Efficiency and a performance of 365s Isp. Furthermore, thanks to its high balance, the LOX pump's impeller can spin at 30,000 rpms in cryogenic conditions all while transporting liquid oxygen.
However, the innovative and high-performance nature of the E-2 rocket means it is not so simple to manufacture. The turbopump, including its impeller, are particularly challenging. Max Haot, Founder and CEO of Launcher, explained the difficulty of the project, noting, "If we look at any liquid rocket engine that can reach orbit, the turbopump is one of the most challenging parts of the project…or at the very least, half of the challenge. And if you're talking about a turbopump for a stage combustion closed cycle, that level of challenge increases."
And though metal additive manufacturing was chosen for the project, mistakes are not possible at this level of high performance. Haot further commented, "I want to point out how significant this is. We're dealing with liquid oxygen and an impeller spinning at 30,000 rpm to produce about one megawatt of power from the Turbine. In this type of environment, at four thousand psi of discharge pressure, any anomaly, any rubbing between the rotor and the stator, can result in an immediate, rapid, unplanned disassembly." Innovative technologies would therefore be the key.
Launcher thus turned to Stratasys Direct Manufacturing who themselves used Velo3D's Sapphire® solution to create the well-balanced inducer impeller. This critical component accelerates and drives the LOX to the combustion chamber, creating greater fluid flow and more thrust for the rocket. More specifically, the E-2's impeller was created by integrating two separate 3D printed parts, an inducer and an impeller, into one co-joined and efficient component. The material chosen was INCONEL 718, a corrosion-resistant material with decent LOX compatibility and excellent mechanical strength at cryogenic temperatures.
Why Metal Additive Manufacturing?
Of course, if Launcher could choose any technology, why did they turn towards metal AM and more specifically Velo3D's solution? Well, metal additive manufacturing, as you would expect, has several benefits especially as it came to lower costs and freedom of design. However, not any solution would do. Mainly, because to achieve the necessary properties, the part could not be made with internal supports or by being tilted, this led Stratasys Direct to choose to use the Velo3D Sapphire® system thanks to its ability to print parts without supports.
Notably, being able to print flat was critical for the team because tilting the part during the printing process would prevent them from being able to have a well-balanced spinning component. But this would not be possible with other solutions as generally if users want to avoid internal supports (which are necessary for many complex geometries for many metal 3D printing solutions), they must tilt the part. But that is not the case with the Sapphire® system.
As we have previously mentioned Velo3D's solution is unique in AM for its design freedom, embodying the company's motto "Print the part you want and need – without compromise." This freedom is a result of several factors, including the fact that Velo3D offers an advanced fully integrated metal AM solution including its Flow™ print preparation software and Assure™ software for quality validation. Additionally, it is capable of printing low angles down to zero degrees. This last part was particularly important for Launcher as it meant the part could be printed flat.
Given that having to tilt the part would compromise its quality due to stress accumulation during the build, this would have prevented the creation of a well-balanced spinning component. According to Stratasys Direct, with the Velo3D system, it was possible to print impellers in the ideal orientation while still avoiding the need for internal supports which could have also damaged the final part. Andre Ivankovic, Mechanical Engineer for Launcher further explained, "By printing the part flat, we got a nice symmetric mass distribution of the part relative to that central rotational axis."
What Was the Result?
The resulting part needed to go through comprehensive, customized post-processing operations and validation steps before it could be finalized. To do this, Stratasys Direct partially machined the component to remove all powder from internal channels before undergoing certified heat treatments. Next step was to confirm that the impeller met material density and integrity requirements before thermal processes.
The combination of Stratasys Direct's AM expertise and rigorous secondary post-processing with Velo3D's ability to print without supports ensured a successful build of a highly complex and functional part. And testing so far has been successful. Indeed, recently Launcher successfully tested the E-2 Engine Turbopump for the U.S. Space Force in a campaign at NASA Stennis Space Center. There the E-2 Test team was able to achieve or exceed all power, input and output pressure, efficiency and vibration goals over the course of 11 tests. You can find out more about how the E-2 was made using Velo3D's Sapphire® solution HERE.
What do you think of the E-2 Liquid Rocket Engine from Launcher? Let us know in a comment below or on our LinkedIn, Facebook, and Twitter pages! Don't forget to sign up for our free weekly Newsletter here for the latest 3D printing news straight to your inbox! You can also find all our videos on our YouTube channel.
*Cover Photo Credits: Launcher