Top 5 Videos: New Post-Processing Solutions from DyeMansion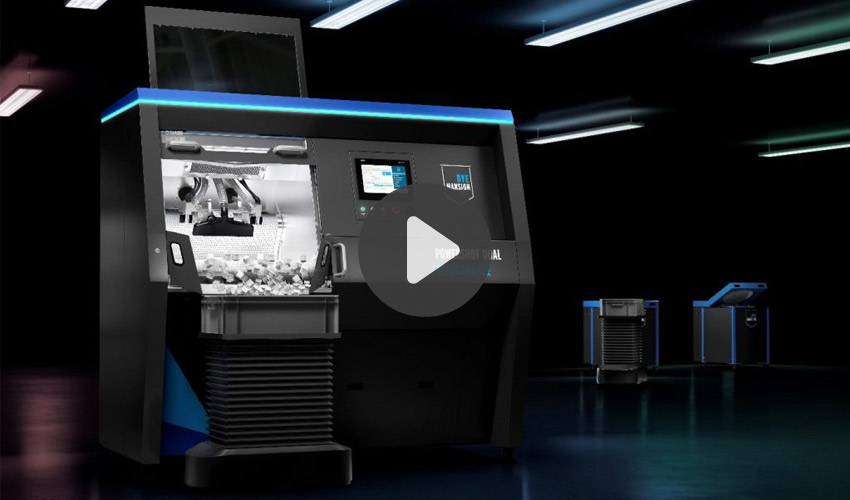 This week, discover DyeMansion 's new post-processing solutions: the PowerShot Performance series. The new range allows faster cleaning and coating of 3D printed parts, regardless of volume. Our second video focuses on the 3D printed parts involved in the production Formlabs' SLS machine, the Fuse 1. Next up, we introduce you to an architecturally impressive 3D printed two story house, followed by a new scanning device from Capture 3D. Finally, we look at the world's first community of 3D-printed zero net energy homes. We hope you enjoy and have a great Sunday!
Top 1: DyeMansion 's Three New Post-Processing Machines
This week the German manufacturer DyeMansion unveiled new industrial solutions for cleaning and coating 3D printed parts. The PowerShot Performance range includes a machine for cleaning, the PowerShot C, another for coating, the PowerShot S and finally, the PowerShot Dual, a solution that combines these two post-treatment steps, thus offering the possibility to manufacturers to facilitate the work and automate it. They would be able to process large volumes of parts at the same time :
Top 2: Formlabs' SLS Machine
The manufacturer Formlabs had so only far accustomed us to its SLA machines, until it officially started shipping its first SLS 3D printing solution, called Fuse 1 last January. But did you know that each machine incorporates parts that were also 3D printed- on the Fuse 1? The SLS 3D printer includes five 3D printed parts including the chamber door handle, but also the infrared purge sensor which is used to properly regulate the heat inside the machine. Today, around fifty Fuse 1s 3D print these parts for future Formlabs machines. This allows teams to be more agile and to offer quality components, closer to user needs: 
Top 3: Impressive Two-Story 3D Printed House
Renowned German architecture firm, Mense-Korte has used the Cobod BOD 2 to construct one of the most innovate and intricate 3D printed houses to date. Working through the day and night, the BOD 2 constructed the two story building with impressive efficiency. As a gantry style concrete 3D printer, the BOD 2 relies on material extrusion and functions across x, y, and z, axes. Evident in the building's design, Mense-Korte took advantage of the freedom enabled by 3D printing in construction.
Top 4: Capture 3D's GOM ScanCobot
Capture 3D is a company that specialises in 3D software and scanning solutions, best known to the maker community for its 3D scanning app, Capture, compatible with smartphones equipped with a TruDepth camera. Now the company have launched the GOM ScanCobot. Highlighted by the products user-friendliness, the GOM ScanCobot is intended to be an easy entrance to the world of automation. The GOM ScanCobot is a mobile system which combines a high-precision optical ATOS 3D scanner with a collaborative robot and a motorized rotation table, in order to accelerate pre-production stages such as design and prototyping.  You can find out more in the video below:
Top 5: World's First 3D Printed Zero Net Energy Homes
In conjunction with the Palari Group, Mighty Buildings has announced its intention to build the world's first community of 3D-printed zero net energy homes in the upscale city of Rancho Mirage in the Coachella Valley. Besides being more sustainable than traditional methods construction, 3D technology offers several other benefits including as price stability, faster construction and higher quality components. You can find out more about the zero net energy homes in the video below:
*
Cover photo courtesy of DyeMansion
What did you think of this week's top 5 videos? Which one is your favorite? Let us know in a comment below or on our Facebook, Twitter and LinkedIn pages! And don't forget to sign up to our free weekly Newsletter to keep updated on all the latest news in the 3D industry coming straight to your inbox!