DyeMansion and Stratasys Jointly Create Reference Architecture for Production-Scale Additive Manufacturing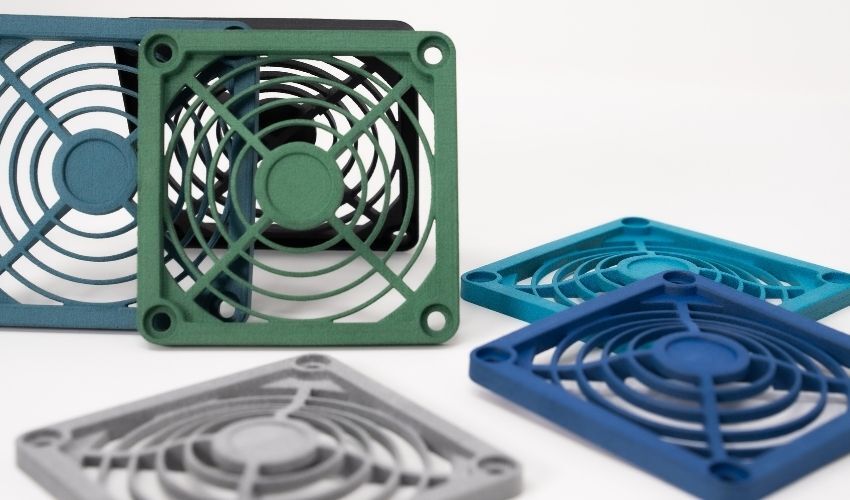 The additive manufacturing industry never sleeps. This has been proven again  by Stratasys and DyeMansion, who, after unveiling new machines and solutions within the last two months, have now announced that they are working together on a new project. Leading provider of post-processing solutions for industrial polymer 3D printing DyeMansion unveiled its new Powershot Performance Series with three new machines during a live stream in March. Stratasys, on the other hand, shined just last week when it presented three new high-end polymer 3D printing solutions – the Stratasys H350™ 3D printer, the Stratasys Origin One and the Stratasys F770™ 3D printer. Together, the two established companies aim to create a reference architecture for production-scale additive manufacturing. To find out more about this exciting news, DyeMansion co-founder and CEO Felix Ewald agreed to sit down for an interview with us for quite an insightful conversation.
Stratasys had already started planning the move last spring and thus started looking for a partner in the post-processing sector. In the fall of 2021, after successful joint tests with various processes, the partnership between Stratasys and DyeMansion was agreed upon. Since an important point is global sales, DyeMansion was also able to convince a branch in East India and worldwide partners as well as resellers to work with them. The jointly created reference architecture is intended to show concrete possibilities for additive series production of end-use parts and thus make purchasing decisions easier for those interested in 3D printing. After all, the choice is enormous these days: Which 3D printer do I decide on? Which processes are possible? Which material is compatible with which printer? Which post-processing methods do I need for which 3D printing technologies? The questions are endless, and companies and individuals faced with a purchasing decision are often at a loss. This is precisely why Stratasys and DyeMansion have made it their goal to provide clarity for users through their reference architecture. Felix Ewald comments, "It's about creating transparency. It's about the customer knowing, 'What do I get and what does it cost me?' – Without having to show 100,000 options." The aim is to clearly show the customer which workflow will produce which result and at what price.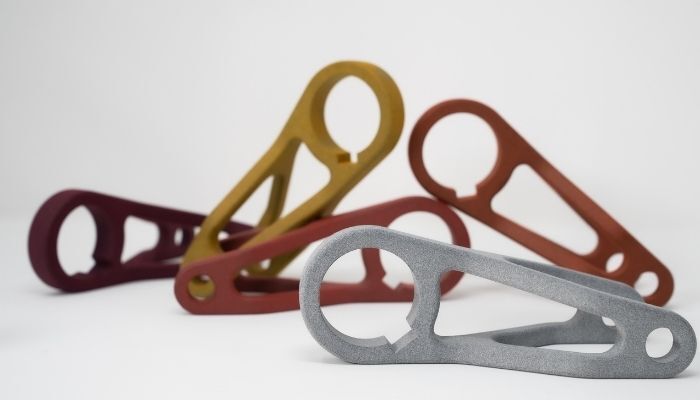 However, this is not the only special feature of the reference architecture. Of course, in the long run, additive manufacturing can save costs by eliminating the need for supply chains and enabling rapid manufacturing. There are also complex structures, such as shoe soles, that simply could not be produced using conventional manufacturing methods. It becomes even more impressive when it comes to individualized series production – because the 3D printing solutions from Stratasys and DyeMansion create reproducibility at affordable prices. As a prime example, Felix Ewald cites the Swiss eyewear manufacturer Götti, which "now offers well over 50 models in 12 different colors in 3 different standard sizes [as well as] the option to customize the whole thing." Additive manufacturing, he says, allows a pair of glasses to be ordered individualized and ready to be produced within a week. This creates such a wide range of variants that would not be possible with traditional processes.
The architecture is based on the new H Series™ Production Platform from Stratasys in combination with the DyeMansion Print-to-Product post-processing platform. For example, the new H350 printer, which uses the new SAF™ technology and provides complete control for the production of thousands of parts, can first print the desired object. Next, the part needs to be cleaned from the powder bed, which is done with DyeMansion's Powershot C. After that, the user has a choice and can place the part into the next DyeMansion machines for surface treatment and coloring. Sustainability has also not been neglected in the implementation of this project. CEO Felix mentioned that two big components were particularly important to them. One, he said, was the use of PA11, a unique high-performance bio-based polyamide made from renewable castor seeds, for 3D printing with the Stratasys machine. The other was the use of non-hazardous solvents for the post-processing machines, which often use toxic chemicals for optimal part smoothing.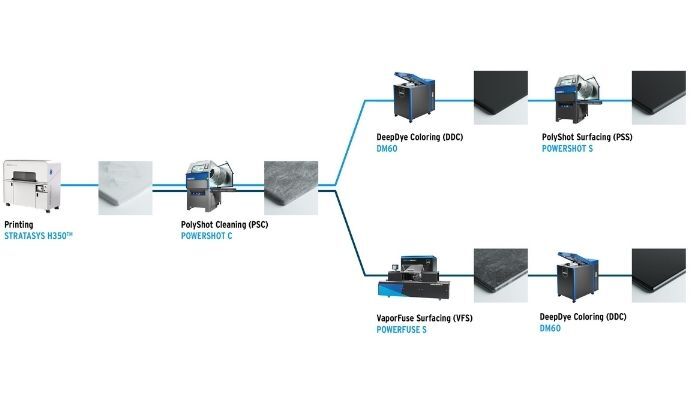 Together, the two companies plan to leverage their large network to make their end-to-end solutions available worldwide. In addition, to further complement the reference architecture, Stratasys and DyeMansion are working on a joint go-to-market strategy that will provide customers with solutions for various applications. The process chain is continuously being updated with new cutting-edge technology from both companies and we are excited to see what else is in store for the future. For more information about DyeMansion, click HERE.
*All image credits: DyeMansion
What do you think of DyeMansion and Stratasys' Reference Architecture? Let us know in a comment below or on our Facebook, Twitter and LinkedIn pages! Sign up for our free weekly Newsletter here, the latest 3D printing news straight to your inbox!