Dressler Group on the Importance of Contract Grinding for Additive Manufacturing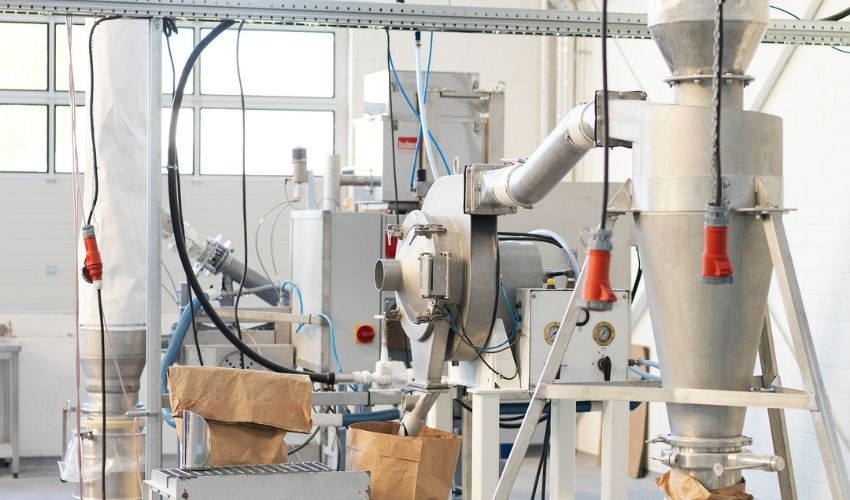 When it comes to the quality of additively manufactured components, one thing above all makes a difference: the material used. For binder jetting, HP's Multi-Jet Fusion technology or selective laser sintering (SLS), this means that the powders used are critical for the 3D-printed results. For example, the grain size used must be adapted to the specific process. For this reason, it is possible to find experts on the market who specialize in the grinding and refining of plastics and who can advise manufacturers with their know-how. Dressler Group (DG), a family-owned company based in Germany, is one of these contract grinders. The German company has succeeded in establishing itself with international customers as a "grinding authority" in the grinding and refining of high-performance engineering plastics. The ready-to-use powders are used in a wide range of industries – including pharmaceuticals, medical technology, 3D printing and other specialties. We spoke to company owner Jan Dressler to find out more about contract grinding and the importance of additive manufacturing for this sector.
3DN: Can you briefly introduce the Dressler Group and its connection to 3D printing?
Here at Dressler Group, innovation has been part of the company DNA from the very beginning. Our father set standards with his pioneering powder production under cold grinding conditions. The modern adaptation of this idea is the now patented Spherical Powder Technology (SPT), with allows powders to be produced from high-performance polymers (PEEK, PEKK, PEI) that could not previously be pulverized. In both theory and practice, we have found that as well as the particle size, the particle shape and the overall powder design are crucial in additive manufacturing processes such as 3D printing. Printing only produces truly satisfactory results when everything is precisely tuned to the specific processes, machines and applications. This is especially true when it comes to industrial-scale production. In addition, the topic of sustainability and recycling management is gaining in importance. So there is an extra dimension to the stringent demands of our customers: the powders must be made from recycled material, for example, or must themselves be recyclable.
3DN: What are your customers' most common powder requirements?
Our customers are usually looking to open up new markets or expand their market position. We are often asked to support objectives such as lightweight construction, robust custom moulds, mixed materials, recyclable powders and so on. We still do the actual grinding work, but we create the most value with individual "plug and play" solutions that deliver seamless batch-to-batch quality thanks to our powder design.
3DN: How important is the 3D printing business for the Dressler Group now, and how do you plan to expand it?
It's hugely important. That's why we aim to be the quality market leader in this segment, too. And we appear to be getting a lot right, because we have been a Preferred Partner of HP since 2016. This partnership has greatly benefited our reputation in this sector. Thanks to our constant focus on customer needs, our powders now enable smooth and economical operation even on an industrial scale. As a kind of missing link in the value chain, we offer genuine added value (as this graphic shows),especially in the case of high-performance plastics. And in the future, we will also be playing an even greater role in the pharmaceutical and medical technology sectors.
We think in cycles, for example with regard to recycling. We use resources, energy, water, etc. more sparingly thanks to refreshing, which involves combining new material and recycled material without compromising on quality and ease of processing.
Thinking in cycles also means that with our materials we not only enable and optimise the end products, but also all the individual process steps, including post-processing. In other words, our powders deliver added value across each and every process. Viewed as a whole, that's something our customers can only get from us.
3DN: R&D activities take place at the Technical Center. What makes this institution so special?
Key areas of focus at the technical center are powder design and process development. Here we can research, develop and make changes at short notice for our customers when required, starting with in-depth screening, through the initial trials, right up to series production readiness. We offer all this with minimised costs, material input and risk. Moreover, our comprehensive documentation enables reproducibility at any time and in any quantity. Especially with material screening, i.e. determining the optimum plastic for a specific project, we ensure that our customers make the right choice and save them lengthy, expensive wrong turns.
3DN: What added value do you offer customers compared to competitors?
Some of our customers also use other service providers. But our close interactions and customer surveys show that they especially value our agile innovation management, the high precision of our work and our R&D reports – along with our attentive and personal service. We are a system partner that gets involved at the earliest development stage. This may be a combination that only a family business can offer.
3DN: Do you have any last words for our readers?
We are our customers' "missing link" by making their 3D printing powders even more powerful. Through an absolutely individual powder design, they get exactly the powder they need: among other things, with more material and energy efficiency, more stable component structures, less post-processing and – thanks to the highest batch-to-batch quality – minimized down times of the machines. Are you curious and want to know more about what the Dressler Group can do for you? Then visit the company's website HERE.
Did you already know about the Dressler Group? Have you previously using grinding on thermoplastic powders? Let us know in a comment below or on our Linkedin, Facebook, and Twitter pages! Don't forget to sign up for our free weekly Newsletter here, the latest 3D printing news straight to your inbox! You can also find all our videos on our YouTube channel.