Double D Trailers Has Announced the First 3D Printed Horse Trailer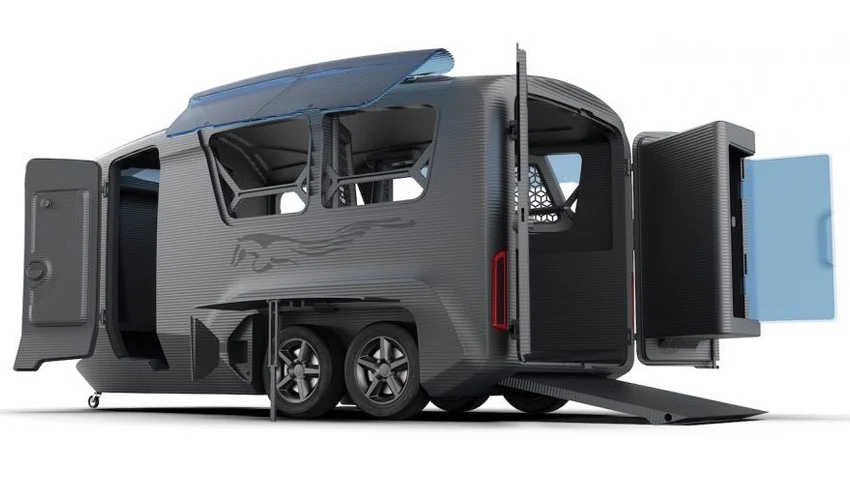 Double D Trailers is an American brand that specializes in the manufacture of horse trailers. The company's goal is to design the first 3D printed horse trailer using an XXL printing solution with a robotic arm. By using additive manufacturing, the company hopes to break free from the constraints of traditional production, such as material shortages and supply chain challenges; longer delivery times for customers, especially since the health crisis; increasingly polluting manufacturing plants; and design limitations. By relying on 3D technologies, Double D Trailers wants to offer more modern trailers, while reducing its environmental impact and manufacturing only what is needed. To accomplish this, the company has worked with Loci Robotics to develop a lighter, more energy-efficient and comfortable concept for horses.
Since its founding in 1994, Double D Trailers has believed in innovation: the company has developed many solutions to improve horse trailers, whether in terms of safety, practicality, comfort, etc. It offers tailor-made solutions where owners can choose a means of transport adapted to their animal. It is therefore quite natural for the brand to look into the benefits of additive manufacturing, known for its ability to offer customized parts in a fast, cost-effective and reliable way. Moreover, by opting for 3D technologies, Double D Trailers wants to reduce human error as much as possible.
The 3D Printed Horse Trailer From Double D Trailers
First, it's important to note that the design process for the 3D printed horse trailer differs from those that are traditionally manufactured. In fact, the company's website states, "Additive manufacturing offers definite advantages when designing new structural components, but it also requires designers to learn a few new rules. A 3D printed vehicle should NOT look like a traditional sheet metal vehicle, as this would not take full advantage of the technology. Additive technology allows material (and by extension strength and rigidity) to be placed exactly where it needs to be, resulting in completely unique designs and, ultimately, unique end products. This uniqueness is evident in Double D Trailers' 3D printed van."
Then came the choice of technology and machine. The van being quite large and complex, it was necessary to find an adapted printing solution. A robotic system seemed to meet the different requirements of the project: it can be mounted on rails to obtain a large printing surface while relying on a certain flexibility. Double D Trailers called on Loci Robotics and opted for a polymer 3D printer, capable of printing 450 kilos of material in only 5 hours! And in term of materials, the van is expected to be 3D printed from a mixture of recyclable plastics like polycarbonate, reinforced with fibers, whether carbon or glass. Thus, the van is more resistant while still remaining light. Indeed, according to the company, it would be 25% lighter than solutions already on the market.
As for the specifications, you should know that the 3D printed van will measure between 4.6 (15'1.1″) and 4.9 (~16′)meters long depending on the size of the horse and 2.4 (7'10.5″) meters wide. A sliding ramp is also integrated and the company has planned to install a sunroof to offer more light.
Double D Trailers concludes, "We work diligently with our clients to design their customized dream horse trailers, and they want it to be constructed just how they designed it. With 3D printing, all of the design is generated with a computer and then printed and overseen by professional engineers who are constantly monitoring and making real-time corrections during the print." Be sure to visit the company's website HERE to learn more!
What do you think of this 3D printed horse trailer? Let us know in a comment below or on our LinkedIn, Facebook, and Twitter pages! Don't forget to sign up for our free weekly Newsletter here, the latest 3D printing news straight to your inbox! You can also find all our videos on our YouTube channel.
*Cover Photo Credits: Double D Trailers