DiveDesign on Their Development of 3D Prostheses to Improve Animals' Lives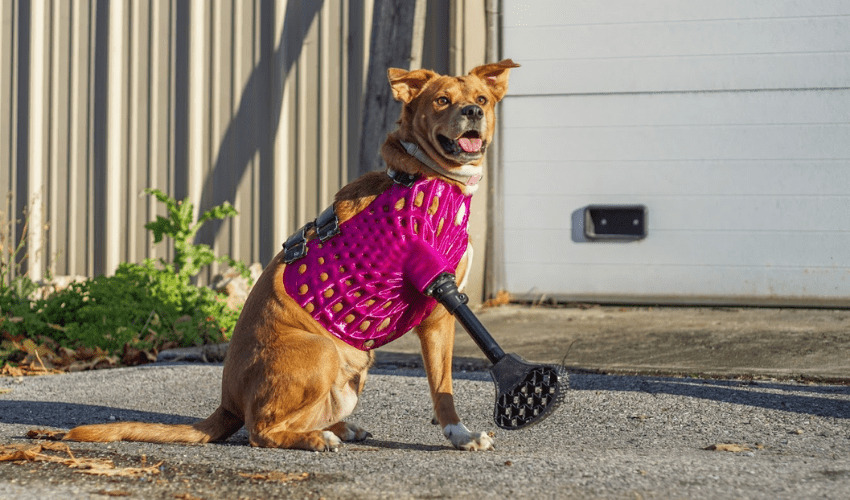 Major advances in 3D technology have made it possible to use 3D printing to help animals, specifically to improve their quality of life. Many of them are rescued, but their poor conditions do not allow them to be independent. That is why many companies have turned to additive manufacturing and 3D scanning for the development of prototypes to solve this problem. DiveDesign, a U.S. company based in New Jersey, has worked with some of these companies to help produce 3D prosthetics and orthotics tailored to each animal. We spoke with Adam Hecht, from the DiveDesign team, to learn more about their relationship with these projects and the development of animal devices using AM.
3DN: Could you introduce yourself and tell us about your connection to 3D printing?
My name is Adam and I , alongside my partner, founded DiveDesign LLC. Through various projects and internal initiatives we have adopted and utilized 3D printing in many different ways to help better serve the needs of our clients and go against the grain of traditional manufacturing.
3DN: What is Dive Design and how was it founded? When did you start working with animals?
DiveDesign is a product design and development firm that strategically partners and develops lasting relationships with visionary brands by testing new ideas and creating solutions that are the catalyst for industry-wide change. It was founded by Alex Tholl and myself as an effort to expand their growing freelance work in industrial design. Over the past few years we have built a talented team that serves a variety of industries in need of ongoing product development.
We started working with animals when our client and friend Derrick Campana (Owner of Bionic Pets and start of Wizard of Paws) let us know that he was struggling to keep up with the demand for full-limb prosthetics for dogs. He had the orders but the process to build took too long to make feasible sense. We helped design a digital tool and along with 3D scanning were able to 3D print these new prosthetics for him.
3DN: Could you tell us about the 3D technologies you use on your projects?
We utilize many FDM 3D print machines to create low and high fidelity prototypes for our clients' projects, we also utilize FDM to build the mentioned prosthetics for animals. 3D scanning also plays a large role in these prosthetics and some other unrelated work.
3DN: Why did you decide to use this method in order to help animals? What are the benefits?
The barrier to entry with FDM is extremely low, easily modifiable, and the technology has thousands of material choices. We were in search of a machine with a larger build volume and that was compatible with flexible machines. One of the biggest benefits is the mass production of customized parts, each prosthetic is vastly different but we are able to keep up with demand because the machines work all hours of the day. Additionally, we are able to allocate that now freed time to developing new types of prosthetic joints, carts, adaptors and more that further the advancements in the pet industry.
3DN: What is your vision as a company? Do you have any future projects coming up?
Our vision is to continue to grow and work with clients who want to innovate, push the boundaries of traditional design, and be leaders in their industries. DiveDesign would like to continue to grow our talent team, purchase more 3D print machines, and further expand our rapid prototype capabilities. We are developing a workout device that could change the way we interact with traditional machines at home and at the gym, designing and prototyping new cart systems for canines with mobility issues, and travelling to a few trade shows which is very exciting after being cooped up for so long!
3DN: Any last words for our readers?
You can learn more about out us on our website HERE. Don't hesitate to reach out to learn how we may we a good fit to help your business optimize workflows, invigorate a product lineup and more!
What do you think of DiveDesign's use of 3D printing to help animals? Let us know in a comment below or on our Facebook and Twitter pages! Don't forget to sign up for our free weekly newsletter to receive all the latest 3D printing news straight to your inbox!