DISPERSEED is Using 3D Printing to Help Reforestation Efforts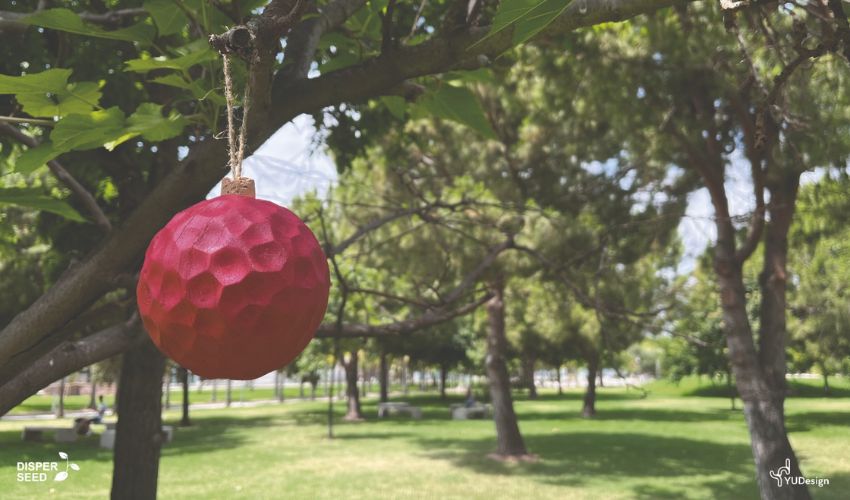 This summer, the impact of global warming has clear worldwide. One particularly worrying sign has been the rise in fires, a direct result of numerous heat waves as well as low rainfall. In the United States alone, the National Interagency Fire Center show that as of September 13th, 49.820 fires have burned a total of 6,726,028 acres, high above 10 year averages.  Additionally, other areas have been affected, notably in Europe, where France, Spain and Greece all saw unprecedented wildfires, increasing carbon dioxide emissions and causing an environmental emergency in many reasons. However hope has not been lost. A group of industrial design students from the Polytechnic University of Valencia have created DISPERSEED, a 3D printed edible seed capsule that they hope will bring floral diversity and a thriving ecosystem back to areas that have been destroyed by the fires.
Though of course we all have heard of the large fires in California and the Western United States in the summer, what you might not know is that fires are also very common in Spain in summer, a fact that has not been helped by climate change. These fires so common at this time of the year cause an overpopulation of Pyrophyte species, plant species that have adapted to tolerate fire. Unfortunately, they can cause an imbalance in ecosystems as they take over space that used to belong to other species and increase the chance of fires as they are more prone to burning. That is why this group of students have decided to create DISPERSEED which they hope will enable the creation of healthier and more sustainable resistant forests that are also more resistant to environmental disasters such as fires.
After extensive research and with the help of industry experts they came up with a definitive concept: a 3D printed biodegradable sphere. They have used a 3D food printer to make it edible and biodegradable. This sphere is rounded and has a striking reddish color reminiscent of fleshy fruits in order to attract birds that ingest DISPERSEED. It is composed of a mass containing the whole seeds. When ingested by birds or other animals, the germination capacity of the seed increases. These animals will travel long distances until they will discard DISPERSEED and expel it in their feces.
Helping the Environment with DISPERSEED
As mentioned above, DISPERSEED are reddish spheres, which will require human help to distribute and place them in the forests. The sphere has a string made of potato starch so it is biodegradable and does not leave any residue. Once these seeds have gone through the whole process and are in our forests, the animals will distribute the seeds wherever they go.
DISPERSEED will therefore help to reforest forests, preventing pyrophytic species from having a monopoly on forests after a fire. Thus creating an ecosystem that favors the diversity of plant species and bringing us humans closer to the care of the environment. These students, who became a runner-ups for the James Dyson Award with this product, want DISPERSEED to help not only in the Mediterranean forests but also worldwide. You can find out more HERE.
What do you think of DISPERSEED? Do you think it will help to rebuild forests that have been devastated by wildfires? Let us know in a comment below or on our LinkedIn, Facebook, and Twitter pages! Don't forget to sign up for our free weekly Newsletter here, the latest 3D printing news straight to your inbox! You can also find all our videos on our YouTube channel.
*All Photo Credits: DISPERSEED