The Different Types of Resins Available for 3D Printing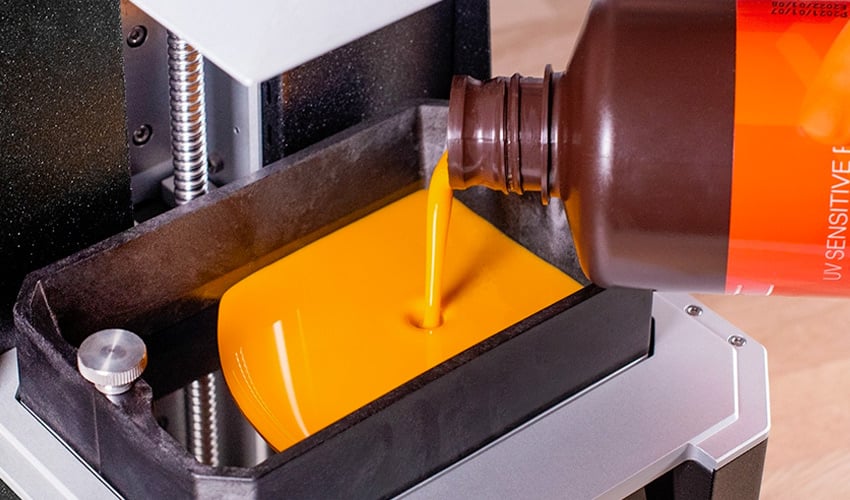 As we have seen on numerous occasions, choosing the right material is a fundamental step in additive manufacturing. This is especially important in resin 3D printing, a process in which photosensitive materials are cured layer by layer until the final, highly-detailed part is achieved. Moreover, resin choice also depends on the photopolymerization process used. On the one hand there is stereolithography, or SLA, which uses a laser to cure the material, and on the other there are the DLP and LCD methods, which use light displays. To better understand the currently available material options, we took a closer look at the types of resins you can use in 3D printing and their different characteristics.
It should be noted that resin performance is determined by the optimal polymerization induced by the curing light, which can be single or multi-wave. This is where the concept of resin wavelength comes into play. The lower the wavelength rating of the resin, the higher the light output power needed to cure it. It is for this reason that manufacturers specify a wavelength with which their resins are compatible. Thus, we understand that the wavelength of DLP/LCD resins is longer than SLA resins.
Standard 3D Printing Resins
As expected, this type of resin is the most generic in the list and on the market. Practically all manufacturers develop standard resins, so you can buy them anywhere, at an affordable price and with a wide variety of colors to choose from. They are a very versatile option, as they combine smooth and detailed results, with considerable hardness and simple post-processing such as painting and sanding. However, care must be taken as they are fragile and can break and crack. The accessibility and ease of use make it ideal for getting started in the world of resin 3D printing and creating decorative objects, prototyping, figurines and more.
Clear Resins
Clear resins are very similar to standard resins. They are useful for creating small objects with a high level of detail, but with the added property that they are translucent and colorless. In addition to facilitating the sanding and subsequent painting process, it also allows you to create a glass-like effect for all kinds of decorative objects. All with the same smooth and soft texture of standard resins. It should be noted that, although transparent resins are not recommended for food applications, these parts resist contact with water without wearing out.
Water-Washable Resins
Generally, resin 3D printed parts require some post-treatment to remove supports and excess resin. These cleaning steps are usually performed with isopropyl alcohol (IPA). However, there is a type of 3D printing resins that are water washable and therefore do not require chemical treatment. By cleaning the parts with water, a smoother and more pleasant texture to the touch is obtained. In this way, the viscosity that characterizes other resins disappears, while the odor associated with standard resins is reduced. The only drawback with these water washable resins is that the resolution can be affected.
Flexible 3D Printing Resins
These types of 3D printing resins have rubber-like qualities and have a shore hardness of around 80A. They are characterized by the ability to create strong objects as they are capable of bending and compressing without becoming deformed. Parts 3D printed with flexible resins will have properties similar to rubber, being able to recover their initial shape after being compressed. Thanks to their long life and ability to withstand constant use without breaking, flexible resins are ideal for creating prototypes of shock absorbers, handles or moving parts.
Industrial 3D Printing Resins
Industrial photopolymers, also known as hard resins, are materials with high mechanical properties ideal for the most demanding applications. They are characterized by being resistant to stress, as well as withstanding shocks and impacts, all without breaking or cracking. These capabilities allow them not only to serve as prototypes, but also to be used in tasks that demand strength and durability. Within this large group we can find heat-resistant and burnout resins. We have also included dental resins thanks to their interesting properties compatible with the dental sector.
Heat-Resistant Resins
Need to create parts that can withstand high temperatures? Then these 3D printing resins are your ideal choice. Heat-resistant resins can be considered to be industrial resins. They are characterized by their thermal resistance, i.e. the ability to create parts that can be exposed to temperatures of up to 230°C without their shape and properties being compromised. As a result, they are ideal for applications such as the manufacture of foundry tools, tools that will be exposed to hot fluids and machinery exposed to intense heat.
Burnout Resins
Like heat-resistant resins, burnout resins can be classified as industrial resins. The application of these parts begins with the design and printing of the model, reaching a high level of detail. Later, metal casting is carried out, where the burnout resin evaporates without leaving ashes or residues. In this way, the surface of the final object remains clean and with a smooth finish. This type of resin is used in the field of jewelry and dental prostheses, for example, where parts with an appearance free of roughness and imperfections are required.
Dental Resins
Unlike other resins, dental resin is composed of organic elements free of toxins. This allows it to be used for dental applications without endangering the health of patients. Dental resins favor the creation of parts with a smooth texture and a fairly high level of detail. This option is ideal for manufacturing retainers, crowns, bridges, surgical guides, dental prostheses or anatomical models, among other dental applications. In addition, they considerably reduce the production costs of traditional dental prostheses.
Conclusion
Although resin 3D printing is very versatile in and of itself, resins have a number of disadvantages that should be taken into consideration before printing. It is especially important to be aware of any necessary precautions to take before using any of them. With the exception of dental and other biocompatible resins, something that characterizes most resins is their toxicity. It is advisable to wear gloves and masks when handling them, at least until the final piece is completely cured. It is also advisable to keep the manufacturing space well ventilated to avoid the accumulation of toxic vapors.
Another point is that they are susceptible to ultraviolet rays, so it is not recommended to keep the pieces in the sun for a long period of time. Prolonged exposure to light will cause the polymers to lose cohesion and the figure to deform. Finally, these materials are not suitable for contact with food, especially liquid beverages. Related to the first point, resins are toxic materials, so contact with liquids can cause the piece to dissolve over time.
Still, the versatility of the different types of 3D printing resins makes them ideal tools for a wide variety of applications. From creating prototypes and figures to designing dental prostheses, jewelry or industrial tools. All you need to do is identify which type of resin best suits your application and which resin 3D printer is the most suitable.
What do you think of the different types of resins that are available for 3D printing? Let us know in a comment below or on our LinkedIn, Facebook, and Twitter pages! Don't forget to sign up for our free weekly Newsletter here, the latest 3D printing news straight to your inbox! You can also find all our videos on our YouTube channel.
*Cover Photo Credits: Prusa