Desktop Metal adds pure copper to its range of materials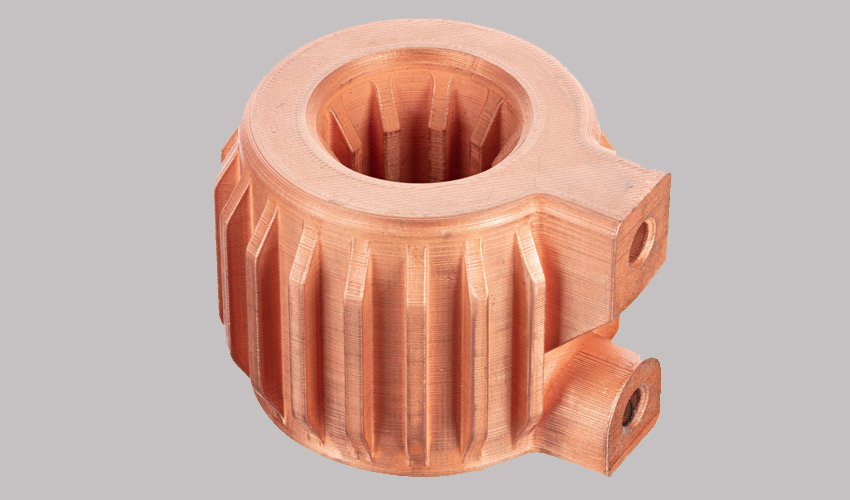 While going public a few weeks ago, US manufacturer Desktop Metal announced the addition of pure copper to its range of materials compatible with its Studio System solution. Known for its excellent thermal and electrical conductivity, copper could enable the creation of high value-added parts for a number of industries such as energy, automotive and electrical applications. This pure copper is an addition to the range of materials the company already offers, namely 4140 chromoly steel, H13 tool steel, 316L and 17-4 PH stainless steel.
In the metal additive manufacturing market, it is not easy to find solutions capable of printing pure copper: instead, they generally offer chromium-zirconium copper. Indeed, the use of a laser makes the manufacture of pure copper parts much more complicated. On the other hand, the Studio System machine uses a process similar to MIM, based on the extrusion of a plastic that contains metal powder. Therefore, it can print pure copper parts, just like Markforged's Metal X machine, which showcased its capabilities in this space at the beginning of the year.
Jonah Myerberg, Technical Director and co-founder of Desktop Metal, explains: "Known for its excellent thermal and electrical conductivity, copper is a highly sought-after material for a wide range of industries and applications, from heat exchangers and electrical components for heavy industry to consumer products. Whether for heat sinks, electric motor and power system components, or resistance welding electrodes, 3D printed copper on the Studio System is an ideal choice for the manufacture of parts with complex geometries". As you can see, this addition to the range of compatible metals is particularly interesting for applications that require high heat resistance or electrical conductivity. It is therefore hardly surprising that the first parts created are electrode holders, heat exchangers or bus bars.
Some 3D printed pure copper parts by Desktop Metal
Among the applications made of pure copper, Desktop Metal presents electrode holders: these are components that hold electrodes in position when welding nuts. The part in question would incorporate internal cooling channels to better regulate the temperature and thus avoid damaging the component too quickly. By relying on 3D printing of pure copper, the part is expected to have a longer service life.
Another example presented by the American manufacturer: busbars that allow a high current to be distributed locally. It is a part subject to high heat since energy is transferred to it. Thanks to additive manufacturing, one can imagine internal cooling channels to regulate the temperature; by choosing pure copper, the user can also count on better thermal conductivity. In addition, the use of 3D printing eliminates the assembly steps required by traditional methods.
Finally, Desktop Metal 3D printed a heat exchanger for the automotive sector. It is a part that allows the heat from an electric motor to be dissipated while the motor is running, thus keeping it at an optimal temperature for better performance. In this particular case, additive manufacturing offers the possibility of designing a customised part, particularly in terms of the design of the part's high and thin fins. You can find more information HERE.
What do you think of this new addition to Desktop Metal's materials? Let us know in a comment below or on our Facebook and Twitter pages! Sign up for our free weekly Newsletter here, the latest 3D printing news straight to your inbox!