Desktop Metal and Stratasys to Combine in Move to "Reshape the AM Industry"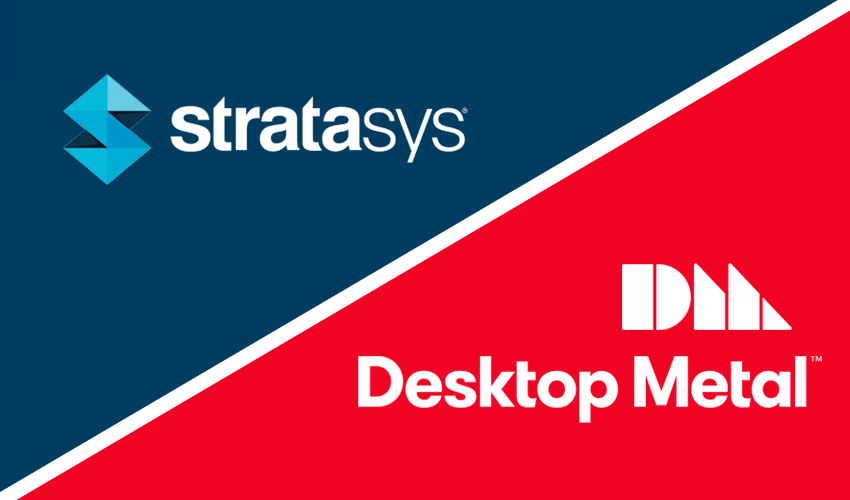 If you have been following along with us, you will know that consolidation has been a hot topic for the 3D printing market for some time now. After years of expansion and more and more players coming to the market, in the past year or so the trend has seemed to focus more on mergers and acquisitions. Now, there is yet more news. Desktop Metal and Stratasys, both leaders in different 3D printing technologies, have announced that they will be combining by the end of this year.
As mentioned, mergers and acquisitions have become more common over the past two years. Indeed, Desktop Metal itself was a driving force behind many of them. In 2021, the company quickly acquired both EnvisionTEC (now named ETEC) and ExOne, a leader in metal and sand binder jetting. Meanwhile, Stratasys has been making moves of its own, not just rejecting Nano Dimension's repeated bids for the company, but also acquiring the 3D printing materials section of Covestro.
Still, this latest announcement may come as a surprise to many in the industry. Both Desktop Metal and Stratasys are giants in additive manufacturing. Although the community at large was concerned when DM lay off approximately 12% off its workforce in a cost optimization initiative. Now the two will be combining in an all-stock transaction valued at $1.8B with the closing expected to occur in the fourth quarter of 2023. Under the terms of the agreement as well, Desktop Metal stockholders will receive 0.123 ordinary shares of Stratasys for each share of Desktop Metal Class A common stock at a value of approximately $1.88 per share. Upon completion, Stratasys shareholders are expected to own approximately 59% of the combined company and legacy Desktop Metal stockholders will own approximately 41%, opening what may be a new era in leaders in additive manufacturing.
What Can We Expect From the Stratasys and Desktop Metal News?
The move, which has been in the works for over a year, seems to have come about for a number of reasons according to a conference call given by Dr. Yoav Zeif, CEO of Stratasys, and Ric Fulop, CEO of Desktop Metal, at 8:30AM EDT on May 25th. The first, as might be expected, is financial. By combining, Desktop Metal and Stratasys expect to generate $1.1B in 2025 in what they claim will be "The first industrial AM company covering the full manufacturing lifecycle from design to mass production in both polymers and metal."
Indeed, later in the call they note that part of the confidence in the move is that not only will they combine their impressive portfolios and use cases, but that they would be able to combine best in class AM technology, including from Desktop Metal, with Stratasys' well-developed distribution networks. Zeif further confirmed that "This is an important milestone for Stratasys and Desktop Metal. In light of how we have grown, it was clear that a combination of our companies would significantly accelerate our growth. This is a landmark moment that will transform our companies and help to drive long-term sustainable growth." Their network will cover 65+ countries and 300+ channel partners, allowing for significant global coverage and represented on every continent (except Antarctica) while they give their customers fully end-to-end solutions for a wide variety of materials.
But it is not purely financial. Both Zeif and Fulop accented the complementary nature of both companies' offerings as they address extremely different markets due to their widely different technologies. Indeed, while Stratasys is a leader in polymer 3D printing, notably dominating in technologies like PolyJet, and is highly industrial and established, Desktop Metal has been making a name for itself in metal, ceramics and restorative dental 3D printing, focusing more and more recently as well on binder jetting.
Innovation in general seems to key. Desktop Metal and Stratasys will now be able to benefit from a combined R&D and patent portfolio of over 800+ scientists and 3,400+ patents granted and pending, especially in materials, building upon nearly $500M in cumulative R&D that the companies have done up to this point. They will also be able to take advantage of this to invest even further to grow the use of 3D printing for end-use parts and mass manufacturing, which the companies have identified to be the fastest growing segments for use of additive manufacturing.
But what's the broader impact on the industry?  Answering a question during the conference call, Zeif concluded, "It's a transformation, we are reshaping the industry. I have been here for three and a half years and it has been a struggle to position additive globally despite it being able to address so many manufacturing challenges in the world. Together, we are going to check the boxes to deliver true value for AM with innovative solutions and end-to-end solutions not just in polymer but also in metal." You can find out more about the move HERE, the two will remain operating as separate companies until the deal is finalized.
What do you think of this combination of Desktop Metal and Stratasys? Let us know in a comment below or on our LinkedIn, Facebook, and Twitter pages! Don't forget to sign up for our free weekly Newsletter here, the latest 3D printing news straight to your inbox! You can also find all our videos on our YouTube channel.