How to Design for Additive Manufacturing: Experts give their advice!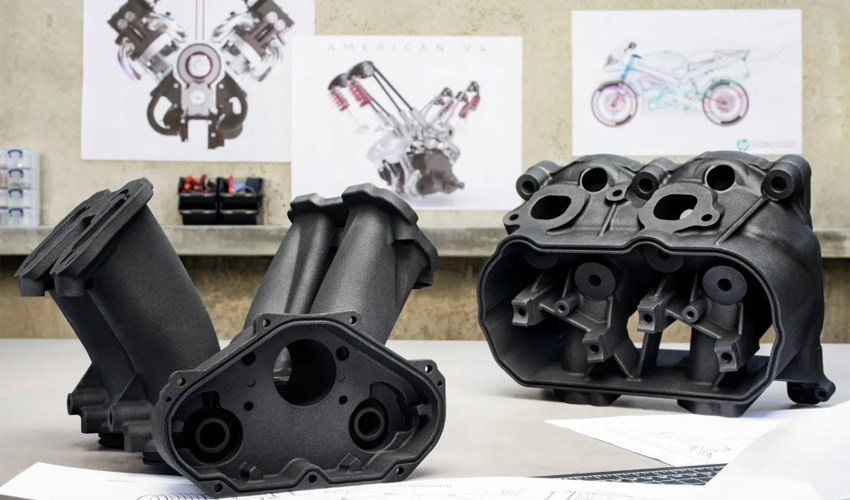 As you will know, a machining piece is not designed in the same way as a 3D printed piece: each manufacturing process is associated with a design technique. In additive manufacturing, there are very specific design rules and tools that will allow you to create an optimized design, ready for 3D printing. These methods are generally grouped under the term Design for Additive Manufacturing (DfAM) – developed to optimize the functional performance of the part as much as possible, but also its cost, reliability, and other product life-cycle considerations. Several techniques are used today, such as generative design, topology optimization or the creation of lattice structures. How to choose the right design method to optimize the entire design process of a 3D printed part? We asked three additive manufacturing experts for their opinion on the matter! 
In order to answer the issues related to DfAM, we asked some questions to Ravi Kunju, SVP, Strategy and Business Development at Altair; Daniel Pyzak, Director, EMEA CATIA Competency Center at Dassault Systèmes; and last but not least Peter Rogers, APAC Product Specialist for Additive Manufacturing at Autodesk.
Ravi Kunju
Daniel Pyzak
Peter Rogers
What dictates which DfAM technique is used? 
For some context, DfAM emerged because of the enormous design freedom and unique capabilities provided by AM technologies, as opposed to traditional methods such as CNC machining, where some designs are simply impossible to manufacture. Peter Rogers elaborates on this point: "For additive, the question 'Can we do that?' is often answered by a 'yes'. While it is feasible to do something, it doesn't mean it should be done that way. Production and manufacturing teams are building out their understanding of the best practices around AM."
To begin with, it is important to remember that the design technique(s) chosen will depend on the technology used. Ravi Kunju is quite clear: "It is the process that dictates how a part is prepared and how it is finished." If you own an FDM 3D printer, you will not create your part in the same way as if you owned a metal or SLS 3D printer. Starting from the technology itself, you will avoid certain errors and this will allow you to better optimize your surface finish, maximize the mechanical properties of your part and facilitate its cleaning, which in turn means saving time, material and money. Daniel Pyzak from Dassault adds: "There are a lot of rules to follow during the design stage to get a proper design for 3D printing: these rules depend strongly on the machine (capacity size, type of technology, material, etc.)" 
Take for example metal 3D printing, and more precisely Laser Powder Bed Fusion technology. Ravi Kunju explains: "For example, in a selective laser melting process to print metal, a support structure is required when printing surfaces that are under 45 degrees. Otherwise the down-facing surface quality can be very poor. Support structures are expensive to print and remove, considering they have to be subtracted from the final part. The best approach is to create designs that have minimal support structures.  One must add a constraint to ensure that the structure that is generated has surfaces well over the 45-degree angle from the horizontal." Minimizing the number of supports is therefore an important step in DfAM, a point that can also be applied to other 3D printing technologies. 
What are the Design for Additive Manufacturing techniques? 
Understanding how a part will be used and what is its purpose is of key importance when choosing which design technique(s) to apply – in other words, DfAM is a great way of adding functionality. Peter Rogers explains in more detail: "For example, there is a strong focus on generative design and topology optimization for aviation and aerospace mission-critical parts, which in part stems from the requirement to be able to do easy crack inspections. With lattices, the internal sections cannot be easily inspected, which would mean that the ongoing disadvantages would outweigh the benefits. However, in medical devices, the shape is relatively set in place, and lattices are more functional for osseointegration, so most DfAM is done using latticing."
You have most probably heard of topology optimization and generative design before. In fact, both techniques are often associated. Daniel Pyzak explains: "They are design technologies for lightweight engineering serving multiple manufacturing processes: milling, casting, and additive manufacturing." In short, the final goal of generative design is to arrive at a design that meets performance requirements better, faster, and lighter, using computational methods and resources at-hand. Topology optimization is none other than a proven generative design method that is focused on optimizing material distribution using sound numerical methods. The optimized shapes you get from topology optimization are very often impossible to manufacture using traditional processes. 
However, Ravi Kunju adds that it can be expensive, time consuming and even sub-optimal to alter designs and explore each variation infinitely. "If there are too many constraints, one may never arrive at an optimal solution. There are many numerical techniques and methods available to drive the designs, such as DOE (design of experiments), stochastic methods, genetic algorithms, neural networks etc., all of which have their strengths and weaknesses and can be classified as design study and synthesis (DSS)."
Finally, our experts focused on the concept of lattice structures, which is a form of optimization since it aims to reduce the weight of a part while maintaining its structural integrity. Latticing works by creating a network of meshes and knots that are often compared to a honeycomb structure, a design that is difficult to obtain using traditional manufacturing methods. The advantages of such a design are many, but the main point to remember is that they offer an optimal strength to weight ratio. Such a technique also offers shock absorption and impact protection, particularly interesting in cycling, for example. 
What is the impact of DfAM techniques on post-processing?
For the majority of users, post-processing is often considered a time-consuming, and difficult process. This is why it is important to minimize these steps as much as possible, from the very beginning of the design process. Ravi Kunju explains that there are three main types of post-treatment for 3D printing: thermal, mechanical and thermo-mechanical. "Thermal post-processing relieves the part of residual stresses and, in some cases, alters the grain structure.  Mechanical post-processing removes the support structure, and finish/drill/mill holes etc. Thermo-mechanical post-processing could be like hot iso-static pressing (HIP)."
Actually, Daniel Pyzak advises reducing the number of 3D printing supports (or even eliminating them), especially in metal additive manufacturing. He adds: "Another way is to integrate these supports (this is the job of the designer, not that of the machine operator) into the design of the part itself. Here, no need to remove them! Today, there are very few parts being designed in this way, but it's definitely a promising idea."
Peter Rogers concludes: "Bringing in the AM knowledge as early into the initial design process as possible will be the key to best leveraging the hardware. In large organizations that can be difficult, so putting together a working group with people of various backgrounds can help to find new, innovative ways to improve parts and turn what was originally implemented as "thought leadership" technology into an irreplaceable production technology."
*Cover Picture Credits: HP/Motus
Was this expert advice useful? Let us know in a comment below or on our Facebook and Twitter pages! Sign up for our free weekly Newsletter to receive all  of the latest news about 3D printing straight to your inbox!