Dental 3D Printing To Be Valued at $7.9 Billion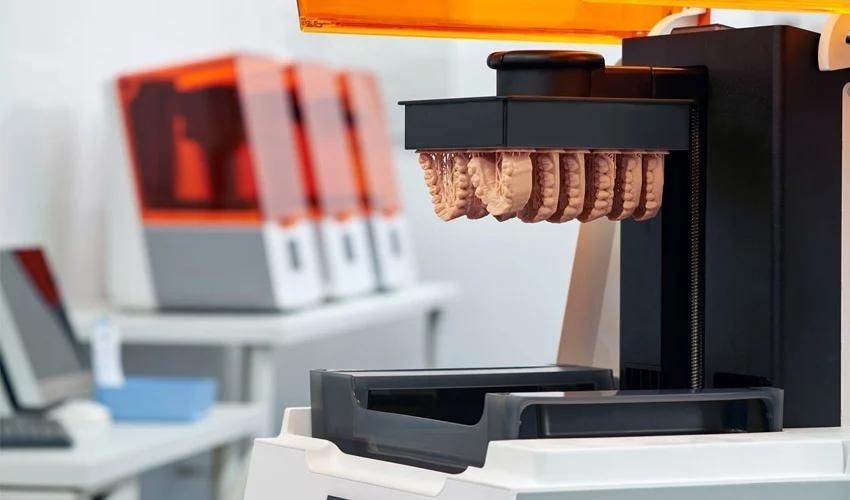 Research firm Markets and Markets recently released its new report on dental 3D printing, which is expected to generate $7.9 billion by 2027, growing at an annual rate of 20.2% from this year. This study is divided into the most common applications, products & services, end users and regions where 3D technologies are most used. It is clear that more and more industry professionals are using service providers and outsourcing the production of 3D printed dental devices. Though, stereolithography remains the most widely used technology because of its ability to produce highly detailed parts with excellent surface finish.
We have already covered numerous studies on dental 3D printing, all showing promising growth rates for the sector. It must be said that 3D technologies offer very competitive advantages for market players, including the ability to produce custom, on-demand devices in a variety of materials, from polymer to metal to ceramic. However, the Markets and Markets study shows that light curing remains the most popular process, accounting for 53% of the market by 2021. SLS, PolyJet and FDM are next. The finesse of the resin processes would probably explain this statistic: the user can design implants, prostheses and guides with a high resolution. It should also be noted that the technology remains fairly accessible and easy to learn, which could remove some barriers.
Users and Applications of Dental 3D Printing
The report looks at dental specialties that use additive manufacturing, dividing its study into three segments: prosthodontics, orthodontics and implantology. Prosthodontics accounted for 55% of the market in 2021; this field specializes in the restoration or cosmetic replacement of damaged or missing teeth with fixed or removable dentures. This market share can be explained by a growing demand for crowns and bridges due to a prevalence of cavities and tooth loss. Thanks to additive manufacturing, dental professionals can offer custom-made solutions, perfectly adapted to each patient. Implantology is expected to have the highest growth rate at 21.5% between 2022 and 2027.
But who are the main users of 3D technologies in dentistry? The Markets and Markets study divides the market into three major families: laboratories, hospitals and clinics, and academic and research institutes. Not too surprisingly, laboratories account for 78.6% of the market in 2021. More and more dental 3D printing solutions are designed to fit into this type of environment, with ready-to-use machines and materials adapted to dental applications. It should also be noted that the number of dental laboratories in the world is higher than it was a few years ago, which may explain part of this 78.6%.
However, this number needs to be qualified because the study clearly shows that the market is driven by service providers – they will account for 65.5% of the market in 2021 if we take the trio of equipment, materials and services. Many professionals are outsourcing the design and 3D printing part of the business, which shows that there are still challenges to be overcome and that the technology is not yet a reflex. We're on the right track, as the $7.9 billion shows, but the road is still long. If you are interested, you can download the whole report HERE.
What do you think of the growth of the 3D printing dental sector? Let us know in a comment below or on our Linkedin, Facebook, and Twitter pages! Don't forget to sign up for our free weekly Newsletter here, the latest 3D printing news straight to your inbox! You can also find all our videos on our YouTube channel.
*Cover Photo Credits: Formlabs