Dassault Systèmes and Xometry Partnership to accelerate part production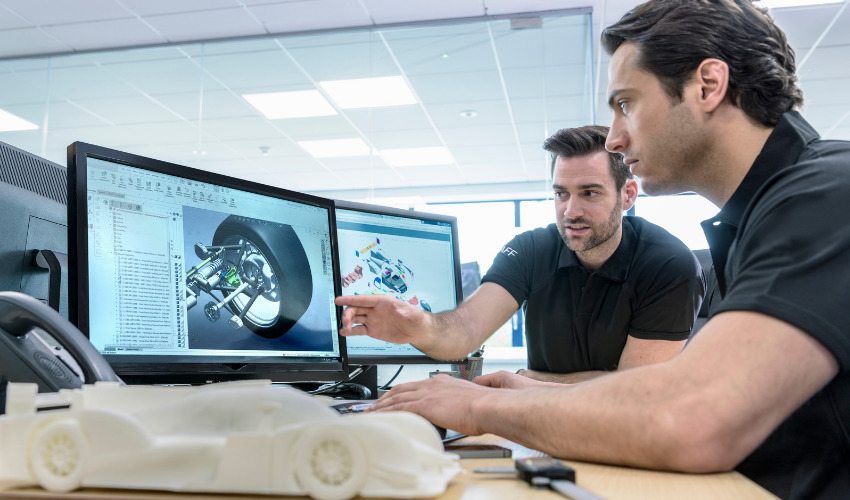 Before the COVID-19 pandemic hit the West, Dassault Systèmes and Xometry announced during the 3DEXPERIENCE World event in Nashville, Tennessee that they would be partnering to provide customers with a seamless, integrated way to produce parts that accelerates the concept to manufacturing process. More concretely, this meant that users of Dassault Systèmes' SOLIDWORKS and CATIA applications would be able to get immediate and automatic access to Xometry price quotes from Dassault Systèmes' 3DEXPERIENCE Marketplace Make service. "We launched the MAKE Marketplace in 2018 to make it easy for customers to design and manufacture.  Our partnership with Xometry takes this a step further," explained Sébastien Massart, Head of Corporate Strategy for Dassault Systèmes.
Xometry, based in the US, was established seven years ago and has grown rapidly since into a leading on-demand manufacturing provider. When it launched, it aimed to solve two primary problems: offering fast and easy manufacturing solutions for product designers, engineers and company purchasing managers; as well as connecting machine shops to customers. Today, Xometry's extensive network of over 5,000 manufacturing partners worldwide is one of the largest in the world, providing all types of manufacturing technologies: injection molding, CNC machining, 3D printing, and more.
In its last equity funding round in September, Xometry brought in an additional $75 million, thus bringing total funding to $193 million. Xometry has also expanded its reach outside of the US; it acquired German company Shift in 2019, which it identified as having a strong supply chain. Today, Xometry counts 2,000 partners in European countries; its Xometry Europe branch is based in Munich.
Thanks to the integration of the 3DEXPERIENCE Marketplace Make service into Dassault Systèmes applications like SOLIDWORKS, engineers can now play a greater role in the design to manufacturing aspect of part production by focusing on the shape of a prototype as well as the cost to produce it. Whereas sourcing manufacturing price quotes from service providers used to require a dozen clicks in a web interface, it now takes place instantaneously in one click with SOLIDWORKS and CATIA.  Dmitry Kafidov, Managing Director, Xometry Europe, explains: "Dassault Systèmes is the world leader in 3D design and engineering software, so when the company decided to create a marketplace to give its users direct access to manufacturing services providers, we thought it was the right place for us to be."
Engineers can view Xometry and Xometry Europe price quotes on their screen in the context of their design, and click to have it manufactured, all while retaining the option to get instant or manual quotes from other 3DEXPERIENCE Marketplace Make suppliers. In fact, 3DEXPERIENCE Marketplace Make provides access to a further 180+ qualified service providers worldwide in 3D printing, CNC Machining, Sheet Metal, Cutting, Injection Molding, etc.
But reducing the distance between virtual and real parts for engineers and designers is not the only reason for going to a service provider. In the additive manufacturing industry, service providers represent an important share of the market. In EY's 2019 study on the state of 3D printing, it reported that there had been a significant increase in the percentage of companies that use service providers to design and produce their AM parts: tripling to 26% from 2016 to 2019, and expected to reach 32% in 2022. In fact, organizations collaborate with service providers for three main reasons explains EY.
If they are at the beginning of their AM journey, they will not want to invest in industrial systems or capabilities before they are clear about what they will use 3D printing for and its impact; 81% from the study reported they would work with service providers to avoid investing in their own systems. Additionally, access to a service provider usually means access to various AM technologies. Therefore, companies wishing to use different applications at low volume find it cheaper to use providers' technology and skills, rather than investing on their own. Finally, service providers are able to produce locally, and therefore are closer to end customers. This is a key driver behind the rise of online 3D printing services.
In fact, through the 3DEXPERIENCE Marketplace Make service, Dmitry comments: "We mostly see requests for rapid prototyping projects and small to medium quantities. The buyers range from individuals to midsize companies." You can find more information on Dassault Systèmes' website HERE.
What do you think about the partnership. between Dassault Systèmes and Xometry? Let us know in a comment below or on our Facebook, Twitter and LinkedIn pages! Sign up for our free weekly Newsletter here, the latest 3D printing news straight to your inbox!
*Thumbnail photo credits: Dassault Systèmes