Dassault Systèmes' On-Demand Manufacturing Service, 3DEXPERIENCE Make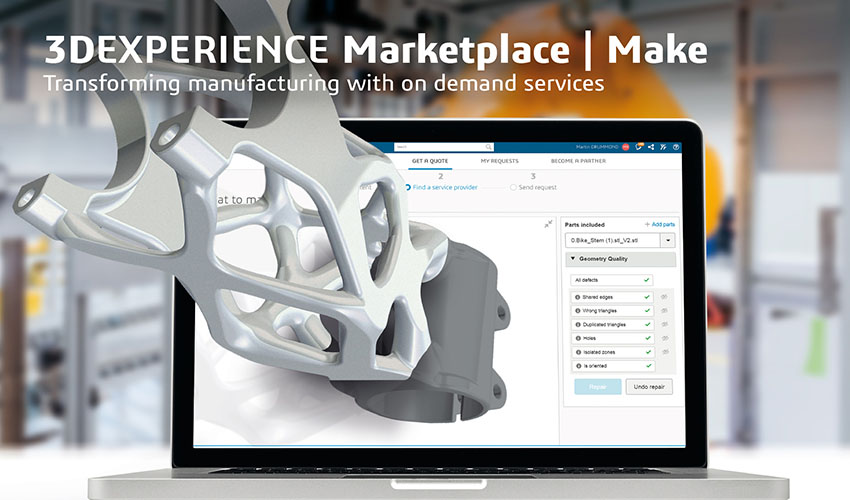 Dassault Systèmes, leader in  3D design software, 3D Digital Mock Up and Product Lifecycle Management (PLM) solutions, has recently introduced its On-Demand Manufacturing service called 3DEXPERIENCE Make. This service, part of the company's 3DEXPERIENCE Platform seeks to be a complete solution for companies that wish to adopt or integrate 3D printing into their activities. Usually, such companies would turn to 3D printing service providers to carry out their projects. Instead of creating yet another 3D printing service, 3DEXPERIENCE Make is a complete intermediation ecosystem that can connect a user to a 3D printing service by comparing the various providers' offers. In order to learn more about the ecosystem and the benefits it seeks to bring to the additive manufacturing industry, we spoke to Guillaume Drapier, Product Manager at Dassault Systèmes. 
3DN: Could you introduce yourself and tell us about your relationship with 3D printing technologies?
I was educated mostly in England at the Royal College of Art, where I received a master's degree in industrial design engineering, and at Imperial College London, where I received a Master of Science in mechanical engineering and an MBA in innovation management. My first acquaintance with additive manufacturing was during my graduation project: High iteration rhythm was a key element during the curriculum, thus making mockup products by hand was simply not feasible, both in terms of speed and quality expected. In that sense, AM took industrial design education by storm, having both positive and negative effects on the understanding of traditional manufacturing techniques for students.
During my first jobs in China and in Europe as an Industrial Project Manager, AM was the go-to solution. AM allowed us, with a single process and single supplier, to produce functional prototypes, cosmetic prototypes and marketing assets for demos and tradeshows, in a matter of days. It also allowed us to produce tooling to run pre-production batches of injection molding parts. It was such a thrilling moment and all bureaus I worked with competed against each other to deliver the fastest and best AM solution possible. Bureaus were also modifying their machines and mixing AM with other techniques, pushed by orders from larger conglomerates in automotive and aerospace. You could see the field maturing on a monthly basis.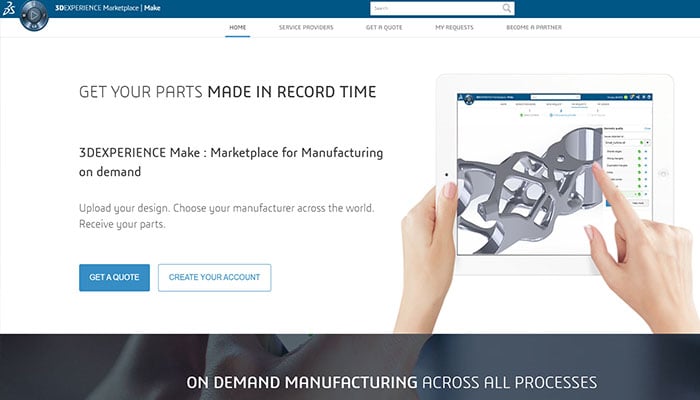 Later on in my career, I joined a startup that specialized in laser path optimisation for DMLS applied to micro lattices. I was in charge of leading the SaaS product effort as well as finding clients for this technology. AM was already a lot more mature and, as the startup's software wasn't yet making that much money, we consulted in fields such as thermal components, aeronautics engine components and medical implants. AM was already a lot more domesticated and we were striving to optimise the process by reducing build time and increasing repeatability. What shocked me was the journey the technology had gone through in such a short time, going from a "trinket-making" technique to a legitimate process to produce made-to-measure implants.
I then joined Dassault Systèmes as a Product Manager for what was then called the "3D Printing service". The rest is history.
3DN: How did 3DEXPERIENCE Make start? And why did Dassault Systèmes decide to launch such a service? 
I wasn't in the room when it all started, but the logic kind of went like this: Dassault Systèmes was looking to expand its e-commerce presence in various areas, and the "raison d'être" of the company's 3DEXPERIENCE platform was digital continuity. Also, back then you could see some on-demand manufacturing service providers starting to take off in the US and Europe. Given this, it made sense for Dassault Systèmes to build its presence in the field.  It allowed its existing customer base to jump over that last hurdle: usually when you leave your beloved CAD suite and enter the realm of a shop floor ERP (Entreprise Resource Planning) solution and work with your direct network. We wanted to allow buyers to expand their ability to compare prices and get the best deal possible while allowing AM champions to showcase their know-how and get new clients.
3DN: What does 3DEXPERIENCE Make offer as of today?
Currently, 3DEXPERIENCE Make offers several features that are good on their own, but put together and integrated with our 3DEXPERIENCE platform, are a heck of a time gain:. 
First, it's integrated with your CAD system. This means you can push your part straight from our CATIA and SOLIDWORKS applications to an on-demand manufacturing platform.
Second, it fixes your part mesh if your model has tesselation/mesh errors, which does happen from time to time with .STL files.
Third, it finds someone for you who can manufacture what you need based on your part and manufacturing specifications.  No more website browsing or endless phone calls to bureaus to check if they have the plastic or not.
Fourth, it provides you instantly with an exact price for your order to buy the part directly, or allows you to request a quote from three suppliers. 
Fifth, it centralises all your exchanges with all your suppliers – no more endless emails. 
Sixth, it handles payment, quote edition, invoice generation and tax calculation for you, which is a complex and time -consuming task itself.
All these possibilities exist in other separate products, but streamlining the process fits very well with AM where speed represents its essence.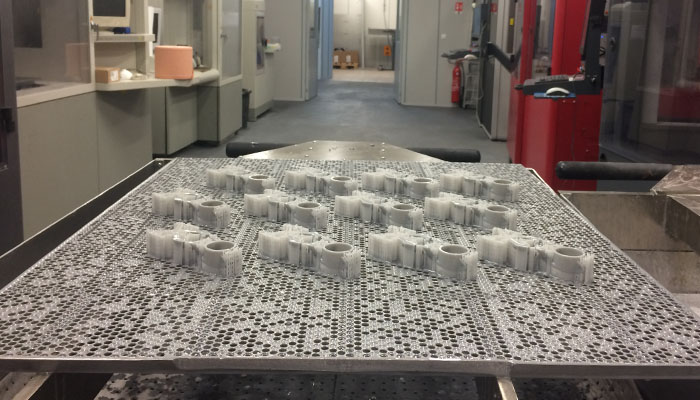 3DN: Who can use the service and why?
We have two offers: A public one called "Community" and a private one called "Enterprise". In each of those, we have Buyers (who buy parts), and Sellers (who make parts and then sell them).
In 3DEXPERIENCE Make Community, for the buyer profile we target small and medium-sized companies looking to streamline their on-demand manufacturing process, get the best deals, and discover new service providers. From the seller perspective, bureaus are present in the 3DEXPERIENCE Make community in order to create new revenue streams, acquire new clients and to increase their web presence.
3DEXPERIENCE Make Enterprise is totally different and is targeted to larger companies. We create an internal on-demand manufacturing marketplace for them. Both buyers and sellers are from the same company or have an existing agreement. 3DEXPERIENCE Make helps them to streamline and formalise their on-demand manufacturing process.
3DN: What are your plans for the future? Where do you see 3DEXPERIENCE Make in 5 years?
I see an even better integration with the Dassault Systèmes ecosystem, integration with other complementary marketplaces and an increasingly streamlined ordering process. We really strive to become the end-to-end design marketplace solution, from inception to manufacturing.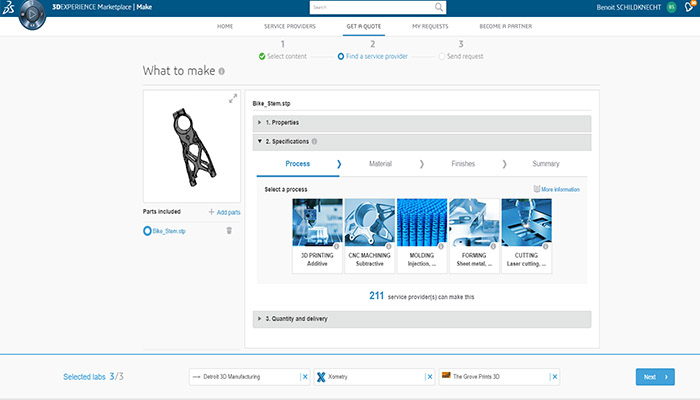 3DN: Do you have any last words for our readers?
If, like me, you love manufacturing and missed the birth of CNC or injection molding, then dive into AM. This is where it is happening and the opportunities are huge. 
You can find more information HERE. 
What do you think of the Dassault on-demand manufacturing service for additive manufacturing? Let us know in a comment below or on our Facebook and Twitter pages! Sign up for our free weekly Newsletter, all the latest news in 3D printing straight to your inbox!