The Da Vinci Color AiO to be presented at Formnext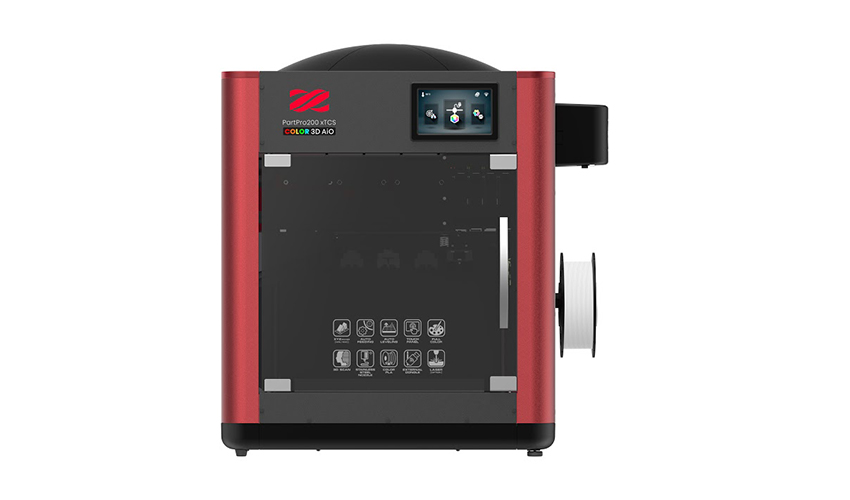 There is not a big event related to additive manufacturing in which the Asian company XYZprinting does not present any of its novelties. This year in the third edition of Formnext, which will start tomorrow and continue until this Friday, XYZprinting will officially present its Da Vinci Color AiO, a 3D printer all in one. This new development is capable of creating full colour models, laser engraving and even 3D scanning. All in one machine!
After the success that the brand had with the launch of their Da Vinci Color, a little over a year ago, they decided to bet on the growth of 3D colour printing. Where is the innovation of the brand then? In its latest line of printers, where we also include the Da Vinci Color mini, it highlights especially its ability to use Colour Jet technology (recognised in 2D printers), with the technologies of cast deposition. It achieves this by spraying CMYK colour drops that will be deposited layer by layer on the 3D model. This way, achieving pieces with millions of colours.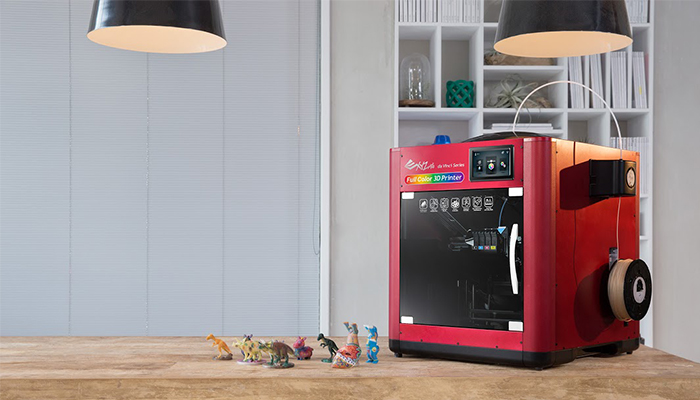 Da Vinci Color AiO; a complete manufacturing kit
The new Da Vinci AiO also has two new aspects to it, that will make it the favourite of the maker movement. The brand has decided to convert its machine into a complete manufacturing kit by adding a 3D scanner and a laser engraver. What will facilitate the power to replicate and customize each of your designs.
"This latest innovation is an important step forward for 3D printing, particularly for desktop users. Additional features of the printer, scanner and engraver makes Color AiO the most complete 3D desktop printing unit ever developed, giving businesses and designers the chance to make their ideas come true at a lower cost than ever before. It is not necessary to buy multiple units, "said Simon Shen, CEO of XYZprinting.
This new 3D printer with a construction volume of 200 x 200 x 15o mm will feature the brand's simple software, as well as automatic calibration. It can be purchased for a price of € 1,799 (1599 GBP VAT incl for UK). The laser engraver is not included with the Da Vinci color AiO, but can be purchased separately.
XYZprinting arrives in Frankfurt also with new materials
In addition to the presentation of their da Vinci Color AiO, the Asian manufacturer will also present its new range of materials to expand the capabilities of its line of 3D printers at this year's Formnext 2018. Its new range of materials is to expand the capabilities of its line of 3D printers. XYZprinting will launch a new antibacterial PLA, metallic copper PLA and carbon fiber PLA.
The first of its list is able to destroy 99% of bacteria including E. coli and Staphylococcus aureus, which greatly reduces the spread of diseases and infections. A perfect material for the medical, educational and home sector. It will come in 4 colours: white, red, yellow and neon green. The Metallic Copper PLA will be launched at the same time as a high speed printing nozzle, the HSS, perfect for using the material. This filament is created with 65% copper powder, and gives a metallic finish very close to what was expected for a sculpture. Finally the "Carbon PLA" or carbon fiber filament, focuses mainly on sectors such as aerospace or automotive, due to its high strength. Composed of 10% carbon fiber, it is able to create very light pieces with greater support capacity.
Both the new Da Vinci AiO and the brand's new materials will be officially presented from the 13th to 16th of November in Messe Frankfurt, Hall 3.1, Booth D10. Find more information on the official XYZprinting site here.
Are you going to formnext 2018 to check out XYZprinting's booth and much more? Let us know in a comment below or on our Facebook and Twitter pages! And remember to sign up for our free weekly Newsletter, to get all the latest news in 3D printing send straight to your inbox!