Czinger Has Unveiled the First 3D Printed Aluminum Gearbox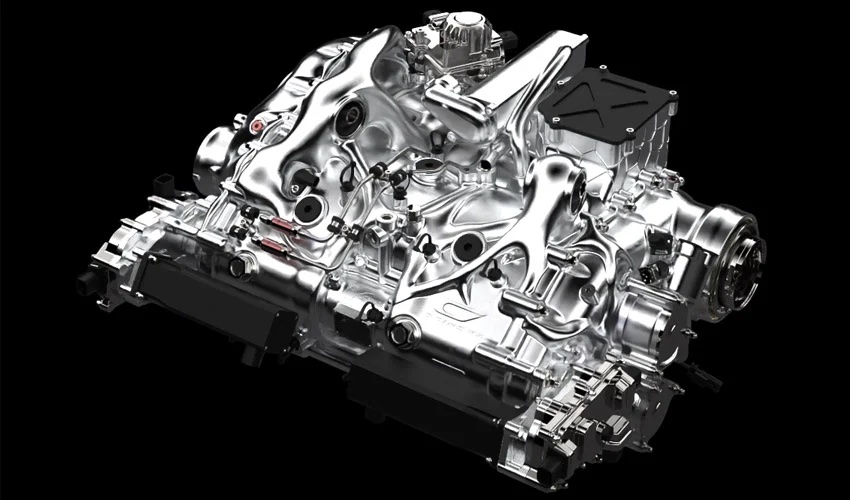 American car manufacturer Czinger is making a splash in the additive manufacturing market once again: it has unveiled a gearbox that was made using 3D printing and topological optimization. To do this, it worked with Xtrac, a British company that specializes in developing gearboxes for motorsports. The result? An automated 7-speed semi-sequential 3D printed gearbox, produced without any tooling with an aluminum alloy. Czinger can thus count on better structural performance but also significant savings.
If the name Czinger rings a bell, it's no surprise: the manufacturer is part of Divergent, the company that has developed a 3D printing platform to create the chassis for the cars of the future. In fact, we already told you about Czinger's latest project, the 21C hypercar, which was designed by 3D printing and artificial intelligence. Indeed, the company has shown that it has a certain mastery of 3D technologies and intends to capitalize on it. In any case, this development of a 3D printed gearbox is extremely interesting, not to mention a first for the automotive sector.
Lukas Czinger, co-founder and vice president of operations for Czinger, says, "We are proud to team Czinger's world-class engineers with those at Xtrac; together, we have developed an incredible, industry first, gearbox that is truly at the pinnacle of performance. We can't wait to shatter more track records as we utilize this system in the 21C" Both parties involved in the project remain fairly tight-lipped about the printing method used; we just know that an aluminum alloy was the preferred material. In any case, the 3D printed gearbox has many exciting specifications such as dual barrel gear actuation and Sub‑100ms fear shifts that guaranatee a smooth ride, among others.
Adrian Moore, CEO of Xtrac, concludes, "What our Xtrac engineers have accomplished in tandem with Czinger and Divergent is groundbreaking. Xtrac is pleased to be at the forefront of cutting-edge gearbox manufacturing by creating these 3D printed casings. It has been extremely interesting and very stimulating for our engineers working closely together to bring this cutting edge innovation to life."
As you can see, the gearbox will be integrated into the 21C hypercar, a car that, remember, is capable of going from 0 to 250 mph and back to 0 in about 27 seconds. You can find more information on the Czinger website HERE.
What do you think of this 3D printed gearbox? Let us know in a comment below or on our LinkedIn, Facebook, and Twitter pages! Don't forget to sign up for our free weekly Newsletter here, the latest 3D printing news straight to your inbox! You can also find all our videos on our YouTube channel.
*Cover Photo Credits: Czinger/Xtrac