CyBe Construction's 3D-Printed Housing Venture on the Island of Curaçao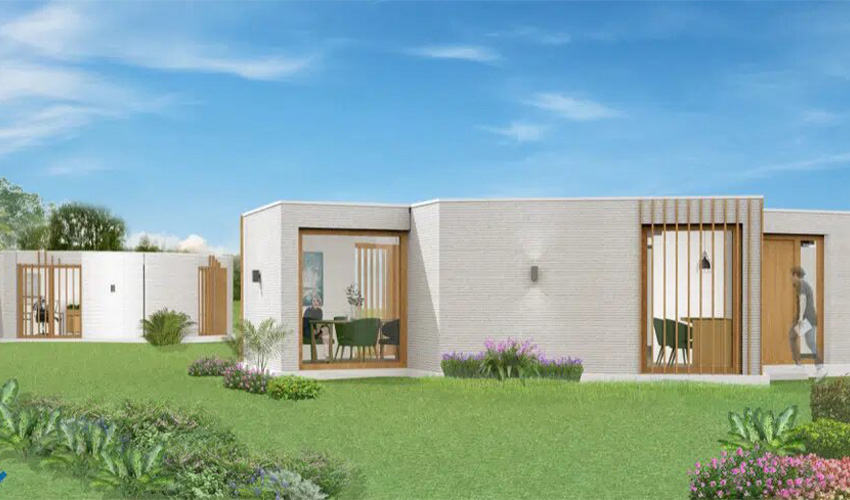 The global housing crisis, coupled with the labor and raw materials shortage in the construction industry has opened a huge opportunity for 3D printing to be leveraged as a solution to provide housing for people across the globe. Companies have been using 3D printing more frequently to construct all sorts of buildings—whether it's schools, a sustainable village, or even a parkour ground. Recently, CyBe Construction, specializing in 3D concrete printing, partnered with concrete experts Betonindustrie Brievengat (BIB) to build the first 3D-printed buildings in the Caribbean.
The first 3D-printed buildings in the Caribbean will be built on the island of Curaçao, located off the coast of Venezuela. According to the builders, the future housing structures will be luxuriously finished and will benefit from open open-space as well as a patio. Berry Hendriks, CEO and Founder of CyBe Construction, explains: "It is increasingly difficult to build affordably. Thanks to concrete 3D printing, combined with the design of 'Lyve by CyBe' housing, we can solve this problem. " Before adding: " As an experienced knowledge leader and technology provider, with concrete 3D printers on all continents, we have been able to add BiB as a strong and progressive partner for the Caribbean."
Cybe Construction's 3D-Printed Houses
As you can imagine, this is not the first time that the Dutch company has embarked on such a project. In Dubai, CyBe Construction notably designed the first 3D printed research laboratory before participating in the construction of houses in the North of France. For constructing these houses, the company uses its own concrete 3D printers called R 3Dp and RC 3Dp. The second is placed on tracks, which allows it to be mobile, and therefore it is possible to deploy it to any location. Regarding the materials used, CyBe Construction usually uses its own cement called "CyBe MORTAR", which according to the manufacturers contains 30% less CO2 than Portland cement, the most widely used material in the construction industry. construction. 
Cybe Construction's housing venture in the Caribbean is already underway. At the end of September, the company shipped one of its 3D printers to Curaçao for the engineers to begin training in the use of these machines. The design of the first building prototypes has also started, the two buildings should serve as offices and a cafe for the community of Willemstad, the capital of the island. In the future, the partnership between CyBe Construction and Betonindustrie Brievengat could be renewed — the two companies are already planning to build a third building in Curaçao. 
What do you think of CyBe Construction's 3D-printed housing venture in Curaçao? Let us know in a comment below or on our Facebook and  Twitter pages. Don't forget to sign up for our free weekly  newsletter , with all the latest news in 3D printing delivered straight to your inbox!