Crowdfunding: An accelerator for 3D printing?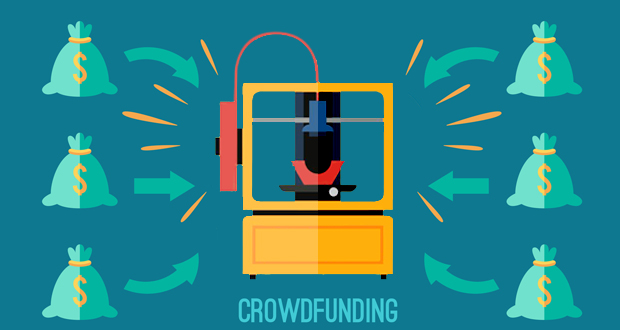 3D printing is a fascinating technology that gives its users unlimited possibilities to further one's creative aspirations or to provide the push needed to completely revolutionize an entire industry. With the possibilities that 3D printing offers, it is no surprise that companies are trying to break out into this disruptive market, creating an undeniable trend in those who want to help progress the future of 3D printing.
In the Wohlers Report for 2016, their study of the 3D printing industry showed that they had a total sale of 278,000 desktop 3D printers, numbers that obviously don't lie. These numbers clearly demonstrate the pull that many industries feel that leads them to jump head first into this technology. Making the plunge more often than not has been 3D printing startups who are wanting to hit while the iron is still hot. Although the goals between companies may change, they have been able to bring new projects to the table that offer cheaper, more cost effective solutions to the market.
Crowdfunding
A key accelerator from many of these projects has been crowdfunding platforms. The reason for its popularity in projects like 3D printing is because it is easier to reach people who are interested in this type of technology; enabling startups to both promote and fund their ideas all on one platform. To have an idea of the impact that crowdfunding platforms could potentially have in relation to this technology can be seen in the numbers alone. In 2016, more than $800 million was raised by around 5.6 million contributors on the two largest crowdfunding websites: Indiegogo and Kickstarter. With people looking to back something and with money to give, crowdfunding ultimately attracts makers and innovative thinkers who want to make their 3D printing aspirations a reality.
Although many point to the positive aspects of crowdfunding websites, there is still a negative side to it, particularly with 3D printing projects. With the influx of 3D printer campaigns we have seen on websites such as Kickstarter and Indiegogo that have not been able to fulfill their promises or have postponed the delivery of the printers repeatedly, we started to wonder why there is this trend of failed 3D printer projects happening and why do they occur.
Don't Make a Promise You Can't Keep
Many crowdfunding projects offer attractive promises that boast a revolutionary tool that could change your life as you know it. However, it's often the promises the project makes that are unable to be kept. One project we have in mind is the NexD1 from Next Dynamics. The company created their first prototype for a jetting printer in 2015 and started their crowdfunding campaign in December of 2016. The printer itself was available for a low price of between €2,348 and €4,227, a very attractive promise indeed. It was in part thanks to this pricing that the company managed to raise €500,000 very quickly
During the campaign, one of the backers asked to see the printer prototype. However, although the company provided many positive answers, nobody actually saw the NexD1 in action. Instead, the team would only offer doubtful pictures and videos. It is because of their lack of proof for the printer that the company began to see a fall in their investments, dwindling from a cozy €500,000 and landing at €360,000. The campaign was officially suspended in January of 2017 by Kickstarter, which was followed by an announcement from the company's CEO on their website that stated they were abandoning the NexD1 and moving on to "Bigger and better things." What caused this failure? The printer was not in its promised state of development, yet the team believed in a success but failed to provide sufficient evidence.
Low Prices Attract too Many Customers
TIKO was launched as one of the cheapest 3D printers on the market, with a price ranging from between $99 to $179. While the Kickstarter campaign was an overall success, the originally planned delivery date of November 2015 was pushed back all the way to November of 2016, a full year later. With a total of 4,100 printers delivered to their early birds, their breaking point was met due to a combined mixture of software failure and a lack of funds. In February 2017, TIKO admitted their failure and that their backers would not be refunded, stating "If we can't refund everyone, it's unfair to refund anyone." Currently, their project is on hold, as they are hoping to fulfill their Kickstarter orders, once they find a way to.
A few years earlier, another company called NEA3D met the same fate as TIKO. With a pledge amount for their printers ranging between $2,000 and $2,800, it quickly became a popular 3D printer for backers to back. Unfortunately for them, Nine months after their campaign launched, NEA3D announced their projects failure and started offering refunds. The reason for their failure? Financing and issues with the costs related to building their 3D printer. NEA3D offered a statement not too long after, stating that "Building a 3D printer is not cheap." As of May 2017, they have been able to refund 100% of their backers.
the Buccaneer was another famous low-cost printer that was launched through a crowdfunding campaign. After raising $100,000 in less than 10 minutes, they successfully managed to raise a grand total of $1.5 million, in what is known as one of the most successful Kickstarter campaigns to date. In addition to raising $1.5 million, they also managed to raise an additional $2 million from private investors. With the funds behind them, many were surprised to find out that the Buccaneer campaign had been hit with financial problems as a result of their spending. Left without the ability to fulfill their Kickstarter orders, they decided to sell their printers on their website, which ultimately made their backers furious. In October of 2015, 60% of their orders were left unfulfilled, leading Pirate3D to admit that their project was a failure and officially announcing that it had been "Thrown out of the window."
Too Good to be True
The Peachy Printer was an SLA 3D printer that was initially being offered for $100, something that had never been seen before in this market. After starting their campaign on Kickstarter in September of 2013, they reached $650,000, far exceeding their original goal.
In the beginning, creators Ryan Grayston and David Boe were giving updates and providing the latest news on the Peachy Printer's' development. But, little by little, they began to give less news and updates until they went completely silent. Supporters of the Peachy Printer began to worry and as time passed, Grayston discovered that Boe had spent $320,000 of the campaign money on the construction of his house. After this discovery, Grayston released a series of videos, which included a video with his former business partner apologizing and confessing to what he had done. Regardless of the apology, Grayson was not able to continue the project with only half of the money left, and so decided to publish all the files and repositories on GitHub, which contained the component data as well as software source codes.
Another phenomenon that has been a continuous occurrence is people taking advantage of backers through crowdfunding websites in order to fraudulently obtain funds. These occurrences are usually copy cats of the NEA3D project, which makes it seem that the backer will receive a printer, but the real aim of the project is for them to make a few thousand dollars and then disappear with the money.
How Are Crowdfunding Websites Responding to this Phenomena?
Excluding fraudulent campaigns, many of those projects could have been carried out better if they would have been checked accordingly. To better understand what the reviewing process looks like for project and what backers can do to avoid losing their money, we went straight to the source and talked to both Kickstarter and Indiegogo, two of the biggest crowdfunding websites around today.
According to David Gallagher, Director of Communications at Kickstarter, he explained that there are several terms of use, as well as rules that a project needs to meet in order to be published. This includes a working prototype and in the case of a 3D printer, it must be able to print something. Beyond this though, Kickstarter doesn't evaluate claims that are made by creators. For Indiegogo on the other hand, they do not require a working prototype since they focus more on bringing ideas to life, therefore leaving it up to the contributor to decide whether or not a project is promising. A shared connection between both websites is their dedicated Trust and Safety teams that investigate concerns raised in the community.
In many cases, the reason for the failure of a project is often associated with obstacles that are met while manufacturing the product. "Building a business is hard and always presents unexpected challenges. Very often, there are unforeseen costs and delays from manufacturers, which are difficult to be prepared for", explains Elena Ginebreda-Fredel, Associate Manager of Communications at Indiegogo. Kickstarter does try to anticipate problems that arise during hardware development, with their recently announced Hardware Studio where creators have the possibility to access free educational materials and personalized advice from well-established companies.
In the case of the NexD1, Kickstarter realized early on that they were violating their terms of use by not providing sufficient evidence. Luckily for the backers, Kickstarter had suspended the campaign before anyone was charged. In regards to the TIKO3D and NEA3D, backers didn't have the same luck, as the campaign had been finished with funds already transferred.
In the end, both platforms ask for the same considerations for projects: Clear and honest communication. Creators that cannot complete their goals need to inform their supporters on how the money was spent and the ways in which they are working to help bring the project to the best possible conclusion. Since a full refund is not possible all the time, a project can also offer partial refunds or an alternative product if they are able to.
The Case of Success: Formlabs and How to Do It Right
Most of the contributors are familiar with the risk involved in supporting a project and without them, creative products like the 3Doodler, the M3D or the Formlabs Form 1 would not have been possible. As Formlabs has grown into a large, international business, we decided to ask Formlabs about the challenges and the obstacles that they have had to overcome in order to make their project a reality.
Back in 2012, Formlabs entered the market with the first affordable machine for professionals, the Form 1. Their first desktop SLA-Printer raised nearly $3 million in pre-orders and was stated as being one of the most successful crowdfunding campaigns. Today, Formlabs has now introduced several other machines – the SLS 3D printer Fuse 1 and the robotic solution Form Cell – and employs 250 people in three different countries with a solid global distribution network.
"Building Hardware is hard, and building 3D printers is even harder: you need to bring together a full ecosystem – hardware, software and a great customer service. Other challenges include logistics, distribution, and manufacturing," explains Michael Sorkin, General Manager of Formlabs EU.
According to Formlabs, transparency is key. If there are delays, problems or setbacks, the communication with your community is vital. It will be easier for supporters to understand difficulties if you are honest with them about it. But creators are not the only ones that have influence over the outcome of the project, contributors are also responsible for sharing their opinion. Regardless of the money, you are investing, your feedback and critical input are extremely important. Isn't this what makes crowdfunding what it is?
What can I do as a supporter?
Before being in a position of losing your money, there are a few things you can do in advance to protect yourself. The first is to review the advice that the crowdfunding website gives to backers when they want to know more about a project and its possible outcome. If you are about to support an idea or product yourself, you can easily evaluate it based on the following points:
Does the team have the necessary qualifications (engineering, management, marketing) to bring the project to fruition?
Does the creator or startup have a competent and sufficient manufacturing capacity?
Is the project feasible? Is the pricing reasonable?
Is the project trustworthy? Are they transparent enough?
By considering these aspects and doing a little research of your own, it can save you money and keep up the excitement of crowdfunding.
When factoring out the potential mishaps that could happen when backing a project, backers shouldn't be too afraid when deciding to support a project. According to a study on Kickstarter, only 9% of all projects fail to deliver rewards. This number is significantly low when compared to the number of projects that have been carried out successfully. Of course, one must always be aware that there is a certain risk, but sometimes being one of the first people to receive a new printer is what makes the adventure of backing a project so exciting.
As previously stated, crowdfunding platforms can act as an accelerator for a startup, product or idea, but if the creator is wanting to see it through, it's important that they have the necessary qualifications, and that they take every aspect of the project seriously. The initial reason for why they started a campaign should also be used as a powerful tool to guide them in the right direction: their supporters. As a creator, they should ensure that they are doing it for them, that they are listening to their supporters. In addition,  they should be open and honest with them on the progress and setbacks over the course of their campaign. This gives more transparency and helps builds the trust needed between both the backers and the campaign. If both parties can work together and fulfill their parts, then they are already halfway to success.