CRIQ develops custom 3D printed jaw implants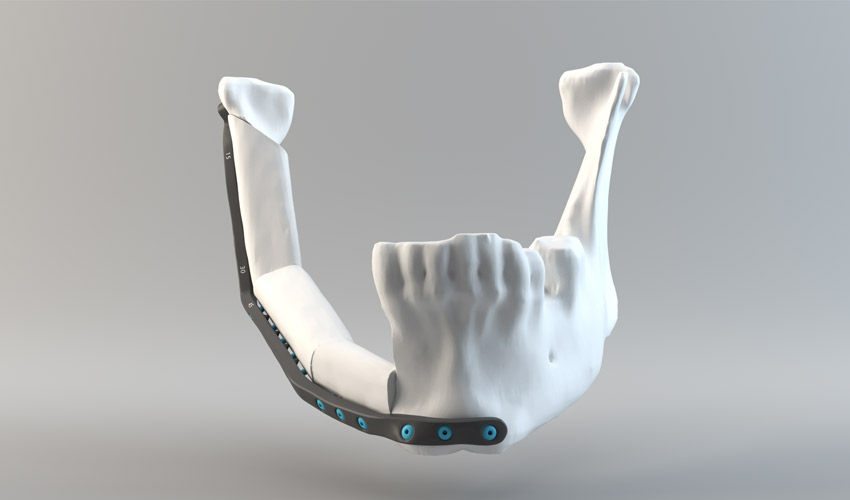 The Industrial Research Center of Quebec (CRIQ) recently acquired an Arcam EBM Q10plus 3D printer. It is an industrial machine based on electron beam melting technology. This acquisition should allow researchers to accelerate the development of lower jaw implants. Plus further transform the way they are now designed to more easily deliver tailored solutions.
CRIQ has been working for some time in collaboration with the CHU de Québec, particularly with cranio-maxillofacial surgeons. The Canadian government invested $ 3 million Canadian in their 3D printing center. Together, they are applying 3D technologies to improve the implant manufacturing process, proving once again that the medical sector is a pioneering industry in the use of additive manufacturing. Stephan Zeidler from the Business Development Department at GE Additive confirms: "Additive manufacturing enables companies to manufacture patient-specific implants and customised devices in small batch production, but still in a cost-effective, industrial process. This way, the technology perfectly serves the trend for more individualised treatments in healthcare."
Reduced process and cost with better patient care
Since the beginning of their partnership in 2016, CRIQ and CHU de Quebec have reduced the concept process and validation of an implant from 6 to 3 weeks only. All thanks to additive manufacturing. The EBM technology developed by Arcam – now owned by GE Additive – is indeed considered ideal for the medical sector. Particularly in implant design, not only in terms of cost but also when it comes to long-term durability. The EBM Q10plus has therefore been installed in the medical 3D printing center in Quebec and will play a key role in this project. CRIQ should be able to manage the entire supply chain for the additive manufacturing of these implants. Including everything from design to printing, through post-processing, cleaning and sterilization.
CRIQ believes that this thoughtful approach will help them save money while improving patient care. "The business case isn't a part-to-part comparison. It needs to be justified through system-wide impact," François Gringas, CRIQ's Equipment Manager, explains. He continues, "If a patient-specific implant can accelerate patient recovery, reduce risk, and lower overall healthcare costs for the Quebec Government, then we have a business case." The medical certification of 3D printed implants began in 2017 and is expected to be completed in 2020. By then we hope to see the first results! In the meantime, find more information on the CRIQ website HERE.
What is the future of additive manufacturing in the medical sector? Let us know what you think in a comment below or on our Facebook and Twitter pages! Don't forget to sign up for our free weekly Newsletter, with all the latest news in 3D printing delivered straight to your inbox!