Creality launches conveyer belt 3D printer for continuous part printing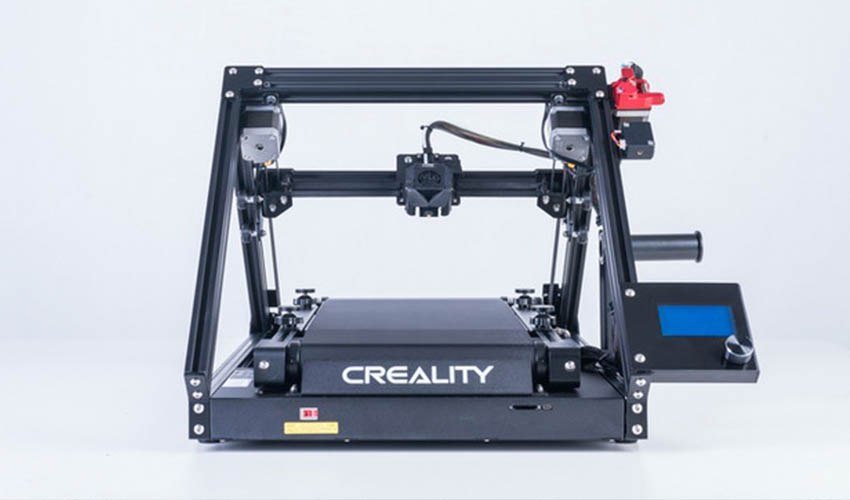 Founded in 2014, Creality focuses on the design, research and production of 3D printers and 3D printing related products. The company covers a range of technologies such as FDM and resin 3D printing. Most of you will have heard of Creality's affordable FDM solutions, they are part of 3 distinguishable series: Ender, CR and CP. It's latest addition to the CR-series is none other than the 3DPrintMill, a cross between a traditional 3D printer and a conveyer belt. Created in collaboration with Naomi Wu, this 3D printer is her vision coming to life thanks to the R&D investment and engineering expertise from the Creality team.
The Shenzhen-based company recently launched a Kickstarter campaign, which hit its goal of HK$1,000,000 (about US$130,000) in the first 24 hours! They have also said that when the 3DPrintMill reaches US$5 million in crowdfunding, the whole machine, CAD files, BOM, firmware, schematics, will be made fully Open Source. In other words, anyone will have access to the source code to make their own version, iterate and improve on it. So, what are the features of the 3DPrintMill?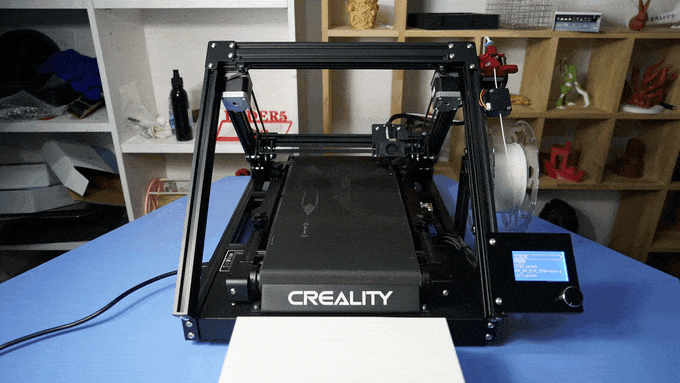 Adding a conveyor belt: what are the benefits?
You might ask what is the purpose of combining a 3D printer and conveyer belt. Creality explains that the 3DPrintMill enables continuous, unattended part printing. In other words, as parts are 3D printed, the heated belt, which works like the build plate, advances. As it advances, the parts detach themselves naturally and fall into a bin. This reduces the need to remove the printed pieces from the heated bed before starting another print job. The 3DPrintMill can process an entire 1, 5 or 10-kilogram spool of plastic filament to make plastic parts with no human supervision. The conveyer belt is made from nylon, and is expected to last years with regular use.
Additionally, adding the conveyor belt has created a theoretically infinite Z axis. Therefore, by tilting the bed 45 degrees, the back of the printed object will be able to advance whilst the printer is still printing on the belt. The longest print to date is a 20 foot (6 meter) long bar, made in a continuous print job.
3D printer specs
This 3D printer measures 535 x 656 x 410 mm and weighs 16.5kg, with a build volume of 200 x 170 x ∞ mm. Based on FDM technology, the nozzle diameter measures 0.4mm, providing a printing accuracy of ± 0.1 mm and able to reach a temperature of up to 240 degrees. In addition, the bed can reach a temperature of up to 100 degrees, which makes this 3D printer compatible with PLA, TPU and PETG filament. The machine includes a slicing software, called Crealitybelt to prepare models for printing.
3DPrintMill also includes print resume and filament interruption detection. Should your 3DPrintMill lose power, you can resume printing wherever you left off when power is restored. The filament sensor will also be able to detect breakage or runout, automatically pausing printing while you load new filament. It will resume right where it left off, usually without any discernible mark on the print.
The manufacturer explains that anyone who enjoys 3D printing but does not enjoy the process of levelling beds and detaching prints will be satisfied with 3DPrintMill. It can also be interesting for anyone who would use a traditional 3D printer farm but doesn't want the associated labour costs of constantly changing trays of parts, detaching those parts and starting the process again. Of course, it is perfectly suitable for anyone with compromised dexterity, limited movements or for school projects involving children. You can find more information HERE.
What do you think about the 3DPrintMill from Creality and Naomi Wu? Let us know in a comment below or on our Facebook and Twitter pages! And remember to sign up for our free weekly Newsletter, to get all the latest news in 3D printing send straight to your inbox!