Continuous Composites opens 7,500 sq-foot demonstration facility for composite 3D printing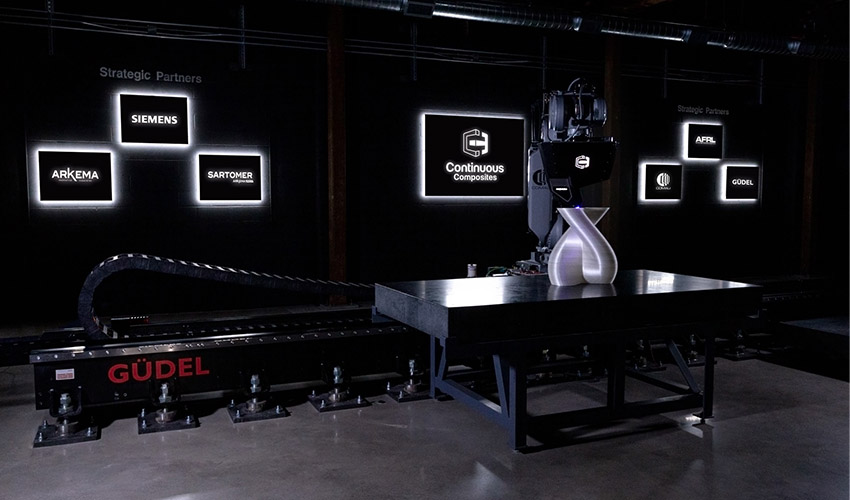 Founded in 2015, Continuous Composites is opening a 7,500 square foot facility for research, development, and additive manufacturing in Idaho. The new building demonstrates their patented Continuous Fiber 3D Printing (CF3D) technology at the largest scale to date, increasing their previous build volume by 25 times. Indeed, continuous composite 3D printing could replace metal 3D printing for applications that require higher strength but low weight. Additionally, the company's CF3D process is different from other technologies as it soaks a continuous dry fiber with a photopolymer, which is then hardened using UV light to form a high-performance part layer by layer.
The player in composite 3D printing has been building relationships and partnerships with industry leaders over the past 5 years to bring its technology to commercialization. For example, it has partnered with two leading companies, Siemens and Arkema. Siemens is said to supplement the capabilities of CF3D with its Sinumerik 840D CNC system and Run MyBobot/ Direct Control platform to achieve high-accuracy, multi-axis robotic control for automated manufacturing. Meanwhile, Arkema's Sartomer business is developing N3xtDimension thermosetting resins tailored to Continuous Composites' technology and customer-specific applications. Continuous Composites has also partnered with industrial automation company Comau, to leverage its robot kinematics and motion controls, and Güdel, a manufacturer of high-precision machine components.
"These partnerships were mutually selected, us choosing them and them choosing us, knowing that by joining efforts, CF3D technology will rapidly scale to the next phase of its capabilities," stated Tyler Alvarado, Continuous Composites CEO. "Our new facility allows us essential access to research and development that is completely in stride with a powerhouse team of strategic partners and customers."
This is just one of the latest developments that showcases that actors in the 3D printing sector are increasingly confident that high-performance, lightweight, composite materials elevate additive manufacturing to a new level of performance and functionality. In the case of CF3D, but not only, the technology is reaching new heights, with the ability to print structural fibers such as carbon, glass or aramid fiber, and functional fibers like optical and metallic fibers.
IDTechEX also supports these trends, as it revealed in its "3D Printing Composites 2020 – 2030" report that the global market for composite 3D printing would reach a value of $1.7 billion by the year 2030! Therefore, there are many breakthroughs and applications ahead for this segment of additive manufacturing, and we'll make sure to keep you posted. For now, you can find more information about Continuous Composites activities and technology HERE. What do you think of these latest developments? Let us know in a comment down below or on our Facebook and Twitter pages! Don't forget to sign up for our free weekly Newsletter, with all the latest news in 3D printing delivered straight to your inbox!