Continuous 3D Printing: what are the solutions on the market?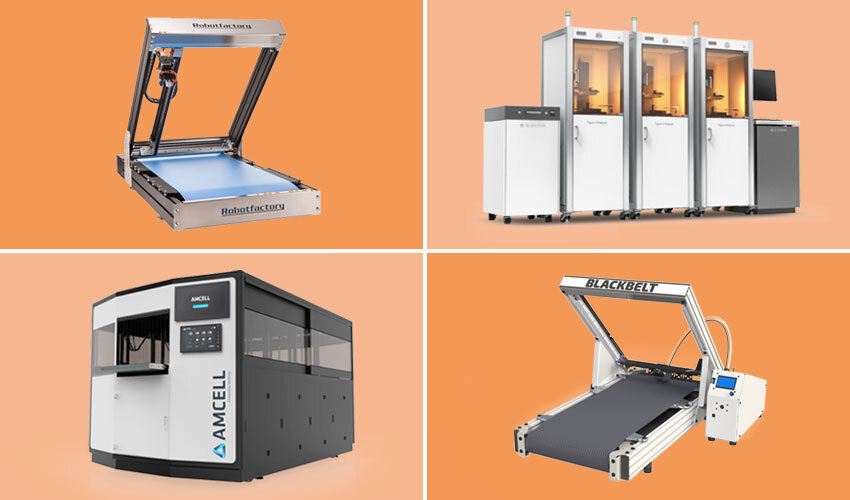 In recent years, the search for automation in the additive manufacturing industry has been growing, and many companies have tried to find a solution that would make processes easier to achieve high-volume production. Some companies have designed conveyer belt 3D printers for example, enabling the production of pieces of infinite length or the mass production of small parts. Additionally, some companies have developed industrial manufacturing systems that allow continuous 3D printing by minimising human action, 3D printing errors or defects. These technologies offer a perspective on how design and production will evolve in the future. So, what are the current continuous 3D printing solutions on the market? We've listed some of the machines available below (ranked in alphabetical order).
3D Systems
The Figure 4 from 3D Systems is more of a production platform than a 3D printer. It is a modular solution that allows the combination of several machines or "configurable units" as explained by the manufacturer, both 3D printers or post-processing solutions. From a dedicated control cell, the user can combine up to 16 resin printers creating a semi-automated system and increasing the volume of parts created.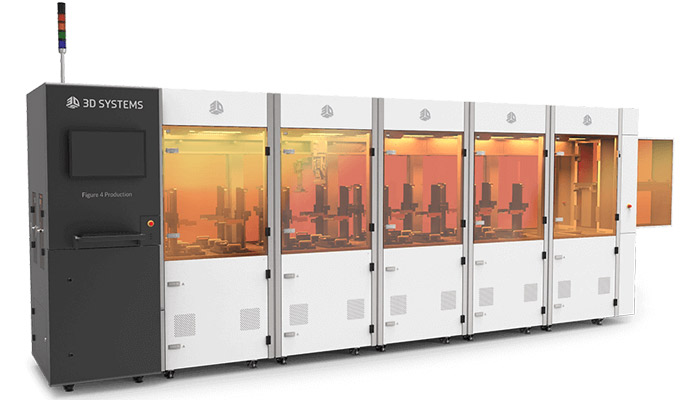 3DQue
The Canadian manufacturer 3DQue first made a name for itself with its QPoD and QSuite machines that allow continuous 3D printing of plastic parts. They could reach 78,840 hours of autonomous printing per year, or an average of 864 small parts per week. But the company is best known today for its kit to be mounted on an Ender 3: called Quinly, it is capable of removing parts from the build plate once they are finished, further automating the manufacturing process. The machine can thus operate 24 hours a day, 7 days a week.
BlackBelt3D
The project behind the Blackbelt 3D printer started as a crowdfunding campaign. The BlackBelt3D team was not the first to have the idea of integrating a conveyor belt, although they were the first to implement it. The BlackBelt is ideal for creating pieces of infinite length, for non-stop mass production and for 3D printing without support. In terms of specs, this 3D printer has a maximum printing height of 300mm and a maximum width of 340mm. The printing temperature reaches 300°C and the platform can be heated up to 140°C. The manufacturing speed is 150mm/s and the layer height is between 0.05mm and 0.8mm. The 3D printer can be purchased individually, with the Stand-Alone version (includes controller and stand construction) or with the Roller Table version (integrates a roller table to hold long pieces).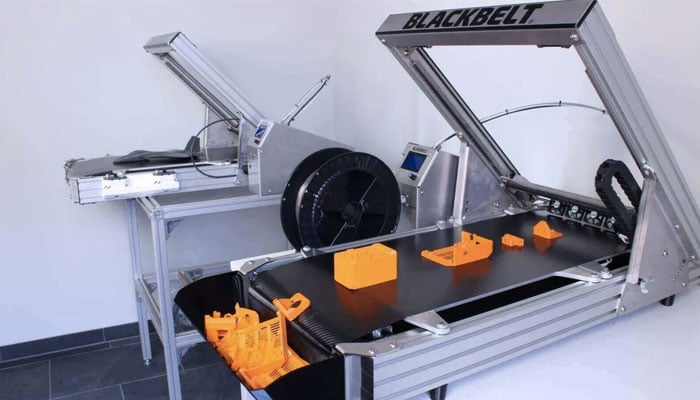 Creality
The manufacturer Creality, based in Shenzhen, recently launched a Kickstarter campaign for this 3D printer project. The so-called 3DPrintMill is a machine that integrates a conveyor belt made of nylon and allows the manufacture of pieces with an infinite length; the longest print to date measures 6 meters. The 3DPrintMill is also capable of resuming the printing process in case of power failure, and also allows end-of-filament detection. Its maximum printing volume is 200 x 170 x ∞ mm, slightly less than the BlackBelt mentioned above. This 3D printer is also ideal for mass production without the need for supervision, since as the plate advances, the pieces automatically fall into a container.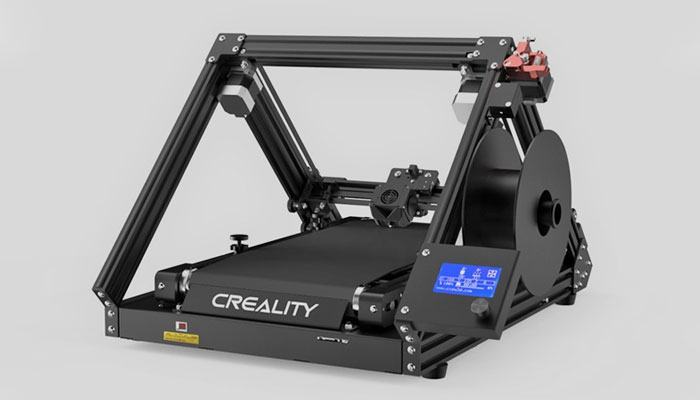 dp polar
Based in Germany, dp polar developed the first industrial 3D printer with a continuously rotating build plate. Called AMpolar i2, this machine has been developed to enable high-volume production using additive manufacturing. The manufacturer states that it can produce tens of thousands of parts per week. The particularity is that AMpolar i2's printhead doesn't deposit material to form an object layer by layer; instead, the build plate rotates around the printhead to print multiple parts at the same time. The build volume is said to be approximately 700 liters. Because its technology is based on Material Jetting, this machine is also capable of combining several materials at the same time to expand manufacturing possibilities. This is a suitable solution for industrial series production in automotive, aerospace, life sciences, and consumer industries.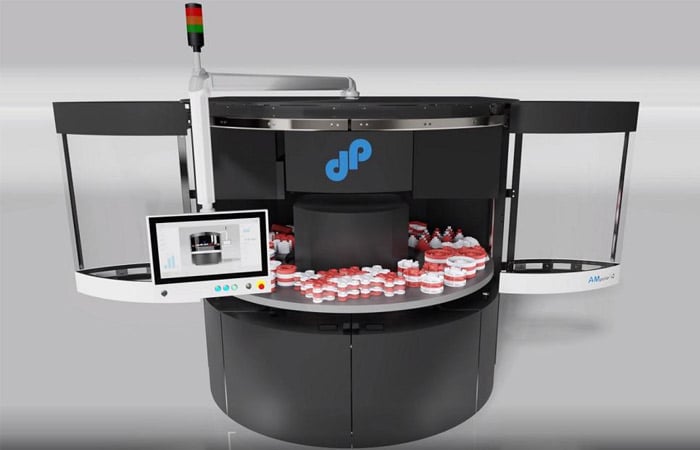 iFactory
The German startup iFactory is a manufacturer of desktop 3D printers based on FDM technology, which developed a conveyer belt 3D printer in 2020. Called iFactory One, this machine allows to 3D print parts of any length and to produce in high-volume without any interruption. This is one of the few 3D printers on the market that features the conveyer belt build plate. This feature is key in allowing continuous production. In fact, its build volume can be said to be 180 mm x 290 mm x infinity (in length). Additionally, the 0.4 mm exchangeable nozzle can reach a temperature of 260 degrees and print at a speed of 200 mm/s. Compatible filaments include PLA, PETG, PC, TPU, NYLON or ABS.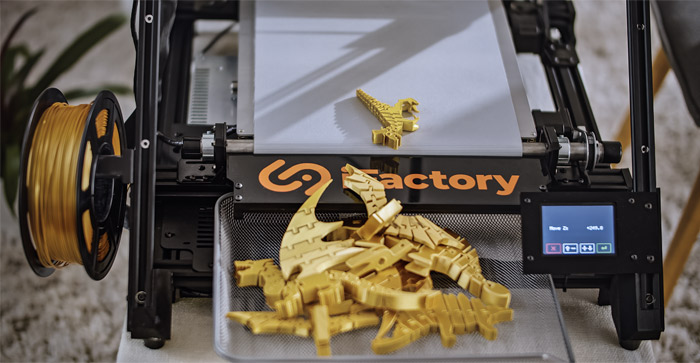 NAK3DDesigns
American 3D printer manufacturer, NAK3DDesigns, released the build instructions for its White Knight 3D in 2019. White Night 3D is a DIY assembly line 3D printer. Its build volume is 400 x 430 mm with unlimited length. Based on FDM technology, it is compatible with conventional thermoplastics such as ABS and PLA. For around $2,000, you should be able to assemble the White Night 3D for professional use. Instructions for doing so can be found Thingiverse.
PowerBelt3D
Like the White Night 3D, Zero is also a DIY assembly line 3D printer. It was launched in 2019 by PowerBelt3D, an American 3D printer manufacturer. It has a build volume of 200 x 170 mm with infinite length. This FDM printer can be used to create parts from standard thermoplastics (ABS, PLA, etc.). Zero is ideal for hobbyists due to its comparatively low price of about $499.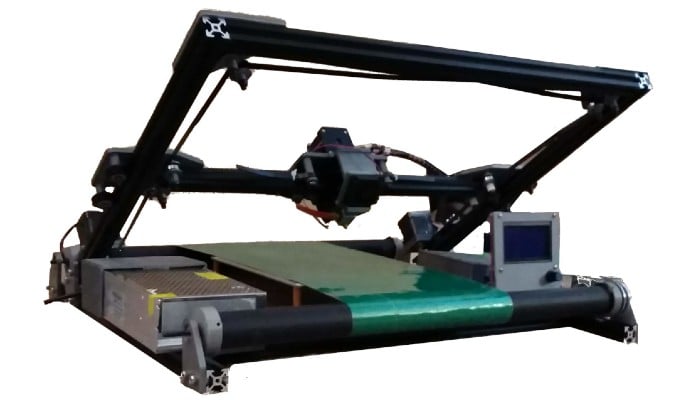 RobotFactory
An Italian company, Robot Factory has been producing 3D printers since 2011. One of their most successful models, Sliding-3D, is the first professional 3D printer to use a moving print bed with an extruder inclined at 45°. This angle enables user to print without a support structure and continuously, useful either for printing multiple parts in a series or to print large objects as there is no limit for length thanks to the moving printer bed. The Sliding-3D uses Fused Filament Fabrication (FFF) technology and has a build volume of 410mm x 380mm x infinity (in length). Sliding-3D is available in both a standard and plus form, with the plus form allowing the nozzle to reach temperatures up to 480°C while the belt can withstand temperatures over 120°C. Another continuous 3D printer from Robot Factory, the Silver Belt, is their first "all metal Kit" with no plastic printed parts. Contrary to Sliding-3D, the Silver belt comes in the form of a kit, with users able to opt for either the kit with all of its parts or with only the mechanical structure. Though assembly is necessary, no special equipment is required and Robot Factory estimates assembly time to be only 8 hours.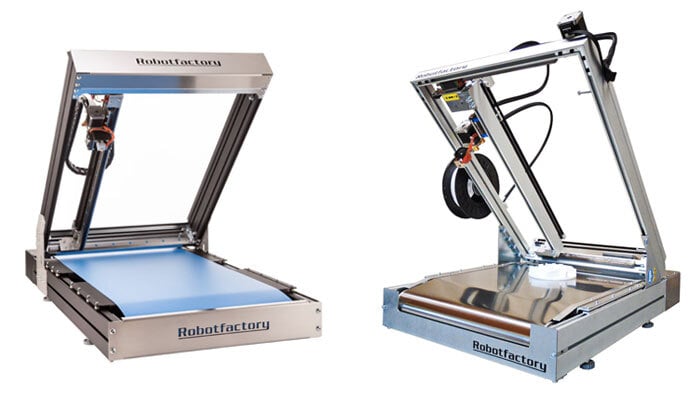 Stratasys
Stratasys is the global leader in 3D printing and additive solutions, materials and services. The company offer a Continuous Build 3D printer with a scalable print capacity which is able to produce parts continuously on a grid of build of build units, without compromising on FDM's reputation for repeatability and reliability. Stratasys claim their continuous build 3D printer is able to print one to thousands of parts easily and without interruption. The Continuous Build 3D printer is equipped with automatic print prep and setup through SKYLAB Software. The 3D printer is compatible with ABS materials and a build size of 12cm3. Stratasys also developed the J55, a PolyJet 3D printing solution equipped with a rotating platform and stationary printhead. The J55 possesses a unique printing tray which is divided into an active printing area and a transfer zone.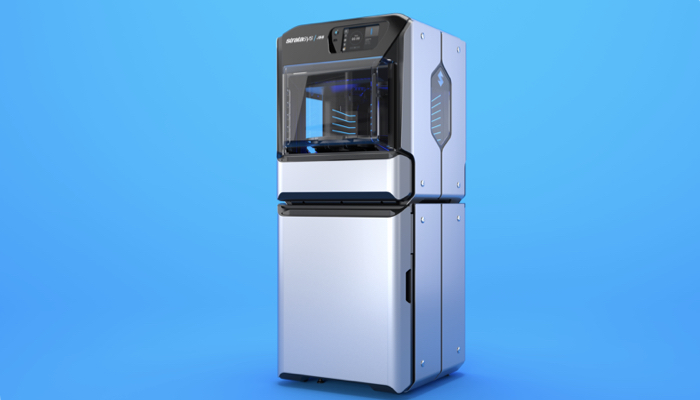 Tiertime
Tiertime is an international company that has long been recognised as world leader in additive manufacturing and prototyping solutions. Tiertime have just released their first continuous build additive manufacturing solution, the X5. The 3D printer is able to automatically feed up to 8 build plates onto its build platform as well as reload during the printing process. The X5 also enables multiple users to stack up to 8 print jobs into a queue, via software or the printer's touch screen. It is also fully enclosed, able to hold filament spool up to 2kg, and possess 3 types of materials for different materials. Tiertime's X5 is a great solution for low-volume manufacturing.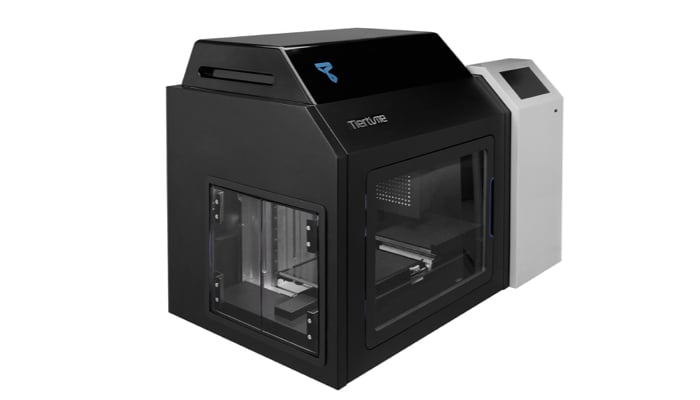 TNO
Specialized in research on innovative technologies, TNO has developed a continuous 3D printing process capable of manufacturing a hundred parts in just a few minutes. The platform, named Hyproline, consists of one hundred mobile printing plates and a 3D scanner. The materials used are titanium, copper and 316L stainless steel. This automated production system covers the entire production process, from scanning to the creation of the parts. Once the process is completed, the machine uses CADfix software to analyze the parts, comparing them with their CAD files.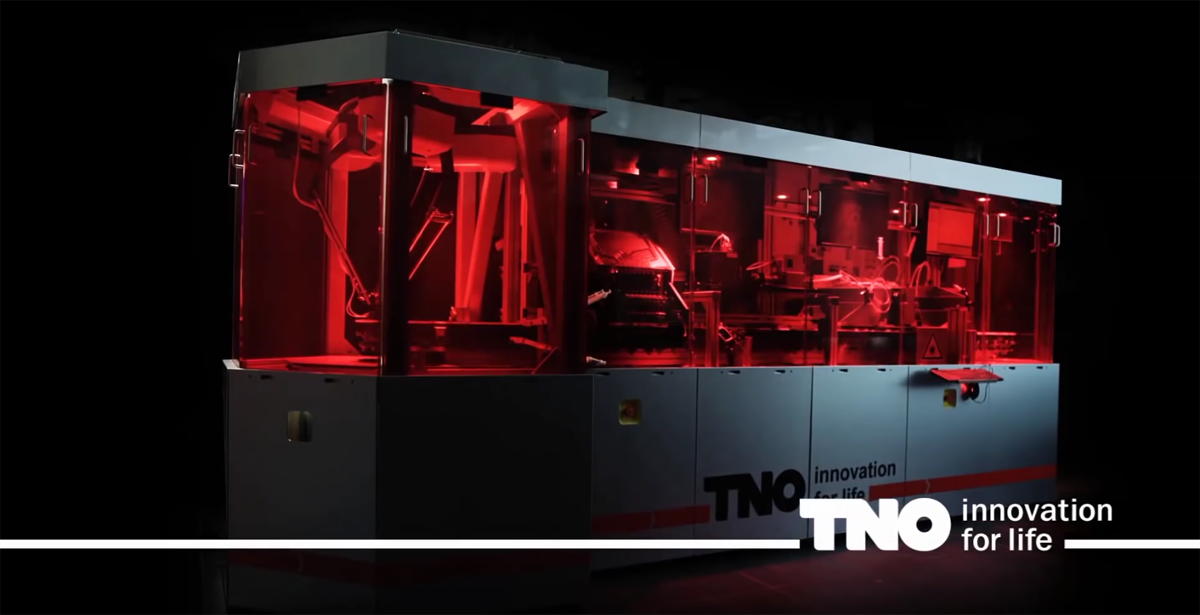 Triditive
Launched in 2019 by Triditive, the AMCELL 3D printer is a modular machine designed for the mass production of polymers and metals. With a print volume of 220 x 330 mm, AMCELL is capable of printing different materials simultaneously. For this purpose, the printer is equipped with two robotic hands to swap the materials, polymers and metals in question. In addition, the machine has an automated additive manufacturing system that allows it to operate 24 hours a day, 7 days a week. AMCELL uses AMD (Automated Multimaterial Deposition) technology, a process similar to MIM and FDM machines, which works by extrusion.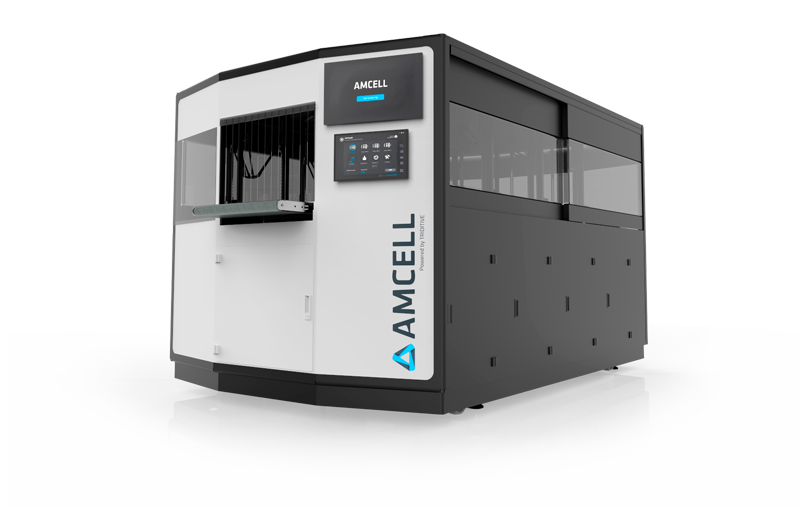 What do you think of these continuous 3D printing solutions? Let us know in a comment below or on our Facebook and Twitter pages! Sign up for our free weekly Newsletter here, the latest 3D printing news straight to your inbox!