How 3D Printing Allows for Customizable Consumer Goods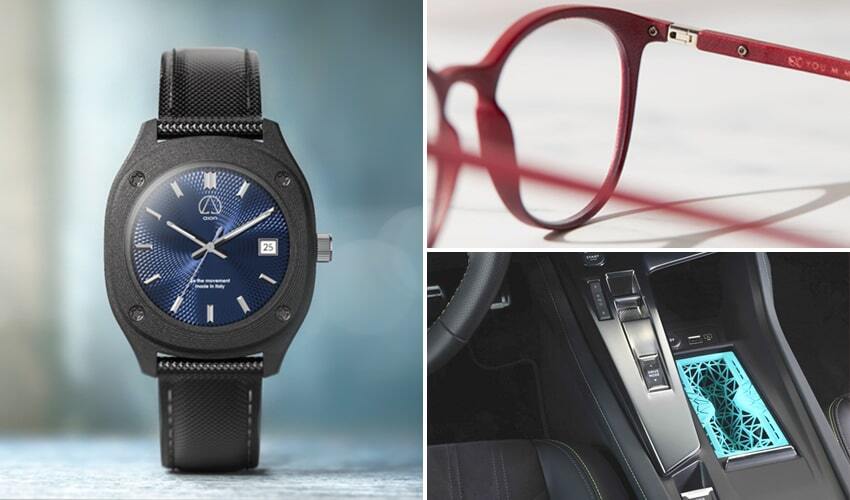 It is not easy today to provide a universal definition of a consumer good: from basic necessities such as food that we purchase more regularly, to durable products such as cars or electronic devices, the list is long. One thing is for sure, these products are sold to the final consumer who is on the hunt for a product that suits them and fits their desires. And if there is a manufacturing method that offers customization options for consumer goods, it is 3D printing. In some cases, it even allows the consumer to participate in the creation of the final object – for example, in the shoe industry, a sneaker is created after the wearer scans his or her feet.
Thanks to additive manufacturing, the consumer goods sector can offer custom-made products that are also more efficient, comfortable, aesthetic and practical. This is where the added value of 3D printing lies: it improves the functionality of a product while respecting the needs of the end consumer. But how can it be used in practice? Let's take a look at some examples in key industries such as textiles, footwear, eyewear, cosmetics, sports and automotive. The list is not exhaustive, there are indeed many applications on the market!
Glasses Customized to Your Face and Tastes
One of the most exciting customizations that 3D printing allows when it comes to consumer goods is being able to tailor a product to one's body. In the eyewear industry, customizing your own eyeglasses or sunglasses with 3D printing means that, with a scan of your face, you can create a custom, one-of-a-kind frame. Eyewear manufacturers offering this technology are, for example, the Spanish company Horizons Optical or the German company Youmawo. The process is simple. Both manufacturers scan the customer's face in 3D to collect biometric data. Then, using software, the customer can virtually try on the glasses and choose from a range of color and design options for the frames. The chosen glasses are then 3D printed, in the case of Horizons Optical using HP's MJF technology, while Youmawo relies on EOS's SLS technology. The advantage of using additive manufacturing in this area is to obtain a product in a short time, with more complex designs and lighter, stronger materials.
3D Printed Shoes
When it comes to our shoes, the first thing to remember is the uniqueness of each foot, as well as the importance of wearability and comfort. Especially the fact that there are countless foot shapes and sizes makes it extremely difficult for some people to find the right pair of shoes. This is where 3D printing comes in, allowing shoes to be personalized – and there are already some examples that prove how important this is for our feet! For example, a group of Spanish students at the Elisava School of Design designed the Athos climbing shoe, which offered amateur and professional climbers better performance and comfort, taking into account the wearer's specific needs. Also in classical dance, act'ble released a shoe made by 3D printing. The idea was to transform ballet shoes, which already break down quickly, from a disposable product to a sustainable and durable shoe while catering to the wearer's individuality. In the field of insoles, Wiivv and Dr. Scholl, the market leader in foot care, achieved a breakthrough with their smartphone app. Here, customers can scan their foot directly from home and then order a 3D-printed personalized insole that has been measured with 400 points on their feet.
3D-Printed Clothing Offers Unique, High-End Pieces 
Fashion is an industry known for quirky pieces and a constant strive for originality among designers and consumers alike. With the popularity of 'fast fashion' and overconsumption, 3D printing can provide an alternative. Both parties can use the technology to assert their creative individuality in the fabrication of unique items. For example, we have Miranda Marquez, a Spanish designer who believes that consumers should be able to print their own clothes using the technology at home, and whose website offers just this.
Also available are 3D-printed dresses based on scans of the customer's body. The Museum of Modern Art (MoMA) in New York offers a 3D-printed design by Jessica Rosenkrantz and Jesse Louis-Rosenberg, known as the 'Kinematics Dress'. After the customer's body is scanned, the fabric is digitally tessellated onto the body and formed into a dress using Selective Laser Sintering (SLS) of flexible nylon. In this way, the garment can be made according to the customer's aesthetic desires and body proportions. A further example of high-end fashion from the pair of designers is the 'Kinematic Petals Dress' project which was commissioned by the Museum of Fine Arts, Boston (MFA). This dress, like the Kinematics Dress, offers a customized fit according to the individual, and has 1600 unique pieces interconnected by more than 2600 hinges. Despite its complex design, the dress emerges from the printer fully ready to wear.
Additive Manufacturing in Personalized Watchmaking
Another sector where 3D printing is enabling greater customization is in watchmaking. With the remarkable growth of 3D printing in recent years, many watch designers are turning to 3D printing to design and manufacture the consumer goods faster while maintaining good quality. But why 3D printing? As in other sectors we are seeing, 3D technologies allow watchmakers to use fewer materials, thus minimizing waste and making their production a more sustainable process. Depending on the purpose and degree of customization sought by the consumer, one method of additive manufacturing or another should be used.
For example, the Swiss company SevenFriday has used Multi Jet Fusion to create FREE-D, an original watch with an impressive and unique design. Thanks to the use of PA11, the company is able to manufacture organic, lightweight and durable parts, while maintaining high quality. On the other hand, Italian brand Aion Watch is developing the world's lightest automatic watches. Weighing just 26 grams, these 3D printed watches feature an internal honeycomb structure that allows them to maintain the necessary rigidity and reduce weight by 200%. In addition to lightness and high mechanical strength of the watches, the properties of carbon fiber also include high thermal insulation. This highlights the possibility of using high-performance materials to enhance the characteristics of customized products.
3D Technologies in Cosmetics
One sector where you might not expect to see the presence of 3D technologies is cosmetics. However, it has started making a presence, especially for personalization. And this has been done in a number of different ways. One example comes from an even more unexpected place, Formula 1. Back in 2020, the mainstay in motorsports used 3D printing to make distinctive perfume bottles. The three bottles were inspired by the automotive sector and at the time were celebrated for their intricate, interesting designs, showing the vast possibilities possible with AM. But packaging and bottles is not the only way to adopt 3D technologies in cosmetics. Another example we can point to comes from Dior. In this case, the beauty brand turned to 3D scanning to help each customer get the right skincare. This was done through a device named the Eve V, which allowed each person to get an individual analysis of their skin, including measurements for things like skin sag, eye bags and wrinkles. This analysis was then used to determine the appropriate skin care regime (focusing on the two largest skin problems) with the help of AI. This degree of personalization to each user, would only have been possible with 3D scanning.
AM Allows Higher Performance in Sport
Additive manufacturing has proven time and again in recent years how useful the technology can be for athletes. Equipment for any sporting discipline can be customized to meet an athlete's needs, offering higher levels of comfort. In addition, 3D printing can reduce the weight of equipment. This is especially beneficial in sports where speed is of the essence. Overall, therefore, the technology helps to improve performance.
The example of Carbon is a good illustration of how additive manufacturing can be used in sports. The company printed customized helmet shells for NFL players for Riddel, a sporting goods manufacturer. These stand out from conventional helmets because of their lattice structure. In addition to the customization option, the elastomer used protects against impacts, as much of the shock is absorbed.
Another example is the Californian bicycle manufacturer Superstrata, which launched a carbon fiber frame in 2021. At 1.7 kg, it is not only particularly light, but also very durable. The bicycle frame is said to be 61 times stronger than steel. The part was printed in a single process using Arevo's DED technology. According to the manufacturer, up to 500,000 different configurations are possible, which can be selected in the company's online store.
3D Printing For Customized Vehicles
In the automotive world, the use of additive manufacturing to customize vehicles is the order of the day. As you might expect, adding accessories, upgrading or changing parts on the vehicle is usually quite expensive, so turning to 3D printing becomes the best option to do so. These technologies allow car owners to create unique and customized parts for their vehicles, from decorative accessories to functional parts, in addition to greater lightness and great flexibility for design, shape and precision in the details. This is an affordable, accessible and sustainable solution, which consequently improves the driver's experience.
An example of this can be found in the Ford brand, which has made available 3D files to customize its Maverick model, allowing all drivers without exception, to 3D print the parts of its "FITS System". These offer eight storage slots for attaching accessories in the central area or under the seats, according to the needs and preferences of users. On the other hand, Peugeot is not far behind and also offers a vehicle customization solution through accessories that are pleasant to the touch, light and easy to use, which are sold through its LIFESTYLE store, researching what its customers need and opting to give them the greatest possible comfort in their cars through the use of 3D technologies.
3D printed Furniture: Food Waste Materials and Optimized Comfort
In the world of 3D printing, there are always new ways to make things. Whether it's with new technology or new materials, the industry is always looking for innovations. Krill Design is a perfect example. Indeed, this Milanese startup manages to 3D print furniture with orange peels, lemon peels and coffee grounds. Yes, that's right: the startup uses food waste to design interior furniture, including lamps, magazine holders or even flower pots. To obtain this material, named Rekrill, the process is the same for any type of waste. The first step is to dry the waste, and then chop it up so that it is micronized. Finally, the resulting pellet is heated and extruded into filament by Prusa and Creality's FDM 3D printers. This manufacturing technique is an example of greener production, as it limits the use of plastic, and all materials are 100% recycled, biodegradable and compostable.
Steelcase is one of the major players in office furniture. The company turned to additive manufacturing to create a new version of the SILQ, their office chair. It was designed to be more adapted to the user's morphology, and thus, improve comfort. The company collaborated with Fast Radius and Carbon to benefit from 3D technologies. Thanks to these technologies, armrests with a lattice structure could be 3D printed. In detail, they have been divided into four zones, where each part is designed to adapt to the user's behavior. The chair will thus be more comfortable depending on the position of the person. For example, if the user puts his elbow down or extends his arm completely, the SILQ will modify the way the user sits. In addition, the use of 3D printing in the manufacturing of the office chair has allowed to save 70% of materials.
What do you think of these customized 3D printed consumer goods? Let us know in a comment below or on our LinkedIn, Facebook, and Twitter pages! Don't forget to sign up for our free weekly Newsletter here, the latest 3D printing news straight to your inbox! You can also find all our videos on our YouTube channel.