What are the composite 3D printers on the market?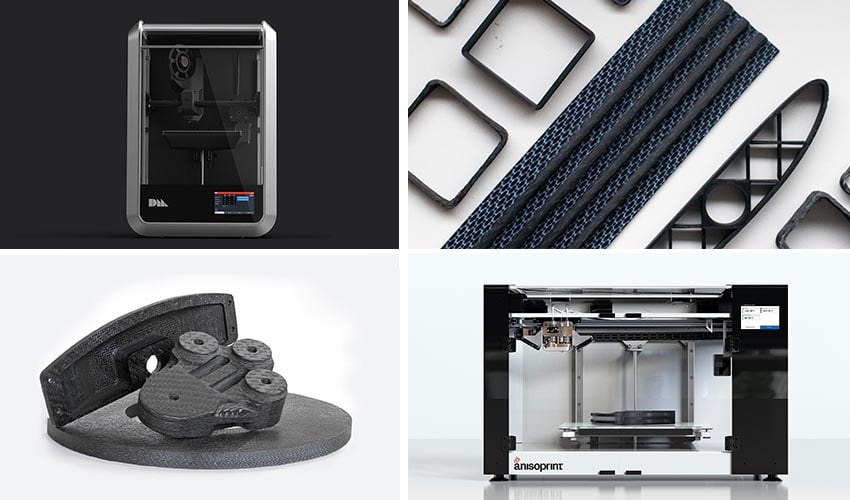 In the 3D printing sector, manufacturers are increasingly looking for composite materials because they offer more interesting mechanical properties, particularly in terms of resistance: the material in question, called a "matrix" (most often a thermoplastic), is reinforced with fibers – carbon, aramid, glass – which increases the strength of the final part, reduce its total weight and even replace the use of metal. Today, most desktop FDM 3D printers can print composite filaments as long as they have a hardened steel nozzle. However, these machines do not allow the fibers to be deposited directly into the matrix material during printing. For this reason, several manufacturers have developed solutions capable of extruding both the matrix and the fibers to obtain even stronger parts. We have therefore selected a few composite 3D printers based on different technologies, capable of mixing two materials during printing – they are sorted by alphabetical order.
Anisoprint
The Russian manufacturer has developed a range of machines capable of printing continuous fibre composites: the Composer, a more accessible office solution, and the Prom IS 500 designed for manufacturers. Both are based on the patented Composite Fiber Coextrusion (CFC) technology, which adds continuous fibers to a base thermoplastic such as PLA, ABS, PETG, nylon, etc., to make it easier to print on a wide range of materials. The user can modify the density of the composite filler or vary the direction of the fibers to obtain optimal parts. Anisoprint Composer is available in two formats – A3 with a print volume of 420 mm х 297 mm х 210 mm and A4 with its volume of 297 mm х 210 mm х 140 mm. It can print carbon fibre but also balsat, just like the Prom IS 500 which can create pieces of 600 mm x 420 mm x 300 mm.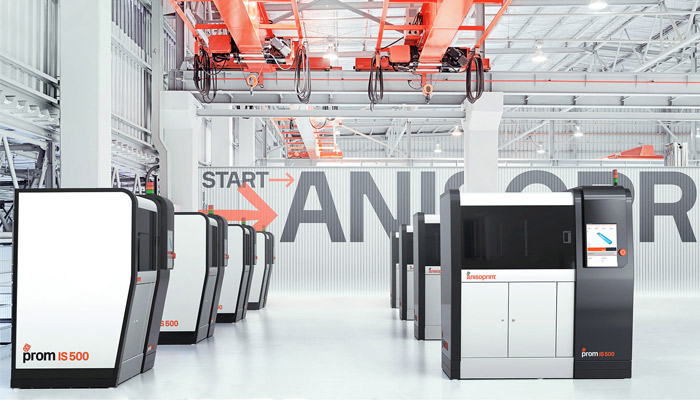 Arevo
Some companies have developed an approach that combines 3D composite printing with robotics to create the greatest possible flexibility in terms of the size of the parts to be printed. One example is Arevo, whose Arevo Aqua 3D uses a laser-based method for printing with carbon fibres. In this method, the carbon fibre is heated and cut into layers and then applied. Composite printing with carbon fibre is particularly characterised by its high durability, which is combined with low weight.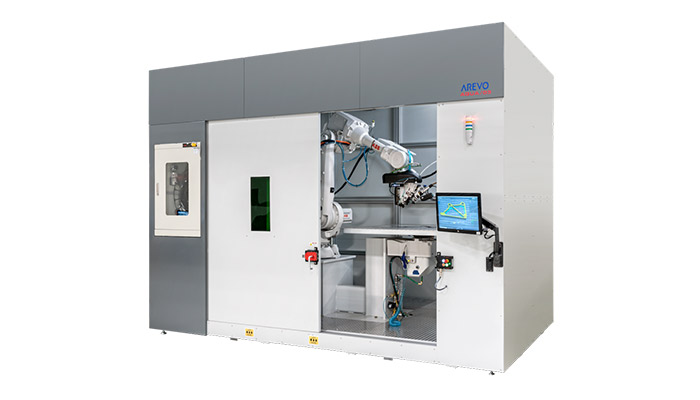 Continuous Composites
Founded in 2015, Continuous Composites is a company that promotes the development of innovative technologies for the industry. In order to solve  slow speed, weak materials and small manufacturing volumes, they created the CF3D® solution. This automated manufacturing process starts with a continuous dry fiber that is impregnated with a fast curing thermosetting resin, which is deposited by the printhead. The method eliminates the need for molds, ovens and autoclaves, providing high material yield at a lower cost. The use of lightweight composite materials gives additive manufacturing a high level of performance and functionality. In addition, CF3D® technology can print structural and functional fibers in a single step process.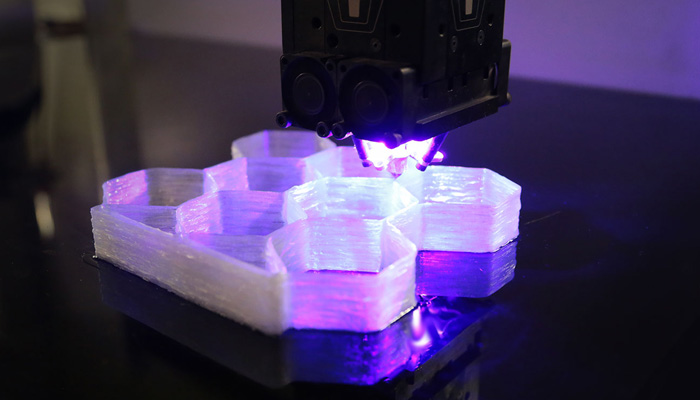 CEAD
CEAD started developing their composite 3D printing technology back in 2017. Today, it is known as Continuous Fibre Additive Manufacturing (CFAM) and enables large scale continuous fibre reinforced parts to be made. The company's main solution is the CFAM Prime, dedicated to making large parts in one production run. The patented printing head combines the continuous fibre with the melted thermoplastic to give parts more strength. CEAD confirms that practically all different thermoplastic materials can be used, combined with both short and continuous glass or carbon fibers. The CFAM Prime boasts a build volume of 4 m x 2 m x 1.5 m, offers a fully enclosed environment, and can reach an average output of 15 kg per hour.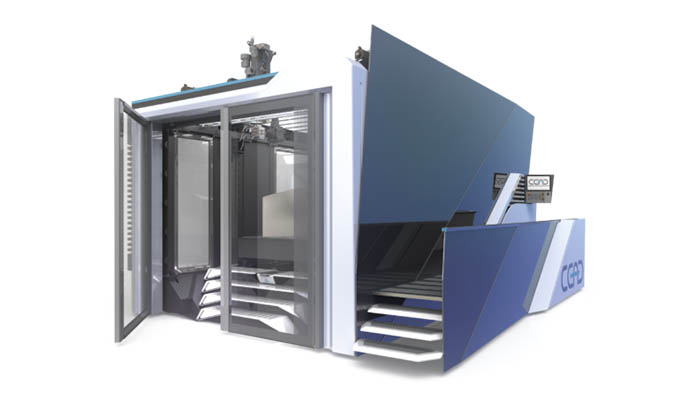 Desktop Metal
The manufacturer Desktop Metal is a major player in the additive manufacturing industry for its advanced technologies and machines. This is why the company has made a name for itself in the composite materials market with the launch of its Fiber 3D printer. This machine integrates Automated Fiber Placement (AFP) technology along with traditional FDM to enable automated placement of composite materials. According to the manufacturer, Fiber can manufacture parts twice as strong as steel, yet five times lighter, in addition to reducing the cost of production. Among the materials compatible with this technology are high-performance thermoplastics such as nylon (PA6) or HPPs such as PEEK and PEKK loaded with carbon fiber.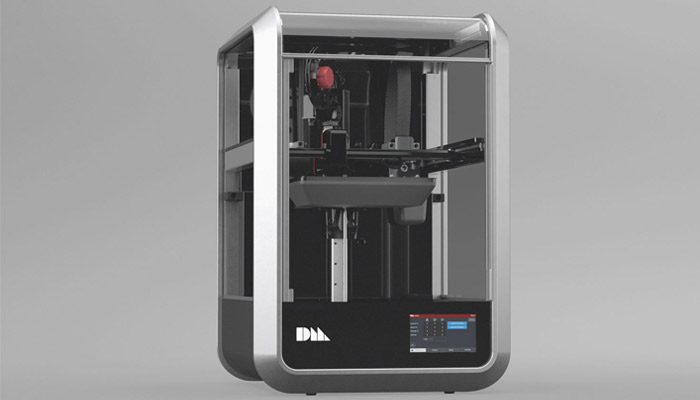 EnvisionTec
EnvisionTec, founded in 2002, manufactures and sells 3D printers and proprietary materials. The company sells more than 40 3D printers based on 6 distinctive technologies. If we look at the composites segment, EnvisionTec launched its SLCOM 1 solution back in 2016. Based on Selective Lamination Composite Object Manufacturing (SLCOM), it manufactures woven fiber composites preimpregnated with thermoplastics. The lamination process relies on thin layered materials, which are coated with adhesive and successively glued together layer by layer. The company offers a wide range of material and fiber choice to print with such as PEEK, PEI, PP, PE (reinforced with carbon fiber, fiberglass, aramid fiber, etc.) The SLCOM 1 has a build volume of 762 x 610 x 610 mm, and can print up to 51 cm per second (in linear speed).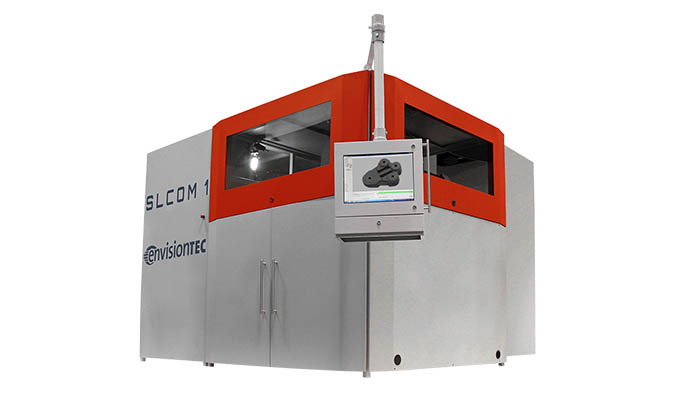 Impossible Objects
The 3D printer and materials company based in the US, Impossible Objects, has been developing solutions for additive manufacturing in the composites industries for some years now. Their technology, which they call composite-based additive manufacturing (CBAM) has been designed specifically for composites such as carbon fiber and fiberglass paired with Nylon and PEEK. It is based on high-speed inkjet printing methods. In other words, long-fiber fabric sheets made of carbon or glass are automatically combined with the thermoplastics powders to produce composite 3D parts. Their CBAM-2 system leverages this technology to produce strong and lightweight parts thanks to the long fibers in the sheets (unlike the shorter fibers you can find in composite filaments for example). The CBAM-2 is an industrial system, meant for the factory floor.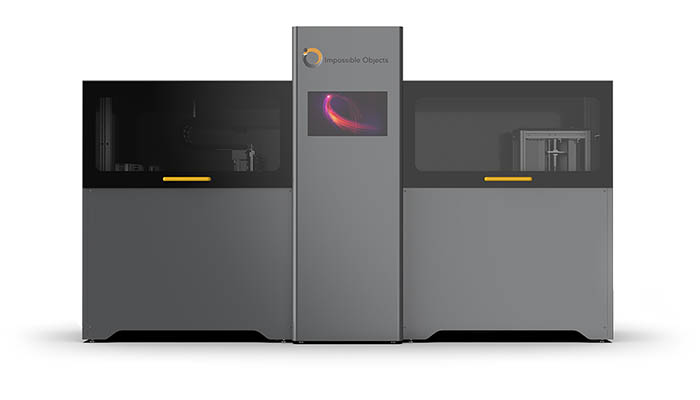 Markforged
The manufacturer Markforged uses continuous filament fabrication (CFF) technology to extrude the reinforced fiber layer by layer, similar to the FDM method. For this purpose Markforged offers 4 types of reinforcement, which are carbon fiber, glass fiber, Kevlar and HSHT glass fiber. The composite materials are compatible with several of Markforged's 3D printers, including the Desktop series (Onyx One, Onyx Pro and Mark Two), combining industrial quality and affordability; and the Industrial series (X3, X5 and X7), offering high accuracy, reliability and repeatability. For this reason, the 3D printers for composites offered by the manufacturer, enhance design and additive manufacturing.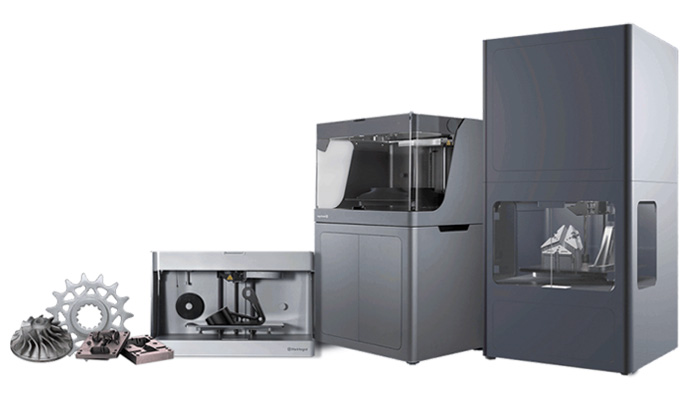 9T Labs
As a young Swiss manufacturer, 9T Labs has developed its Red Series range capable of producing quality composite parts. It integrates a 3D printer, a fusion module to consolidate the final part, as well as the software suite and materials such as carbon fiber reinforced PEKK and PA. Its Additive Fusion Technology process allows the fibers to be optimally oriented in the part to ensure high structural and mechanical properties.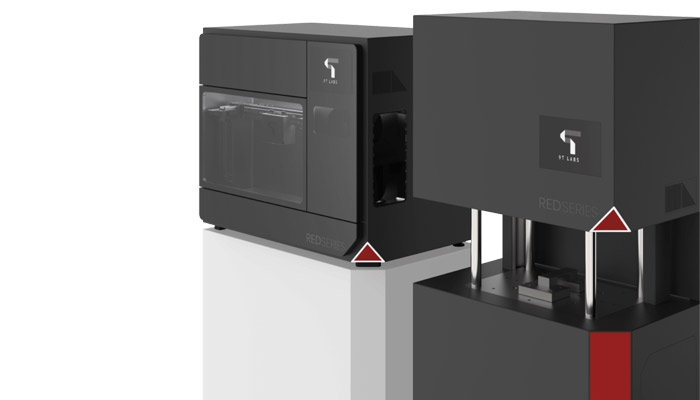 What do you think of these composite 3D printers? Let us know in a comment below or on our Facebook and Twitter pages! And remember to sign up for our free weekly Newsletter!