The Complete Guide to 3D Printing Composites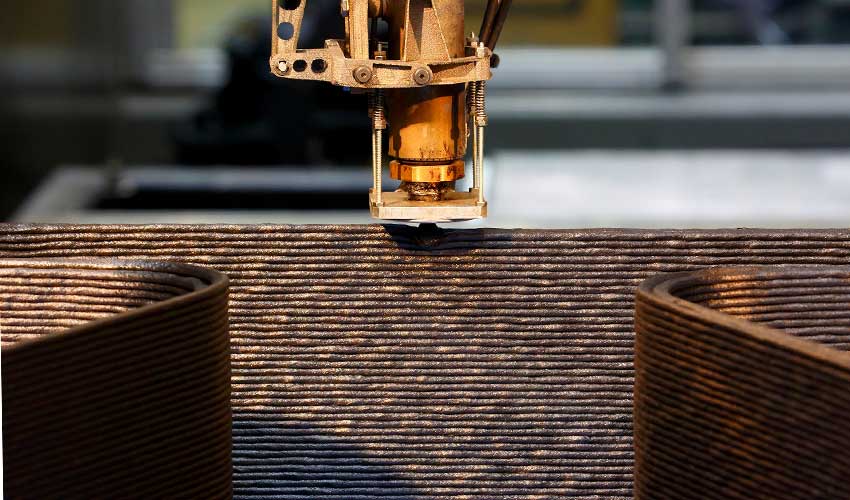 You might have noticed that more and more companies are 3D printing composites to make parts. Even though this term has been increasingly thrown around, you might still be wondering what exactly is a composite material and why it is being used in additive manufacturing. Interestingly, IDTechEx released a study on the composite 3D printing market that reveals that it is expected to be worth $1.73 billion in the next ten years – an impressive growth to say the least!
In general, even concrete could be considered a composite because it is a material made up of multiple different materials. However, the term is most often employed from an engineering point of view, which means we are talking about a material that has been reinforced with fibers. Even though fibers are very beneficial when combined with another material, they are almost never used by themselves to create a piece. Instead, they are added to a matrix material in the form of short fibers or in the form of continuous fiber reinforcement. One of the most popular fibers in the 3D printing industry is carbon fiber because it has one of the highest strength-to-weight ratios.
Why reinforce a material with fibers?
Composites are extremely beneficial when making lightweight yet strong parts. The fibers add strength to a part without adding weight. As mentioned, there are two types of reinforcements, short fiber or continuous fiber. In the first case, chopped fibers, which consist of segments less than a millimeter in length, are mixed into traditional thermoplastics to increase the stiffness and to a lesser extent the strength of components. Chopped fibers can be mixed with thermoplastics such as nylon, ABS or PLA. Every manufacturer will add and blend a different amount of short fibers to its plastic polymer, resulting in filament spools of different strengths. You should also be aware that print quality will be impacted by the quantity of chopped fibers. Above a certain threshold, the 3D printed part will lose in surface finish.
The highest performance comes from continuous fiber reinforcement. The process for making continuous fiber composites parts is not as easy as short fiber composites parts because the fibers need to be integrated into the thermoplastic continuously as the thermoplastic is being extruded. The fibers can also be deposited according to design techniques that optimize a part's strength to weight ratio and material consumption, also known as DfAM (Design for Additive Manufacturing) techniques. Manufacturers claim that thanks to continuous fiber reinforcement you can create parts as strong as metal.
In terms of available fibers on the market, carbon fiber is without a doubt the most popular. Fiberglass, a common type of fiber-reinforced plastic using glass fiber and Kevlar, a heat-resistant and strong synthetic fiber, are also widely used in the industry. Fiberglass is a cost-effective material for adding strength to plastics and Kevlar has high shock resistance as it bends instead of breaking.
What are the technologies on the market?
Being able to print with reinforcement materials has been a goal of a number of startups in the 3D printing sector. In recent years we have noticed a growing number of machines and technologies being launched on the market to enable new applications, especially in industrial sectors such as aerospace and automotive.
Essentially, the technology varies according to the type of composite we are talking about. Short fiber composites can be extruded in the normal FDM process since the filament already contains the fiber. On the other hand, continuous fiber 3D printing is a trickier process that requires two nozzles to print at the same time. Usually, one nozzle will extrude the thermoplastic and the other the fiber. Different manufacturers market their technology under different names, however the idea is more or less the same.
For example, Markforged calls it Continuous Filament Fabrication (CFF), whilst Anisoprint calls it Composite Fiber Coextrusion (CFC). More recently, Desktop Metal also joined the race to meet demand for this technology by launching a new system called Fiber. Fiber uses Micro Automated Fiber Placement (μAFP), which also relies on two printheads to continuously reinforce the thermoplastic being extruded. An interesting technology is AREVO's proprietary process based on Directed Energy Deposition technology, in which a laser is used to heat the filament and carbon fiber at the same time as a roller compresses the two together.
Impossible Objects and EnvisionTEC have also added systems for continuous fiber 3D printing to their range of machines, the technology however differs a bit. They weave in sheets of carbon fiber into a print by using a lamination process. Last but not least, Continuous Composites uses a hybrid technology where the strand of fiber is soaked with resin and then hardened using UV light, similarly to SLA 3D printing.
Who are the market players and what are the applications?
New actors are emerging rapidly on this market, for example the young 9T Labs, based in Switzerland has created an add-on system for ordinary 3D printers to enable continuous fiber 3D printing. They call this 3D printing process Additive Fusion Technology (AFT); the reinforcement is made from a carbon-filled material, not exactly pure carbon fibers. Of course, you will have heard of the main actors in the sector including CEAD, Markforged, Anisoprint or Roboze. EnvisionTec, Impossible Objects, and Desktop Metal have also added systems that enable continuous fiber 3D printing to their range of machines. For short fiber composites, filament manufacturers include Roboze, 3DXTech, ColorFabb, etc.
As mentioned, carbon fiber filled materials are the most widespread composites in the 3D printing industry, especially for demanding applications such as functional prototypes, automotive parts, lightweight components, etc. They are also being added to technical materials, for example last year researchers in China were studying the benefits of adding carbon fiber to high performance thermoplastics such as PEEK.
The market for composites is growing, and new material combinations will enable new applications. Let's not forget that Sandvik created the first diamond composite last year. Usually diamond is impossible to use in additive manufacturing because it is too hard, however by creating a diamond composite, the material's properties can be used for many resistant tools (mining, drilling or machining) and also medical implants!
What composite will be used for 3D printing next? Will their adoption expand to series production? Let us know in a comment below or on our Facebook and Twitter pages what you think! Don't forget to sign up for our free weekly Newsletter, with all the latest news in 3D printing delivered straight to your inbox!
*Credits Cover Image: SABIC