A Comprehensive List of DED 3D Printers on the Market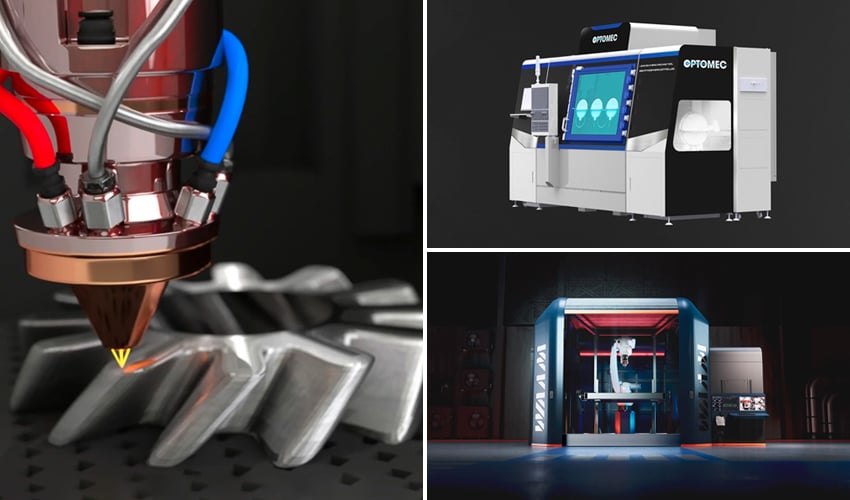 Directed Energy Deposition (DED) is a metal printing process that operates in three dimensions by adding material layer upon layer. The added material, whether in the form of a powder or a metallic wire, is melted using a focused energy source such as a laser, an electron beam, or plasma. This innovative process has a significant advantage in that it can repair existing parts by depositing material directly onto the object. Moreover, 3D DED printers are typically equipped with a multi-axis robotic arm and nozzle, making them ideal for manufacturing larger parts. Our objective today is to provide an overview of the 3D DED printers currently available on the market, irrespective of the energy source used.
The Addilan
Addilan is a Basque company that specializes in metal additive manufacturing, with a focus on WAAM 3D printing technology. Their machines are specifically designed to enable medium to large-scale production. Addilan offers two different solutions based on the print volume of the machines – the P1200-4x and the 1000-5X. Both machines are equipped with a closed and inert environment, featuring a specialized loading and unloading system to ensure high-quality parts during the production process. The machines provide hybrid production, incorporating CNC manufacturing for surface finishing of parts. Addilan's 3D printers have the capability to process steel, titanium alloys, super alloys, and aluminum alloys, offer automatic calibration, a heated platen, and can achieve a deposition rate of up to 6 kg/hour.
BeAM's Magic 800
AddUp's DED machine line includes the Magic 800, their flagship product. Originally developed by BeAM, this 3D printer is now owned by the French manufacturer. AddUp offers several models in their product range, including the Modulo 250 and the Modulo 400. However, the Magic 800 offers the largest manufacturing volume, with maximum dimensions of 1200 x 800 x 800 mm. The machine uses material deposition under concentrated energy, with a 2kW laser and two print heads, making it suitable for demanding applications, particularly in the aerospace sector. The Magic 800 is also designed to be user-friendly, allowing the user to change the nozzle during the manufacturing process in just a few seconds. This feature offers greater precision, which is crucial for this technology. Finally, the Magic 800 has an argon-based system that makes the 3D printer's enclosure inert, enabling the use of reactive powders and the production of parts in titanium or aluminum.
DMG MORI – LASERTEC 6600 DED Hybrid
DMG MORI is a German company that offers the LASERTEC 6600, a DED printer that is ideal for the production of large parts for the aerospace and energy industries. What sets this 3D printer apart is that it is a hybrid solution, combining additive manufacturing with subtractive manufacturing. The printer can accommodate workpieces with maximum dimensions of Φ1,010 mm × 3,702 mm.
Evobeam's WiLaVAM
Evobeam, a German manufacturer, offers the WiLaVAM with laser in vacuum and wire feeding. This printer features a vacuum chamber that provides a high vacuum suitable for refractory metals and superalloys. Additionally, it has a CNC-controlled wire guide system within the vacuum. The WiLaVAM is ideally suited for producing medium-sized parts and offers a higher build rate due to the wire-based push-off, promising a significant reduction in process time. Evobeam, headquartered in Rheinland-Pflaz, Germany, specializes in additive manufacturing and welding technology with both the electron beam and laser, and offers other machines such as the Evobeam CUBE and Evobeam CELL.
FormAlloy's X-Series
FormAlloy is a US-based company specializing in metal 3D printing solutions. They offer specialized hardware for 3D printing, coating, and repairing that can be integrated into existing production lines. One of the DED printers they offer is the X5 Series, which has a print volume of 250 x 250 x 300mm and is designed to minimize maintenance and reduce downtime. The FormAlloy X5 Series also features the Formica, which is an ADF alloy development feeder that enables fast deposition of up to 16 different alloys. Additionally, the modular design allows for unlimited configurations, with easy powder changeover in just 5 minutes. The directed energy deposition systems of the X5 Series feature closed-loop control, variable wavelength lasers, and powder feeders that can create gradient structures or bimetallic structures.
Gefertec – arc605 arc603
Gefertec, a German company, offers the ARC machine series consisting of the ARC 605 and the ARC 603, with the number in the model name representing the number of axes for machining. These machines allow for flexibility in motion axes, enabling the production of high-quality parts. The ARC 603 can produce metal parts up to 3.0 m³ with a maximum mass of 3000 kg, while the ARC 605 produces parts up to 0.8 m³ with a maximum mass of 500 kg. The machines are user-friendly and can be easily integrated into existing production processes. The series also boasts unique features, such as a base plate with active cooling, a soundproofed housing, and the ability to monitor the manufacturing process using a camera.
InssTek's MX-Fab, a Customizable, All-In-One 3D Printer
The MX-Fab by InssTek is a 5-axis printer that uses the patented Direct Metal Tooling (DMT) technology falling under the category of directed energy metal deposition (DED). In addition, the printer has two vision cameras, which enable the real-time analysis and control of the melt's height, ensuring measurement and control of the thickness of each layer. The MX-Fab is an all-in-one printer that comes equipped with a laser, cooling system, air purifier, and vacuum pump. Furthermore, it features an independent powder supply tank that ensures accurate and consistent powder supply. InssTek offers customization options to its customers.
M450 by Meltio
Meltio is a Spanish company that specializes in metal 3D printers utilizing its proprietary technology, LMD. LMD technology is a 3D printing process that utilizes lasers to extrude metal wire or powder without nozzle changes. The printhead houses 3 to 6 lasers, and the nozzle enables the energy to focus on the specific printing material. LMD technology combines DMLS and WAAM technologies, which distinguishes it from other technologies. It has a wide range of applications and can create metal parts that are 100% dense. The M450, with a maximum print volume of 200 x 150 x 450 mm, is compatible with various metals like titanium and steel. Their innovative technology is patented, allowing them to halve the initial investment cost and improve productivity. The M450 is ideal for companies that require 3D printers for metal fabrication. Its price aligns with its capability and performance, offering value for money.
MX3D M1 Metal AM System
The M1 Metal AM System, produced by Dutch company MX3D, is designed for the production of medium to large metal parts using WAAM technology (Wire Arc Additive Manufacturing). To support this, the company developed the MetalXL software and MetalXL Control System which includes integrated sensors for continuous monitoring and control during the printing process. This system allows for higher production speeds of up to 1-3kg per hour (or even 5kg/h for larger parts) without compromising the quality of the final product. The machine can also produce parts from aluminum and copper alloys, among others, at a cost up to 50% lower than that of powder-based 3D metal printing.
Norsk Titanium's MERKE IV
Norsk Titanium is a key player in the field of DED additive manufacturing. The company has patented RPD technology, or rapid plasma deposition, which uses plasma as the energy source for the laser. They have since developed the fourth-generation production machine called the MERKE IV. The 3D printer can produce parts up to 900 x 600 x 300 mm, with layer dimensions of 3-4 mm in height and 8-12 mm in length. Norsk Titanium boasts that their 3D printing solution can deposit 5-10 kg of material on the part per hour. RDP technology is primarily used with titanium wire due to the defense and aerospace industry's demands, but it is also applicable to nickel alloys and stainless steel. Like other printers on the market, the MERKE IV was designed to save materials, reduce manufacturing time and costs. Norsk Titanium also claims that the machine requires less machining, which in turn reduces post-processing steps.
Optomec MTS 860
Let's now take a look at Optomec's latest hybrid system model, the MTS 860. This American company's printer, based on their LENS systems, comes equipped with a 3 kW high-power laser, reducing manufacturing and repair time. The printer is ideal for medium and large parts, boasting a work area of 860 x 600 x 610 mm and offers both additive and subtractive manufacturing. Built on a CNC platform and designed with a 3-axis motion system, the device is perfectly aligned for processing non-reactive metals such as stainless steel, nickel-based alloys, cobalt, tungsten and others. The Class 1 chamber is built to protect against any hazards from the laser, making it a sealed enclosure. Optomec offers other models including the MTS 500, CS 250, CS 600, CS 800, CS 1500 and the HC 205 and HC 245 systems.
Prima Additive's Laser Next 214
Prima Additive, an Italian company, specializes in additive manufacturing technologies, specifically Powder Bed Fusion and Direct Energy Deposition. Their product line includes a range of machines for both of these processes. For DED technology, the company offers several solutions, including the Laser Next 214 machine, which has a large print volume of 4140 x 2100 x 1020 mm, as well as a complete DED kit that includes a printhead, laser, and powder feeder. The Laser Next 214 is particularly impressive, with a deposition head that moves on 3 to 5 simultaneous axes, a 5-axis CNC system, a maximum deposition rate of 50-70 cm cubes per hour, and a fiber laser ranging from 1-6 kW. This DED platform is ideal for complex repair and rework applications, meeting the needs of a variety of industries.
Relativity Space – Stargate
Relativity Space is known for having the world's largest metal 3D printers, the Stargate printers. These printers were utilized to produce the first-ever 3D-printed rocket, the Terran 1. The newest Stargate printer is the 4th Generation Metal 3D Printer, which operates horizontally and feeds multiple wires into a print head to create parts. By printing horizontally, this printer has the capability to manufacture parts up to 36 meters long and 7 meters wide. The company has also developed software that allows the production of complex and large metal parts.
The RoboWAAM 3D printer from WAAM3D
British company WAAM3D, headquartered in Milton Keynes, has developed the RoboWAAM metal 3D printer, which uses Wire Arc Additive Manufacturing (WAAM) technology to produce steel parts from wire-shaped material. The machine is equipped with a robotic arm, capable of creating parts with a maximum print volume of 2000 × 2000 × 2000 mm, and can also repair existing metal parts. Additionally, the printer comes with WAAM3D's in-house software package, which consists of four programs: WAAMPlanner, WAAMKeys, WAAMSim, and WAAMCtrl. With this setup, the RoboWAAM is well-suited for the production of advanced parts, and can process virtually any metal material available in wire form.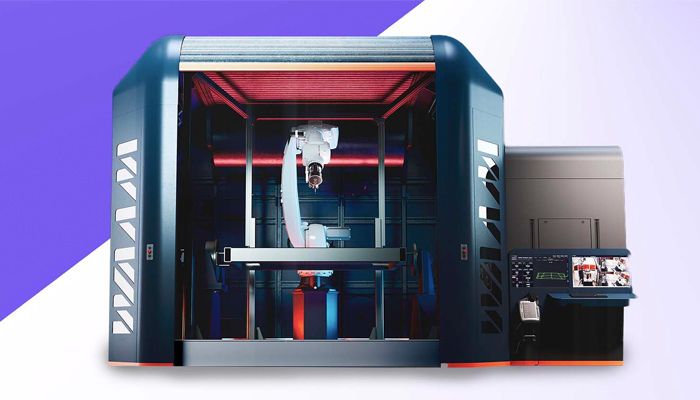 Sciaky's EBAM
Sciaky provides electron beam additive manufacturing (EBAM) technology that enables the production of large metal parts. The company claims that their 3D printing solution can create structures with a size of up to 5.8 meters in length and 1.2 meters in width and height. The machine is compatible with weldable metals that are available in filament form, such as titanium, tantalum, tungsten, stainless steel, and nickel-based alloys. Additionally, the EBAM process can 3D print small parts with a layer thickness of 1 mm. Sciaky states that its system is suitable for manufacturing prototypes, production parts, and repairing aerospace components. The manufacturer claims that its technology can significantly reduce costs by eliminating 80% of material waste, while production times are reduced by 70% due to the machine's high manufacturing speed.
Trumpf
's TruLaser Cell 7040
The Trumpf TruLaser Cell 7040 laser system is a highly versatile machine that can process two- or three-dimensional components or tubes. It offers the option of cutting, welding, and laser metal deposition. It has a position accuracy of 0.08 millimeters and a maximum laser power of 2000 – 6000w. The machine's modular set up and individual adjustments enable customizations to meet changing customer requirements and a modified production environment. When it comes to software, it loads 3D CAD data via numerous interfaces, and can self correct the 3D laser processing if required.The TruLaser Cell Series 7040 provides great operator convenience, offers excellent process reliability, ensure, and can be configured and retrofitted according to individual commands.


The GICAM 1500 P/W from Sotimeco
Sotimeco is a French company headquartered in Nouvelle-Aquitaine. It specializes in offering the GICAM 1500 P/W, a machine that uses Direct Energy Deposition (DED) technology compatible with both powder and wire deposition processes. The printer boasts a printing volume of 1500 x 500 x 500 mm and comes equipped with a 1 kW PRC-C 1000 fiber laser source, a 6 kW power cooling unit, a Kuka KR16 R1610-2 robot with KRC4 cabinet, and a KCP4 smartPad. The structure of the printer features a cabin measuring 6 x 2.5 meters with integrated dust removal and filtration. Sotimeco also offers software that includes the slicer, CAM, post-pro, and collision analysis RhinoRobot. Sotimeco provides initiation and training services in collaboration with Kinematiq. The GICAM 1500 P/W printer from Sotimeco is customizable, with the robot capacity expandable and the powder head being replaceable or augmented by a wire head.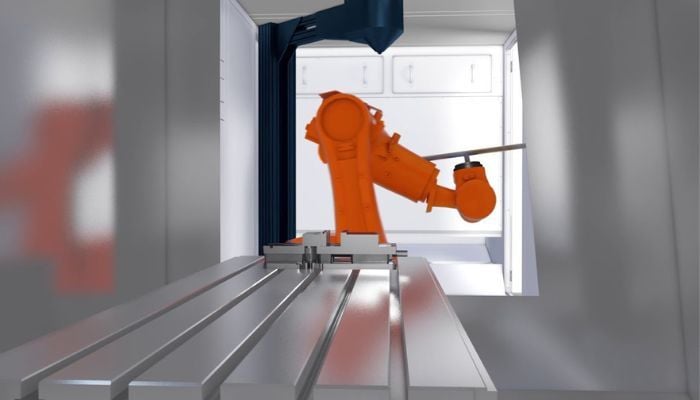 What do you think of this comprehensive list of DED 3D printers? Do you have a preferred material? Let us know in a comment below or on our LinkedIn, Facebook, and Twitter pages! Don't forget to sign up for our free weekly Newsletter here, the latest 3D printing news straight to your inbox! You can also find all our videos on our YouTube channel.