Columbia University Has 3D Printed a 7-Layer Cheesecake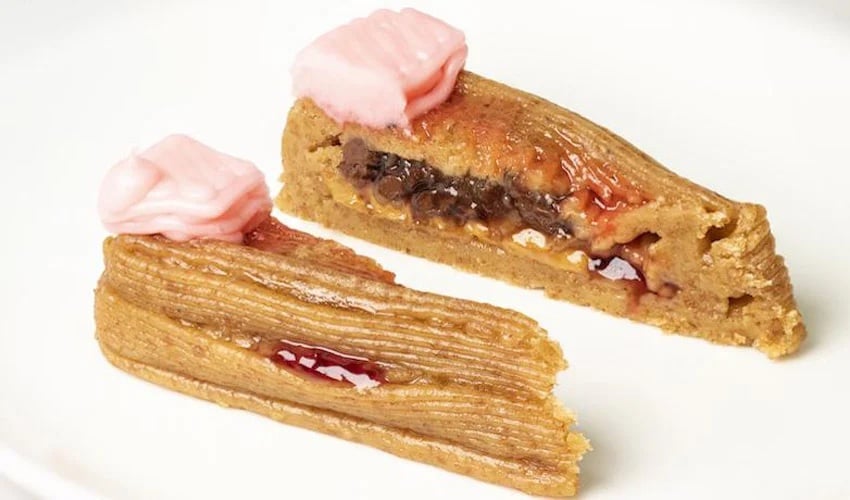 Though food 3D printing may not have yet convinced all food lovers, it certainly has raised its fair share of questions. For example, is a food 3D printer healthy? Or can it improve the way we eat and respond to the many diets and constraints of consumers? In order to answer all these questions, a team of mechanical engineers from Columbia has been conducting several tests and experiments in their Creative Machines Lab, led by Professor Hod Lipson. And their latest project is a 3D printed cheesecake, composed of multiple layers, 7 to be precise. This cheesecake was made in order to demonstrate the benefits of the technology, particularly in terms of food customization, but also food safety and tracking of ingested nutrients.
Jonathan Blutingler, a post-doctoral fellow in the lab and lead contributor to this new project, sought to demonstrate the benefits of food 3D printing, a process that remains controversial today. Many view 3D printed food as unappetizing and the technology as a gimmick that would have little effect. Discussing some obstacles the technology still faces as well as its clear benefits, he expanded, "Because 3D food printing is still a nascent technology, it needs an ecosystem of supporting industries such as food cartridge manufacturers, downloadable recipe files, and an environment in which to create and share these recipes. Its customizability makes it particularly practical for the plant-based meat market, where texture and flavor need to be carefully formulated to mimic real meats."
To design this 3D printed cheesecake, the team first had to turn all the ingredients into dough. They used graham cracker, peanut butter, Nutella, banana purée, strawberry jam, cherry drizzle, and frosting, all of which were purchased at a New York grocery store. Several print tests were conducted to determine which order was best to print which ingredient. For example, the graham cracker was the food that performed best as the first printed layer, probably due to its adhesion to the machine tray. Peanut butter and Nutella, on the other hand, are more suitable as intermediate layers to support softer materials such as jam. The team ultimately compared the design of this 3D printed cheesecake to that of a building, with structural elements supporting more fragile elements.
This cake was not 3D printed to revolutionize the very concept of baking, but more to show that food 3D printing could provide better control over what's on our plates. Indeed, Professor Christen Cooper from Pace University Nutrition and Dietetics and a contributor to the project, explains, "We have an enormous problem with the low-nutrient value of processed foods. 3D food printing will still turn out processed foods, but perhaps the silver lining will be, for some people, better control and tailoring of nutrition–personalized nutrition. It may also be useful in making food more appealing to those with swallowing disorders by mimicking the shapes of real foods with the puréed texture foods that these patients–millions in the U.S. alone–require."
By being able to add food very precisely, in selected and measured places, the food 3D printer could create new culinary experiences where the consumer could choose exactly what he wants to eat. So, myth or reality, that is the question: one thing is sure, only time will tell! In the meantime, you can find more information HERE.
What do you think of this 3D printed cheesecake? Let us know in a comment below or on our LinkedIn, Facebook, and Twitter pages! Don't forget to sign up for our free weekly Newsletter here, the latest 3D printing news straight to your inbox! You can also find all our videos on our YouTube channel.
*Cover Photo Credits: Jonathan Blutinger/Columbia Engineering