COBOD and PERI 3D print 4 houses in 4 days at Bautec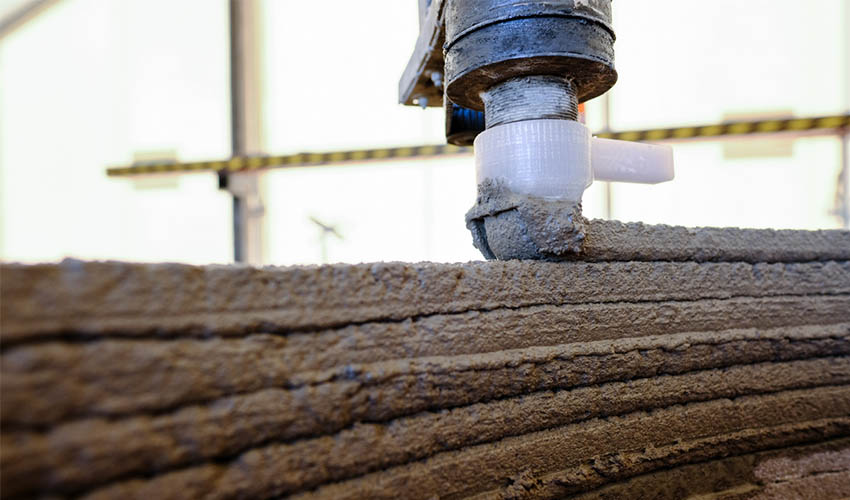 In Berlin, the international Bautec construction exhibition gathered over 30,000 visitors from more than 40 countries. This was the perfect occasion for COBOD, one of the leading actors in concrete 3D printing to demonstrate the productivity of their BOD2 3D construction printer. In collaboration with PERI, the company decided to live 3D print the walls of a small house every day of the show. During the 4 days of the show, COBOD 3D printed 4 small houses, each containing 64 m2 of walls that were 3D printed in less than 24 hours each.
COBOD has had a strong stance on the true state of 3D printing in the construction sector. According to the company, many projects that claim to have 3D printed entire houses or buildings in record time are misleading. Currently, the technology only allows the walls to be built this way, and it is a lengthier process than often advertised. Many initiatives have been for demonstration purposes only, confirming that the industry still has a long way to go before 3D printed houses become mainstream.
COBOD is clear on the fact that only the walls of its buildings are 3D printed. During the exhibition, the two companies took it upon themselves to bring the BOD2 to the show and start printing from 9AM until 5PM every day. Henrik Lund-Nielsen, CEO of COBOD explained: "With this showcase of live 3D construction printing we wanted to demonstrate that our BOD2 printer technology is ready for the market, as it has the quality, speed, robustness and stability to perform hour after hour, day after day and with incredible productivity."
One of the benefits of 3D printing in the construction sector is that minimal crew is needed when compared to traditional construction methods. Additionally, there is much more design freedom, allowing smarter design. Dr. Fabian Meyer-Brötz, head of 3D printing at PERI Group commented: "It is important to note that these freeform capabilities are not only relevant for architectural purposes but allow for the integration of functionality in the walls and hence enable smarter building designs. We are not aware of any other technology, which can produce such results."
During the exhibition, the Danish company explains that it had to lower its speed of printing to 8 m2 per hour. However, going forward, it aims to reach 20 m2 of walls per hour by printing with 40 cm per second with more powerful pumps. The BOD2 is a modular solution that can be extended in any direction with modules of 2.5 meters – limited to 15 meters in width and 10 meters in height. Since beginning shipment in January last year, the manufacturer has sold 7 BOD2 3D printers. One of the companies that has invested in COBOD's solution is Saudi Arabian construction company Elite for Construction & Development Co.
Henrik Lund-Nielsen concludes: "Overall we managed what we set out to do and the results speak for themselves: With our technology our customers will be significantly more productive than users with conventional construction equipment and methods."
What do you think of these latest developments? Let us know in a comment below or on our Facebook and Twitter pages! Sign up for our free weekly Newsletter, all the latest news in 3D printing straight to your inbox!