COBOD on where the 3D printing construction industry is headed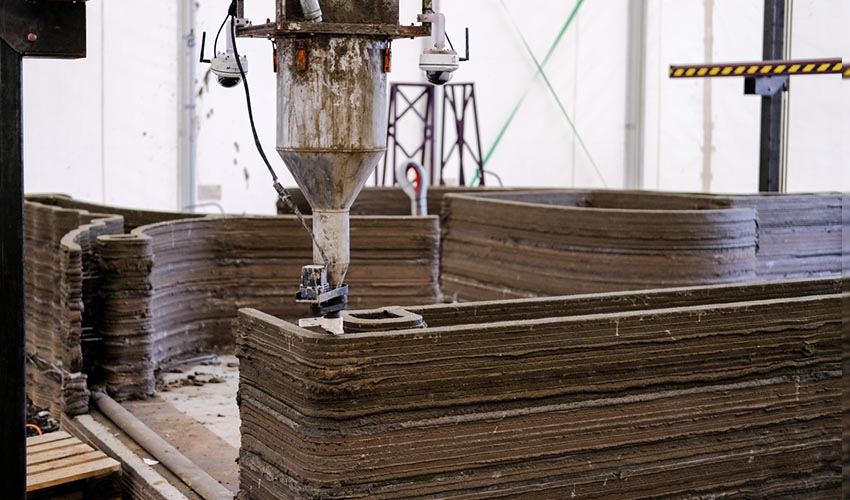 The construction sector has undergone a real revolution following the introduction of robotic 3D printers, capable of manufacturing concrete buildings in a matter of hours. Many believe that concrete 3D printers can create an entire building, however they only create the structure, the walls if you will. A number of companies are focused on this activity, including Apis Cor, WASP, Be More 3D, among many others.
One of these companies is COBOD, based in Denmark. It specializes in the construction of 3D printed buildings, its main mission being to achieve automation in the construction industry. For example, not too long ago, the company showcased its capabilities at the Bautec construction exhibition. In collaboration with PERI, the company decided print the walls of a small house every day of the show. Therefore, during the 4 days of the show, COBOD 3D printed 4 small houses, each containing 64 m2 of walls. In order to learn more about the company's technology and activities, we spoke to Asger Almegaard Dath at COBOD!
3DN: Can you present yourself and tell us about your relationship with 3D printing?
My name is Asger and almost 8 years ago two of the current co-founders and I wanted to give everyone the option of having access to 3D printing, and not only through universities. Therefore we established a 3D printing service business. Not long after we partnered with our current CEO, and started selling and distributing 3D printing equipment, as well as expanding our print service. The point was to establish ourself in the market and use our position to come up with new ideas.
3DN: Why did you decide to create COBOD?
COBOD is a company that develops 3D construction printing machines. The idea came after completing a study in cooperation with some of the biggest construction companies and material specialists in the country. After proving the application of 3D construction printing, we wanted to demonstrate it, which we did by 3D printing the first building in Europe, The BOD. It surprised us how much press and interest the project got, which led us to create and establish COBOD.
3DN: Can you tell us more about the technology behind COBOD?
The technology is based on the same principles as normal desktop FFF 3D printing. What is different is the material and the scale of the machines. Our BOD2 machine is built on a modular gantry system, which means our customers can choose the printer size they need for their specific project. Besides the printer, a mixer-pump is needed to mix dry concrete with the right amount of water and then pump it through the hose to the printhead hopper,. Then, the printhead extrudes it according to the 3D drawings of the building. Multiple features of the BOD2 stands out from a normal 3D printer and our competitors. Our printhead is equipped with sensors for leveling and material status, video cameras for live monitoring and a tangential nozzle that enables smooth wall finishes even if the walls curves. Furthermore the print speed of BOD2 is outstanding with up to 100 cm/s.
3DN:  Who are your clients?
We are primarily working with construction companies, universities and research institutions all over the world. They use our technology for two purposes mainly. 1. 3D printing unique architecture and 2. Researching materials and new building methods. Soon we are likely to see more customers use it for larger low cost housing projects. We are also working with other specific industries, which we can't disclose.
3DN: Where do you see COBOD in ten years time?
In ten years, COBOD's equipment will be able to automate the construction process of buildings even more, as well as have no size boundaries!
What do you think of COBOD? Let us know in a comment below or on our Facebook and Twitter pages! Sign up for our free weekly Newsletter, all the latest news in 3D printing straight to your inbox!