Coachella Valley to have World's First Neighborhood of Zero-Net Energy 3D Printed Homes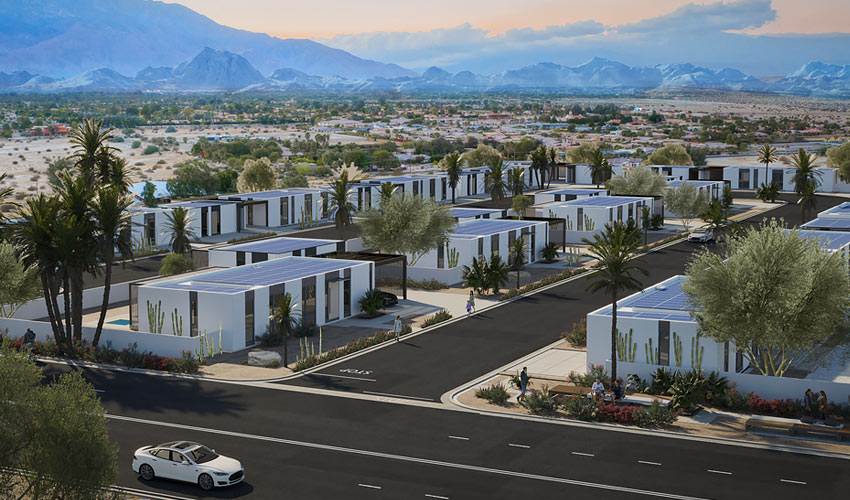 A few months ago we interviewed Mighty Buildings, a company dedicated to the construction and delivery of residences built using concrete additive manufacturing. A few days ago the company announced a partnership with Palari Group, a builder specializing in sustainable real estate development, to build the world's first community of 3D-printed zero net energy homes in the upscale city of Rancho Mirage in the Coachella Valley. The city has reportedly already received strong capital infusions, raising more than $70 million from investors since its announcement. This project certainly shows the potential of additive manufacturing in the construction industry and could revolutionize the way concrete fabrication is conceived.
The project carried out by Mighty Buildings and Palari Group aims to develop 15 homes made with 3D printing. Each of the 15 homes will be 1,450 square feet (134 square meters) and will have three bedrooms, two bathrooms, a terrace and a swimming pool. The price? Each home will start at a price of $595,000. In addition, interested parties can add a second residence, a little smaller, 700 square feet (65 square meters), with two more bedrooms and a bathroom, with the price going up to $950,000 for a two-home configuration with all possible upgrades.  The entire residence will be situated on a 10,000 sf lot. The project aims to start construction in September and finish in the spring of 2022. Many people already consider the construction of 3D-printed homes as "the future of housing," not just for its implications for sustainability but also because it is seen as a possible solution for housing crises across the globe.
Additive manufacturing of more sustainable houses
Rancho Mirage is located in the Coachella Valley near Palm Springs. Palari plans to develop the 5-acre parcel into this fully eco-friendly community. The 3D houses will be manufactured from a stone composite material. Extruded concrete is highly resistant to fire, water and termites, according to Basil Starr, CEO of Palari Group.  The houses are assembled by joining a series of interior and exterior walls together like Lego pieces. In addition, all components and materials that cannot be 3D printed are sustainably sourced. Homeowners will also be able to equip the house with additional devices with Tesla Powerwall home batteries, solar panels (all energy needs will be supplied with solar) and electric vehicle chargers. The goal is housing which integrates both technology and sustainability, starting with the 3D-printing production process which in and of itself eliminates about 99% of construction waste. The result will be zero-net energy homes, a critical step forward in sustainable construction.
Starr talks about the importance of 3D printing for the project, explaining, "3D printing allows us to build faster, stronger and more efficiently, making it integral to our platform of streamlining home-building process centered on sustainability of construction, materials, and operations." In addition to being more environmentally sustainable than traditional construction, this 3D technology offers other advantages such as price stability, speed of construction and quality of components. We let you see the details of the project in the video below:
What do you think of this zero-net energy 3D printed community? Let us know in a comment below or on our Facebook, Twitter and LinkedIn pages! Sign up for our free weekly Newsletter here, the latest 3D printing news straight to your inbox!
*Thumbnail photo credits: Mighty Buildings