China Unveils its First Retractable 3D Printed Bridge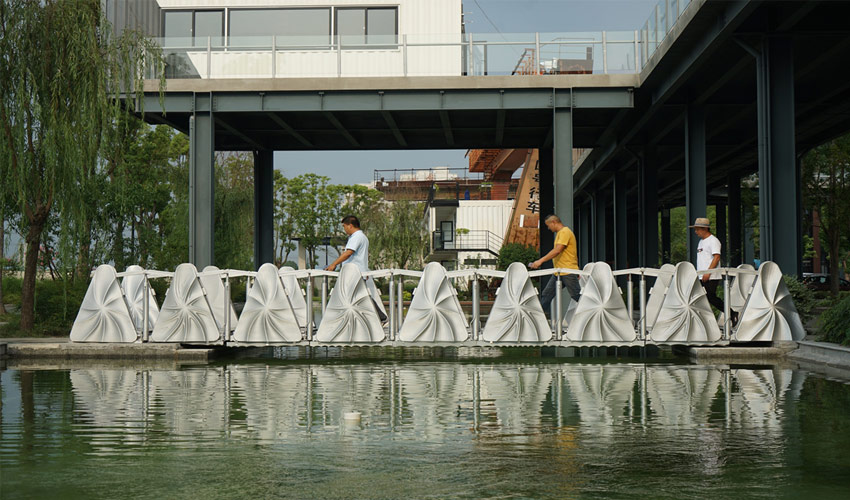 In China, the first retractable 3D printed bridge has been spotted in the industrial center of Shanghai's Baoshan district, specifically in Wisdom Bay Park. While the area has had a 3D printed concrete bridge since January 2019, this is definitely the first time we've seen a structure capable of folding and unfolding on demand. Measuring a little over 30′ (9.34m) long, the bridge is divided into 9 segments and incorporates 36 3D printed triangular panels, each with its own design.
The Baoshan district is an area that promotes 3D technologies in its own right: such as incorporating a museum dedicated to 3D printing and also featuring one of the longest 3D printed bridges in China, at 96′ (26.3m) long and nearly 12′ (3.6m) wide. Additionally it is home to some 20 market players, including the manufacturer XEV, which has opened its R&D center. This time, the innovation goes a step further: a team has come up with a retractable bridge that can be controlled by Bluetooth, made in part by 3D printing.
Called Transformer – like the famous shape-shifting robots on our screens – the bridge is precisely 30.6′ (9.34m) long, 4.9′ (1.5m) wide and 3.6′ (1.1m) high and weighs about 1873.93lbs (850kg). It consists of 9 retractable segments that can be controlled with a single button. But it is the 36 3D printed panels that interest us most.
Lu Bin is the chief designer of this bridge. He explains that each panel was 3D printed with a recyclable composite material, presumably polyester carbonate supplied by a German manufacturer. Minimizing the ecological impact of the project was crucial, and 3D printing is a good way to do that. It also allows to create complex designs, new shapes and a new texture that you can see on each panel. It is not known what process was used, probably an extrusion technology – in any case, only three days would have been needed to design the whole panels.
The bridge could support a total load of one ton or the total weight of about 20 adults. The designer claims that it takes only one minute for it to fully unfold. It will be equipped with an automatic gravity warning system and should be available to the public later this month.
What do you think of this 3D printed retractable bridge in China? Let us know in a comment below or on our Facebook and Twitter pages. Don't forget to sign up for our free weekly newsletter, with all the latest news in 3D printing delivered straight to your inbox!