The 3D Printing Innovations at CES 2020!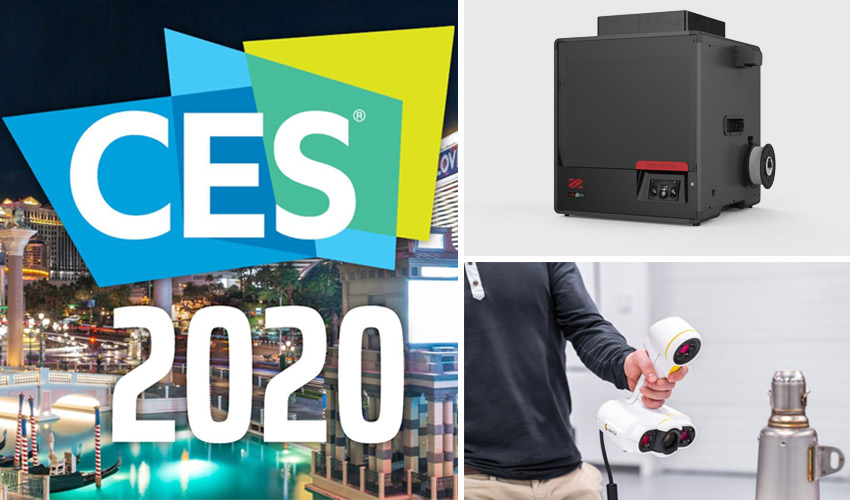 CES, the largest electronics trade show dedicated to consumers brings thousands of participants to Las Vegas every year, eager to discover the latest high-tech products, connected objects and all kinds of technologies. In 2019, the event attracted more than 175,000 international visitors and 4,400 exhibitors. This year, CES 2020 opened its doors on January 7, and gathered as always many curious visitors. A number of players in the 3D printing industry came to present their products, an opportunity for us to take a look at some new 3D printers, applications and innovative materials.
CES 2020 brought together 76 exhibitors specializing in the additive manufacturing sector (compared to 79 last year), including manufacturers of 3D printers such as Formlabs, Markforged, Global 3D Systems and 3D scanner manufacturers such as Artec3D.
New 3D printers presented at CES 2020
Every year the manufacturer XYZprinting takes advantage of the international event to unveil one or more desktop 3D printers. This year, it unveiled for the first time the da Vinci Color 5D, an extrusion 3D printer that also offers laser engraving and 2D printing on paper. Based on the da Vinci Color mini model, it can print colour parts up to 230 × 180 × 180 mm using a combination of FDM and Inkjet technologies. Fernando Hernandez, EMEA Marketing Director of XZYprinting, added: "The da Vinci Color 5D can be used by a wide range of people, but will be particularly useful to small businesses and designers, thanks to its high quality printing and ease of use. The 2D printing and laser engraving capabilities make the da Vinci Color 5D a world first and the most comprehensive and user-friendly desktop 3D printer ever developed. Entrepreneurs and manufacturers will truly have the ability to bring their creations to life."
On the hybrid side, Snapmaker has introduced a new version of its famous 3-in-1 printer that combines a 3D printer, laser engraver and CNC milling machine. The Snapmaker 2.0 is equipped with CAN data bus extension that makes it easier to transmit information wirelessly.
Finally, the French manufacturer Volumic presented its STREAM ULTRA SC machine, which won two CES awards: one for the 3D printing category and the other for sustainability and eco-design.
On the 3D scanner side, the Canadian manufacturer peel 3D unveiled peel 2 CAD, a professional and portable 3D scanner that allows to digitize an object easily and send it to an adapted CAD software. The company says: "Peel 2 CAD makes it easy to set up and perform 3D scans with CAD software. Thanks to this new solution, users can reduce the time spent processing scanned files and spend more time on innovative projects or higher value-added tasks".
Some innovative applications presented at CES
The Swiss car manufacturer Rinspeed took advantage of the event to unveil its electric and autonomous concept car, MetroSnap. It is a modular car thanks to interchangeable cabins, called Pods, that the user can easily mount on the unique chassis, called Skateboard. Of course, we were curious about the 3D printing side of things: the manufacturer used Stratasys' FDM and PolyJet technologies to design about thirty exterior and interior parts. These include the license plate, display frames and power sockets.
In the cosmetics sector, the South Korean company Amore Pacific has developed a system for 3D printing facial masks, customized according to the user's skin type. The company is said to have designed a specific multi-material machine, dedicated to the creation of this hydrogel mask. An innovation that reminds us of the one launched by Neutrogena a year earlier.
Of course, we can't mention all the new 3D printing features of CES 2020 nor list all the interesting applications hidden in the aisles. We invite you to visit the event's website to find out more!
What did you think of CES 2020? Let us know in a comment below or on our Facebook and Twitter pages! Sign up for our free weekly Newsletter, all the latest news in 3D printing straight to your inbox!