Ceramo One: The Industrial Ceramic 3D Printer by Kwambio
Published on January 9, 2018 by
Jamie D.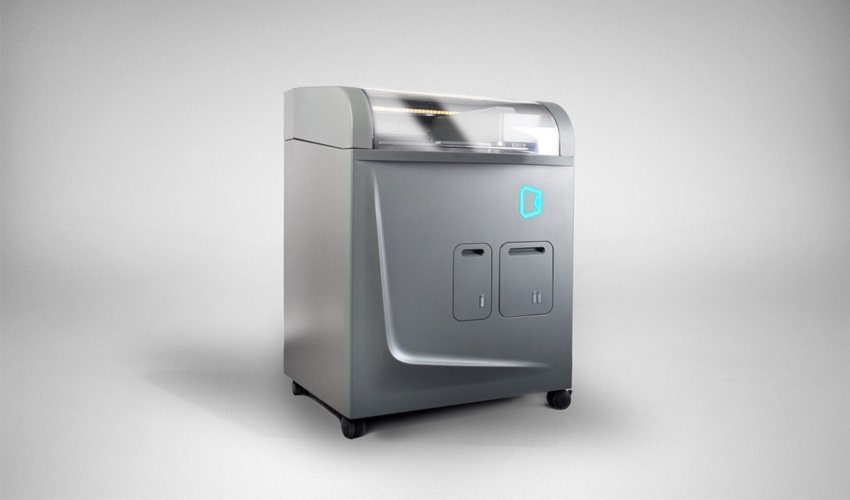 New York-based startup Kwambio have unveiled their Ceramo One industrial ceramic 3D printer. Kwambio specialise in metal 3D printing and ceramic printing of jewelry and other decorative objects. This exciting new Ceramo One 3D printer is expected to be available for pre-order this month.
Kwambio: A History
A year ago, Kwambio opened their production plant in Ukraine, the first specialised ceramic 3D printing plant in Europe. Since then, Kwambio have worked with designers around the world to make stunning custom objects. Today, they offer a high-level of complexity and quality in their 3D printed products.
Now, Kwambio wants to expand into the ceramic 3D printer market with their Ceramo One. They will be competing against established players in the ceramic 3D printing industry as us French company 3D Ceram.
Ceramo One: a faster ceramic 3D printer?
Kwambio explain that this decision is in response to the challenges they faced in long manufacturing times leading to delays in the delivery of their products. The ceramic 3D printers they worked with didn't offer sufficient quality. Moreover, using normal 3D printers to create a mold for casting clay was too slow.
Therefore, Kwambio developed the Ceramo One to make quality ceramic parts faster. They received $500,000 in funding to market the machine.
The American 3D printing company state that the Ceramo One prints at an average speed of 160mm/s with an accuracy of 20 microns. CEO Vladmir Usov adds thats it takes only 2-3 hours to 3D print a ceramic mug. This new ceramic 3D printer is said to reduce costs to 8 cents per cubic centimetre, down from an industry average of 12-15 cents. The Ceramo One's print volume is 350 x 350 x 380 mm.
Ceramo One: Powder Binding
Rather than using filaments or ceramic-based paste, the Ceramo One uses a range of clay-based powders that use powder binding technology. According to the startup, this powder will be available in 100 different colours.
Kwambio have been discreet about publishing the price of the Ceramo One when it releases, but it seems that pre-orders will take place in mid-January for around $25,000. They already use the machine in their Ukrainian factory, and say the initial results are very promising. You can find out more information on Kwambio's website.
What do you think of the Ceramo One ceramic 3D printer? Let us know in a comment below or on our Facebook and Twitter pages! Sign up for our free weekly Newsletter, all the latest news in 3D printing straight to your inbox!