Ceramic 3D Printing: A Revolution within Additive Manufacturing?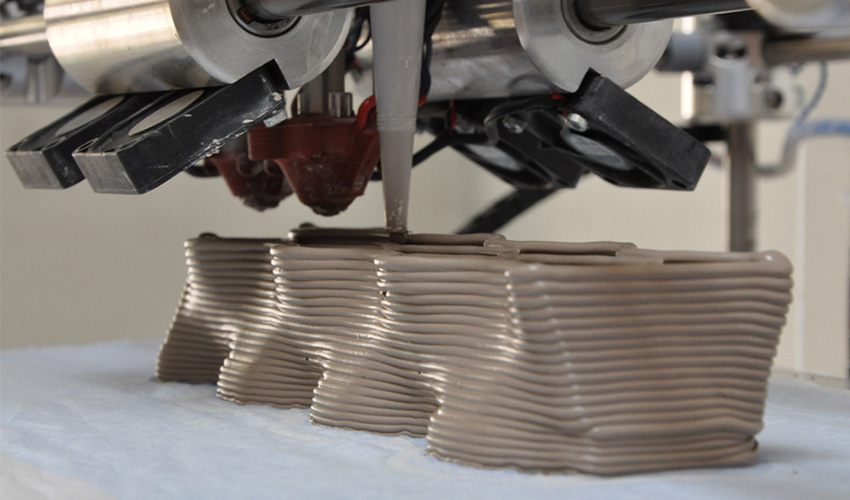 The origin of the use of ceramics goes back to ancient Greece, initially created for the creation of pots or plates for food, and based on clay cooked at temperatures of up to 500ºC. Later, around the 19th century, the attributes of these materials were discovered in the industry: mainly as thermal and electrical insulators in motors. Due to its long history, the advent of ceramic 3D printing was to be expected, as ceramic materials have mechanical properties and high-resolution geometries that could not have been possible to exploit with traditional techniques.
A few months ago, during the second report of the firm Smartech Publishing, the latest report on the evolution of ceramic 3D printing was presented. It stated that in 2028 this industry will generate up to $3.6 billion worldwide. Although it is not yet as well established as plastic technologies or even metal additive manufacturing, it has a great future. According to the report, 3D printing of ceramics will reach maturity in 2025 spreading as a manufacturing technique in different industries.
Evolution of a new ceramic technology
Historically, clay has been the most commonly used material when it comes to manufacturing ceramic materials, largely due to the fact that it is a natural material that is easy to find in almost any environment. As the materials have evolved, more manufacturing possibilities have arrived. There are currently different types of ceramics: the most common are those we use in the domestic environment: in crockery, tiles, etc. On the other hand we have structural ceramics, used in construction such as tiles or bricks; refractory ceramics used in cladding; and technical ceramics, materials with great mechanical, thermal, chemical and electrical resistance. This last type does not include clay, and is especially valued in industries such as automotive or aerospace.
There are currently different methods of 3D printing ceramics, some of the best known are light-curing technologies such as SLA and DLP, Binder Jetting, Deposition of Material (LDM – Liquid Deposition Modeling) and the most recent, Nano Particle Jetting of the Israeli company XJet.
Binder Jetting specialised in ceramic materials
Binder Jetting is one of the technologies that began to manufacture with ceramic powders. The beginnings of the technology go back to the 90s: starting with an MIT project, then acquired by Z Corporation, and after a few years of development bought by 3D Systems. The technique consists of manufacturing ceramic powders using a binder that solidifies in a cross-section on a powder bed. This results in full colour models, although not very resistant for some industrial purposes.
Stereolithography and photopolymerisation for ceramic 3D printing
Other technologies also date back to the advent of additive manufacturing technologies such as sterolithography, although it was not until years later that ceramic materials were incorporated. One of the great pioneers in the ceramic additive manufacturing industry is the French company 3DCeram.
"It was in 2005 that Christophe Chaput decided to investigate the possibility of additive manufacturing combined with ceramics. He started printing biomedical parts, skull implants… In 2009, he and I bought the company Cerampilot and decided to change the name to 3DCeram and change its business model, i.e. to manufacture parts only through 3D printing", commented Richard Gaignon, CEO of 3DCeram, after asking him about the origins of its developments. From 2014, the French company integrated DLP technology by incorporating a UV laser into its machines. They now have a wide range of 3D printers such as the C900, a hybrid press that can print more than one material at the same time, dedicated to the electronics and energy industry. Plus two additional machines launched this year: The C100 a machine "KISS" (Keep It Smart and Simple) according to the manufacturer and its C3600 specialised in technical ceramics.
In addition to the developments of the French company, there are actors such as the giant 3D Systems that offers ceramic resins within their material range. Something that also incorporated the American company specialised in desktop SLA 3D printers, Formlabs. The Dutch company ADMATEC specialises in technical ceramics and manufacturing with DLP technology.
Material Deposition or Liquid Deposition Modeling
The technique of deposition of material or also called LDM (Liquid Deposition Modeling), is the technique that has spread most amongst the different actors. It consists of depositing layers of ceramic material until the piece or model is formed, following the FDM technique but with extruders adapted to the material. This technique is also the least expensive as clay and filler polymers are the main materials.
This technology inspired many manufacturers to create (mainly) desktop machines that have found great success such as the ClayXYZ launched in 2017 or the LUTM V4 that was introduced to the market in 2018 with a more artistic character. One of the most renowned is the Italian company WASP, which offers ceramic 3D printing on a large scale.
NanoParticle Jetting ™
The technique was developed by the Israeli company XJET, thanks to the experience of its CEO Hanan Gothait, whom had founded Objet Geometries, the company behind the Polyjet technology. After years of work and more than 80 patents up his sleeve, in 2016 he launched the NanoParticle Jetting ™, a technology developed for metal and ceramics. Its first solutions were the Carmel 1400 and Carmel 700 AM systems.
"The key to NanoParticle Jetting ™ begins with its unique liquid dispersion methodology. Liquid suspensions containing solid nanoparticles of selected support and construction materials are injected into the manufacturing tray to additively manufacture detailed parts. The liquid suspensions are delivered and installed in sealed cartridges without problem", Hanan Gothait told us. "The precision of the inkjet printheads plus the use of ultra-thin layers, which create a super sharp Z resolution, enable parts to be extremely and easily neat. This is crucial for 3D-printed ceramics to achieve excellent shape and dimensional tolerance".
Technical and material developments within ceramic 3D printing have continued to grow. A few weeks ago the Japanese group Canon announced its technique for ceramic materials, as well as a material capable of being used with Selective Laser Sintering machines. It is expected that in the coming years more actors will continue to contribute to the evolution of this technology.
The arrival of ceramic 3D printing in different industries
The introduction of technical ceramic materials in different industries will bring long-term benefits to the market. Many companies are started thanks to the ceramic 3D printing services that exist today. Major players in this field such as Materialise or Shapeways offer different manufacturing possibilities for these companies. The manufacturers themselves also offer 3D printing services such as 3DCerams or Admatec. However, traditional ceramic companies are also opting for additive manufacturing.
"Cerámicas Baltà is a workshop with more than 30 years of experience in traditional and artistic ceramics. The need to implement the additive technology to the workshop basically responded to three points: open a new economic opportunity, give our customers new manufacturing possibilities and enter a niche market with many possibilities and for which we had "in house" 3 consolidated tools: knowledge of design and digital modeling + ceramic knowledge + ceramic infrastructure," commented Martí Baltà, CEO of Cerámicas Baltà and Protopenedes 3D.
For manufacturers like this Catalan company with many years of experience in the field of ceramics, they consider it a very versatile material with great resistance and properties.
"It is a material that once sintered in all cases is inert and ecological, there are mixtures of ceramic materials with great properties in thermal or electrical insulation. And what must never be forgotten, when we talk about ceramic printing we are talking about the final product, not the prototype", continued Baltà.
Companies like XJet consider ceramic 3D printing as a final production method. In recent years they have seen that different industries, namely health, energy and automotive industries that had initially adopted additive manufacturing techniques for plastics or metals are beginning to develop ceramic techniques. "The technology is expected to gain full acceptance as a valid, necessary and even preferred manufacturing method," adds Hanan Gothait. "ceramic 3D printing is still in its infancy, but is growing rapidly. The main driving force behind this is the growing need for greater temperature resistance, strength and toughness of parts and components, pushing metals to the limit of their capabilities, where technical ceramics perform extremely well".
What is the future of ceramic 3D printing?
There is no doubt that the evolution of additive manufacturing techniques with ceramic materials is a fact. But like all other 3D printing techniques it is adopted in different ways in each industry. Just as the 3D printing of metals has found special acceptance in the aerospace or automotive industry, 3D printing of ceramics has to find its place. Manufacturers such as 3DCeram know that it will take around 10 years for the method to reach maturation in the industry. Materials play a key role, although technical ceramics are very attractive for certain industries, more traditional ceramics also have benefits for more artistic environments.
"In the sector of design and craftsmanship, the LDM technology will an option to be taken into account in almost all workshops of young ceramists, who are already including in their academic studies the digital modeling and printing with this technology," says Martí Baltà when talking about the future of this industry. He also comments that in his opinion: "In the medical sector, DLP or SLA will be used more and more in the fabrication of implants and binder jetting will have many possibilities to fill the niche for the prosthetic sector".
The spread of ceramic 3D printing technologies is already happening, but there are still details that manufacturers, services and users must take into account before entering this technique. According to XJet CEO: "There are some important challenges that must be met to achieve this growth, for example, education programs for ceramic engineers, as well as professionals. An essential step in this progress is the adoption of this technology by the main players in the ceramic market, including manufacturers, service providers and end users. Once this process begins, it will grow like a snowball and turn it into a legitimate and popular technology".
What do you think of ceramic 3D printing? Let us know what you think in a comment below or on our Facebook and Twitter pages! Don't forget to sign up for our free weekly Newsletter, with all the latest news in 3D printing delivered straight to your inbox!