Cerambot Launches Eazao, its Upgraded 2nd Generation Ceramic 3D Printer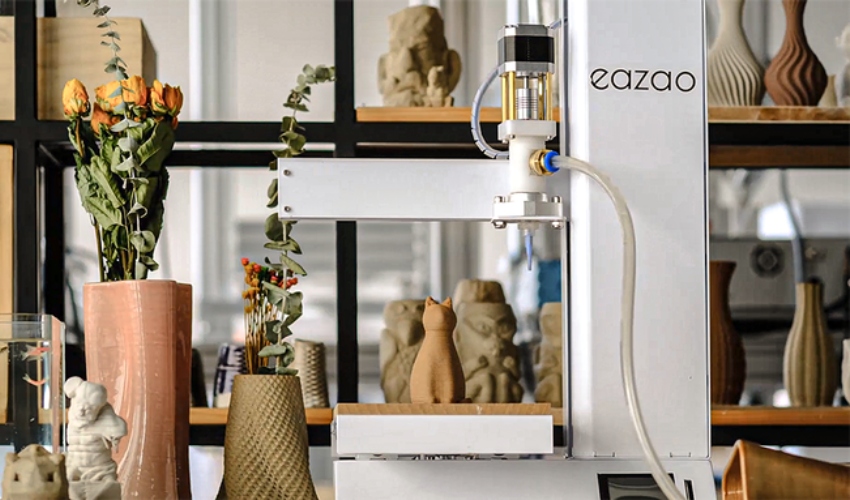 Cerambot has just launched its second-generation ceramic 3D printer, called Eazao, with upgraded performance and brand new features. You may know Cerambot for its ceramic 3D printer of the same name which took the maker community by storm in 2018, promising an affordable professional ceramic 3D printing solution. With this pitch the company reached its kickstarter funding goal in an impressive six minutes and eventually raised $286,510 from 1,026 backers. Unsurprisingly, Cerambot is able to boast being the most-funded ceramic 3D printer ever launched. With Eazao, the company elevates both performance and user experience.
Cerambot CEO Jony Liu explains, "Our first-generation ceramic 3D printer was a huge success and earned us many fans around the world. In fact, that community of users was key in helping to guide us on our next generation design. We took all the feedback we received and worked hard to improve nearly every aspect of our new printer. Cerambot Eazao is the culmination of our efforts and it makes the ceramic 3D printing experience better than ever with a more rigid Cartesian structure, faster print speeds, and a more intuitive user-friendly design. Now anyone can get creative and start printing ceramics fast."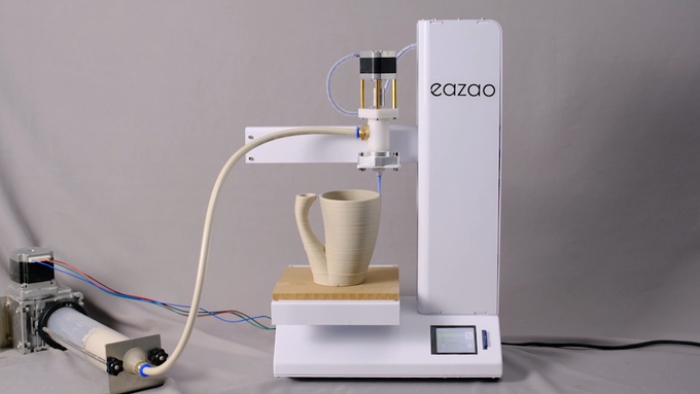 Eazao's Upgrades
Upgraded with a Cartesian structure system, as opposed to a Delta system, Eazao produces less errors and a better surface finish with finer details. This is because Cartesian systems are able to coordinate the location of the print head more precisely thanks to a gantry like system of rails which possess more rigid axes than those of Delta system printers. The new machine is also around 20% faster than competing ceramic 3D printers, able to print at up to 40mm/s. Moreover, with Eazao users can glaze their printed parts in a typical household microwave, taking the average completion time down to around 35 minutes.
By enabling users to glaze parts in a typical household microwave with its specially designed color glazes, Cerambot has eliminated the need for expensive kilns, making the 3D printing process far more affordable and accessible. Likewise, the machine arrives fully assembled meaning that users don't require any expertise in assembling 3D printers and comprises a smart user interface designed to simple to use. Cerambot has also integrated a convenient power-loss recovery system that resumes printing after a power outage, meaning that users won't lose their work. The company has integrated further precautionary measures by replacing the air compressor, which typically drives the clay in typical ceramic printers, with an electric push rod, meaning that printing with Eazao is safer and more stable. This also means that the machine is more suitable for a wider variety of printing material.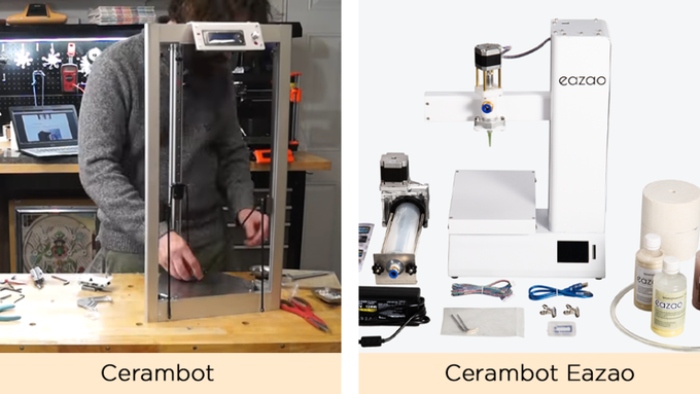 Evidently, the Eazao is a high performance and affordable 3D printing solution for makers, professionals and hobbyists. With their new machine Cerambot has created a more home-friendly, powerful, accurate, and intuitive than the first generation. So far $ 91,142 has been pledged of the original $ 10,000 goal from 183 backers on kickstarter. While the super early bird has sold out, there are still early birds going for $429, alternatively you will soon be able purchase the printer at full price ($799). If you want to learn more about Cerambot's second generation ceramic 3D printer you can visit their kickstarter page HERE.
Would you buy one of Cerambot's Eazao printers? Let us know in a comment below or on our Facebook, Twitter and LinkedIn pages! Sign up for our free weekly Newsletter here, the latest 3D printing news straight to your inbox!
*All photos courtesy of Cerambot