How Cement 3D Printing Can Contribute to Decarbonization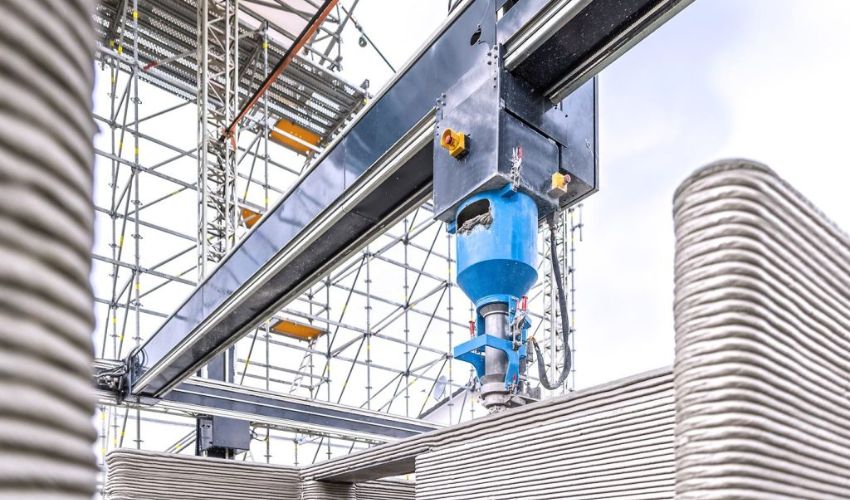 For the past decades, the global population has been steadily increasing, which means that these people have to be accommodated somewhere. Consequently, with this increasing number, the amount of accommodation must also increase. Essential for its construction are cementitious products (including cement and concrete), which are among the most widely used resources nowadays. If we take a look at the study carried out by the UN DESA (Population Division) to forecast the world's population in the coming years, this could mean that by 2060 there will already be more than ten billion people living on this planet. Considering the production of cement, which currently accounts for around 8% of total CO2 emissions, this is likely to increase even further for the construction industry. As a result, a team of researchers consisting of Ankita Gangotra, Emanuela Del Gado and Joanna I. Lewis, all of whom work at Georgetown University in the United States of America, have been looking into the possibilities of 3D printing with cement and the associated climate protection.
The threat to our planet from CO2 is a serious growing issue, and since the production and use of cement plays a major role in this, it will take 3D printing to achieve carbon neutrality in terms of the cement and concrete supply chain by the middle of this century. The goal the researchers have been addressing in the course of their work is dedicated to decarbonization in the cement sector. This means a change in the way the economy is run, which should lead to less carbon being emitted.
Is Climate Protection Possible Through 3D Printing With Cement?
We know that additive manufacturing in the construction sector provides us with savings in materials, time and costs, and also minimizes the human workload, but when considering the possibilities in terms of climate protection, the researchers state that 3D printing still has a lot of potential. With reference to the cement supply chain, greenhouse gas emissions can be sustainably reduced using 3D printing. Starting with the production of the 3D printable mixtures and ending with the final end use and thus the construction of buildings. In the first step of this supply chain, the researchers state that this could involve the production of novel low-carbon 3D printable cement mixes that have been reinforced with other cementitious materials. For example, this could include industrial waste such as fly ash or slag, but could also include naturally formed materials such as clay. The research paper goes on to say that alternative binders such as geopolymers and recycled materials from conventional concrete can also be used for this purpose. All these factors to renew the cement mixture for subsequent 3D printing can lead to the reduction of emissions.
If we look at the 3D printing process itself, the researchers go on to say that factors such as the reduction in material waste lead to emissions savings, since 3D printing only uses the amount of material that is ultimately needed. A further decarbonization can be seen in the possibility of the materials, some of which can be obtained from local regions, which prevents the resources from having to travel a long way for delivery and can therefore also save on emissions. However, in addition to all these direct influencing factors that can contribute to climate protection, harmful environmental effects such as the formation of smog, the creation of fossil fuels or eutrophication also count.
But if cement 3D printing is to be used as a unique way of achieving climate targets, this requires close control. These controls relate primarily to the flow properties during 3D printing, but also to the consolidation of the printed layers.
Global Strategies for the Use of 3D Printing
The fact that this research paper is in tune with the times is clear when we look at the international strategies of countries that are prioritizing 3D printing in the construction sector, including with cement. For example, in January 2021, the United States Department of Defense decided to further develop additive manufacturing, including 3D printing in concrete construction. Based on this, they highlighted the urgency of further policy developments. In 2021, Dubai set an ambitious goal of using 3D printing to manufacture 25% of all new buildings built by 2030. In China, government funding for 3D printing with cement was also increased and used in several major construction projects. If you would like to learn more about this exciting project of 3D printing with cement in the construction sector, you can find the research paper HERE.
What do you think of cement being used for 3D printing? Let us know in a comment below or on our LinkedIn, Facebook, and Twitter pages! Don't forget to sign up for our free weekly Newsletter here, the latest 3D printing news straight to your inbox! You can also find all our videos on our YouTube channel.
*Photo credit: PERI 3D Construction GmbH