CELLINK, providing researchers with affordable bioprinting technology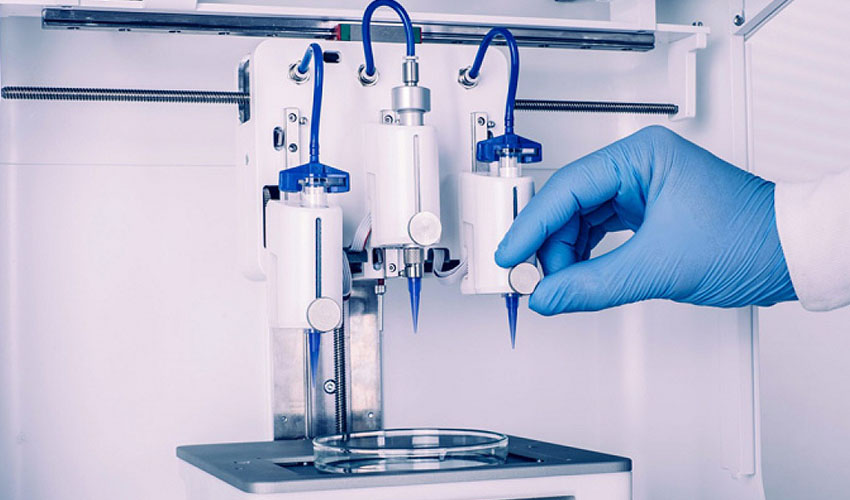 Recently, CELLINK, based in Boston, launched the BIO X6 bioprinting platform. This six-printhead bioprinting platform enables users to combine more materials, cells and tools than other systems currently available on the market. In fact, the company specialises in designing and developing bioprinting technologies that enable to 3D print organs and tissue for applications in pharmaceuticals to cosmetics. They also offer a patent-pending bioink that allows human cells to grow and thrive as they would in their natural environment. Ultimately, the aim of the startup is to provide researchers with affordable bioprinting technology that can help to further their research. We spoke to CEO and Co-Founder Erik Gatenholm to learn more!
3DN: Can you tell us about yourself and your relationship with 3D printing technologies?
As the CEO and Co-founder of CELLINK, I have had a love for 3D printing technologies for over a decade. I knew this was a market I always wanted to get into. When I met my co-founder Hector Martinez, we realized a gap in the market when it came to purchasing bioinks. Together with our founding team, we commercialized the first universal bioink and then expanded to manufacturing 3D bioprinters and other technology used for bioprinting.
3DN: What is CELLINK's primary mission?
Our mission is to provide researchers all around the world with affordable bioprinting technology that can help further their research.  As I just explained, we saw a gap in the market for bioinks and shortly after learned that there was a way to democratize bioprinting technology.  Our systems are now in over 600 labs in 60+ countries. Our team has grown to nearly 200 individuals in just 3 years. We continue to collaborate with leading researchers around the globe to improve our technology and develop new products to assist with their work.
3DN: Can you tell us more about your new bioprinting platform, the BIO X6?
The BIO X6,  is a six-printhead bioprinting platform that enables users to combine more materials, cells and tools than any other system on the market. BIO X6, users can combine six or more cell types to print advanced organ and tissue models. Users can mix the cells in each printhead with a tailored bioink, providing the cells with the biological environment they need to achieve the desired architecture.
3DN: What is CELLINK currently working on and what are your future projects?
Cellink is currently working on creating exciting workflows for Pharma companies and biologists around the world so that they can focus on developing new drugs and treatments that can heal patients. CELLINK has in the last 10 months successfully acquired 2 companies that are instrumental in the pharmaceutical development field and integrating them into the CELLINK family is a great step we are all working on together. For future projects, we see the need for further understanding the biological behavior of the tissues that we print. The tissues we print today are showing great potential and we are working with the best scientists in the world to apply these tissues to the drug development process. Our focus is giving biologists the tools and help they need to succeed. Today, that focus is 3D cell culturing. Our systems and reagents are specifically designed to help scientists go from regular, conventional 2D cell culturing, to printing 3D cultured tissues that are more realistic and perform better. This will revolutionize the industry.
3DN: As a player in the 3D bioprinting industry, what is your vision of this segment of additive manufacturing?
We love the field and how it's growing but we have always been a bit on the outskirt of it. The additive manufacturing field is heavily focusing on printing non-living material and by introducing a new component, human cells, we are inventing a new subcategory of additive manufacturing that is merging together with more life science and biotech related fields. It's very exciting to be able to take the additive manufacturing industry to this new area where no one else has gone before. It's also very exciting to lead the field and the development forward.
You can find more information HERE.
What do you think of CELLINK's future projects? Let us know in a comment below or on our Facebook and Twitter pages! Sign up for our free weekly Newsletter, all the latest news in 3D printing straight to your inbox!