Cell Alpha, the 3D Printed Triphonic Speaker From Syng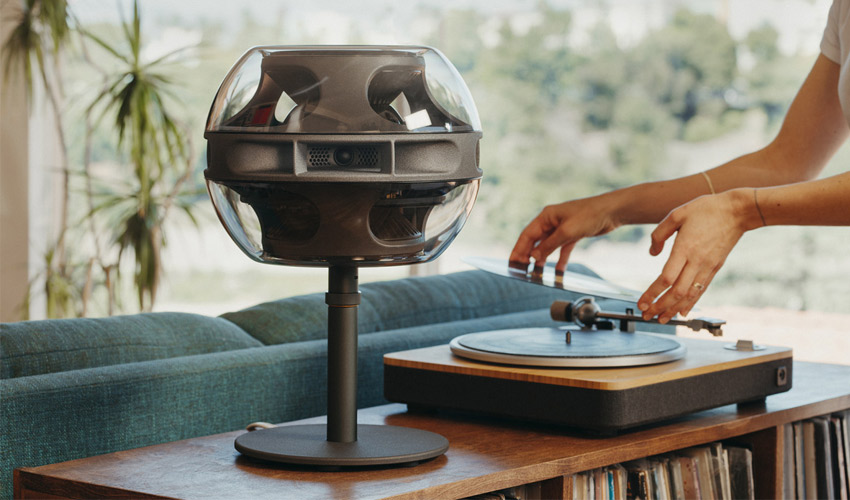 In the music industry, the use of additive manufacturing is growing quite common. Indeed, 3D technologies make it possible to improve the experience of musicians and music lovers by pushing the limits of geometries and harmonies. It's now possible to imagine more complex shapes for your guitars, violins, and drums, to create accessories that enrich the sound experience, or simply offer better instrument comfort. In any case, these are the foundations of the California-based company Syng, which used the capabilities of additive manufacturing to develop a triphonic speaker, which offers totally immersive sound. Thanks to HP's Multi Jet Fusion technology, the company was able to design a new structure and offer a completely different sound experience. We met with Syng's Yoav Ben-Haim to learn more about this new generation of audio speakers.
3DN: Can you introduce the Syng company?
Syng was built to unlock a whole new world of audio. With our flagship product, the Cell Alpha, we've created the first all-encompassing audio product that renders sound for the wide spectrum of content we consume now–from music to TV to anything else you want to hear. The Cell Alpha is an entirely new speaker architecture, and our goal was to build something that could deliver any form of audio content the way that the artist intended, and fill an entire space with high-fidelity sound.
3DN: Can you tell us more about your product, Cell Alpha? 
As I mentioned, the Cell Alpha is the first all-encompassing audio product that really renders sound for the wide spectrum of content we consume now. Utilizing Triphonic, the driving technology of Syng, the Cell Alpha turns the listener's space into a field of clear, detailed sound–a fully immersive experience that actually puts you inside of your favorite music and entertainment. Triphonic's dynamic sound is unmatched in quality as well as potential. By projecting sound with unrivaled precision to exactly the right place in your sound field, the Cell Alpha creates sound that's more spacious and immersive than ever before.
The Cell Alpha is complemented by Syng Space, an instinctual mobile app that provides listeners and creators with a new level of control.
3DN: How did Syng use 3D printing in the production process?
One of the key components of the Cell Alpha is the Triphone, our three-horned sound projector. It was really important structurally for the Triphone to be a single part in order for sound to have complex, uninterrupted pathways through the system. 3D printing was the one method of manufacturing that allowed us to create this component in a singular piece, and to impart it with its various functionalities: six speakers mounted with precise features, 10 pressure seals, complex airways,  and unique cosmetics.
3DN: What are the materials used, and why did you choose HP MJF technology?
We designed the Cell to be seamless, durable, and visually beautiful. The PA 12 which we print on HP MJF machines, was unique for us in its appearance, very different in terms of surface and shape, resulting in a product with great capability and confidence that blends into any environment.
3DN: Why did you turn to 3D printing?
The use of 3D printing allowed the mechanical engineering team to gain confidence in the structural integrity of the product architecture early in our design and prototyping phase. Typically, a 3D printed prototype is used in the initial stages and then converted into a design for injection molding with a completely different material used in the production process. By using 3D printing as our production intent, any learnings about our specific resin collected in the prototype phase were directly transferable to the final production design.
3DN: What are Syng's upcoming projects? 
Syng has introduced a revolution in audio. Our goal is to continue accelerating the possibilities for how people will interact with sound experiences and expand the concept of what audio can be. Our future is vast, and we're incredibly excited about the impact our transformative sound experience will have in bringing audio technology up to speed with the advancements in visual technologies.
3DN: Any last words for our readers?
The Cell Alpha is currently available at SyngSpace.com, starting at $1799.
What do you think of the Cell Alpha speaker? Let us know in a comment below or on our Facebook and Twitter pages. Don't forget to sign up for our free weekly newsletter, with all the latest news in 3D printing delivered straight to your inbox!