How To Celebrate Easter With 3D Printing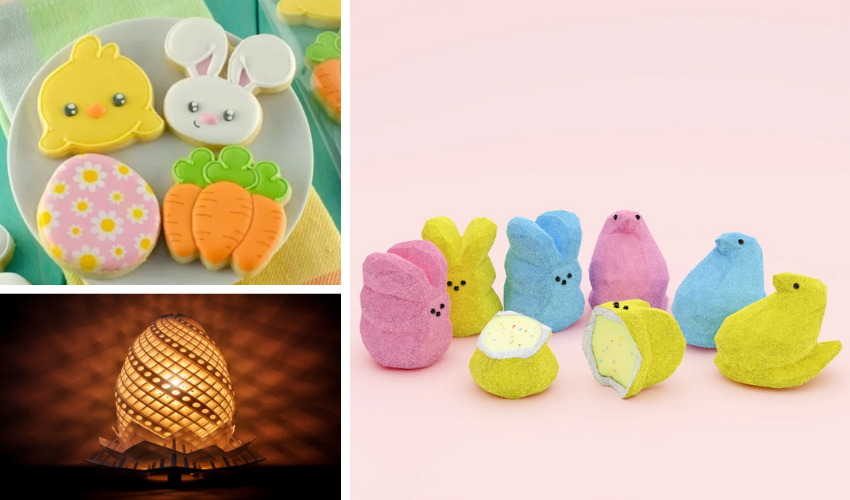 The sun is out, temperatures are warming up and Easter will take place this Sunday! Changing every year, Easter Sunday takes place following the first full moon after the vernal equinox (March 20th), though it is always on a Sunday as the name suggests. Like Christmas, though it is a religious holiday, it has also taken on a certain cultural meaning for many in the Western world. It also is often equated with a celebration of the start of Spring, seen in imagery of baby animals like chicks and lambs. This year to help you celebrate we decided to highlight how 3D printing can be used in Easter celebrations. We chose some of our favorite examples of 3D printing being used for the holiday, including 3D printed chocolate, 3D printed decorations for your home, and STL files for chocolate molds and cookie cutters or Easter decorations. Happy Easter!
Sugar Lab's Spring Collection of 3D Printed Chocolate
On Christmas and Valentine's Day we covered Sugar Lab's 3D printed candies and chocolates. They're back again with a new collection to celebrate Easter. In their spring collection, Sugar Lab is offering truffles, bonbons, dessert shells and sugar cubes. These are decoarated specifically with Easter and Spring in mind such as the rainbow sprinkle bonbnsons, made in the shape of bunnies and chicks and filled with white chocolate vanilla ganache (and rainbow sprinkles of course!). For those looking for something a little more elegant, there are also  the Bejewled Spring Truffles, inspired by the famous Fabergé eggs, the eggs come in three flavors: a blue egg with a Tamarind elderflower dark chocolate ganache, a green egg filled with Orange blossom milk chocolate ganache and a pink/purple egg filled with Lavender white chocolate ganache. The entire collection can be found on their website.
3D Printed Chocolate Easter Greeting from Chocolate³
Next we have a German offering. Chocolate³ is the brainchild of Benedikt Daschner Gründer, who after studying confectionery decided that the market was ripe for a more personalized, sustainable experience. Using chocolate from Switzerland, chocolate³'s products are made using their  3D printer the chocmate². Though the collection is limited, they do have an offering for Easter. Their personalized easter greeting boasts a stylized chocolate egg in a frame. Buyers can choose an option without a name for €19 or another with a name for €35. You can find more offerings on their website.
Chocolate Bunny Mold
For those who want to experience 3D chocolate making themselves (or who live too far away for delivery!), luckily there are STL files that will allow you to make chocolate molds for your very own easter creations. For example, this chocolate bunny mold which is available on thingiverse. In this particular case, the file will allow for the creation of the two sides of a chocolate bunny. The creator then recommends printing both sides and then brushing them with an acetone abs mixture. Rubber bands or tape can be used to  hold the pieces together. After tempering the chocolate, you can fill the mold and let it harden, resulting in a chocolate bunny, perfect for the holiday! You can find the free STL file here.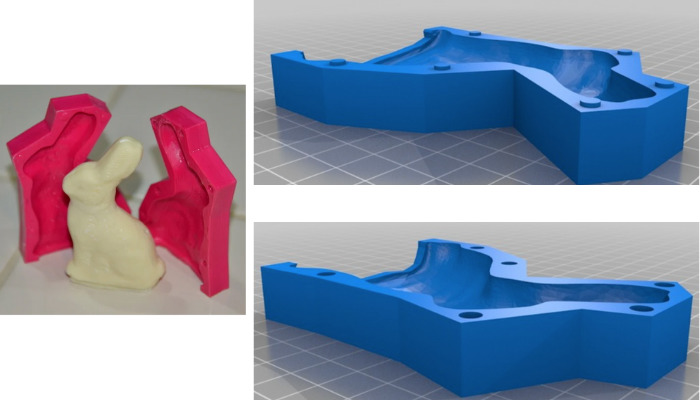 Easter Egg Mold
Another chocolate mold offering to help you get into the Easter spirit! In this case, you can 3D print your very own chocolate egg mold, allowing you to have a unique Easter Egg experience. For best use, the creator notes that they used a Prusa I3 with  support and 15% fill. The material used was Pet (T-Glass). Though unfortunately you cannot 3D print chocolate directly at home, using a file for a mold gives you the next best thing (at a much cheaper price!). You can download the free file here.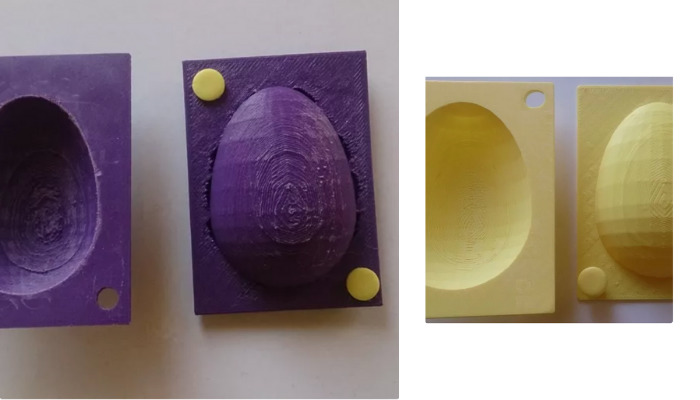 Easter Day Cookie Cutter Kit
If chocolate isn't your thing, then you could always instead download this free STL for an Easter cookie cutter kit. With eight different shapes, users can print the kit and then decide what they want to use to make their own celebratory cookies. The kit has a variety of shapes including rabbits, chicks, carrots and easter eggs and can be used for cookies, fondant or other types of dough. You can find the file here.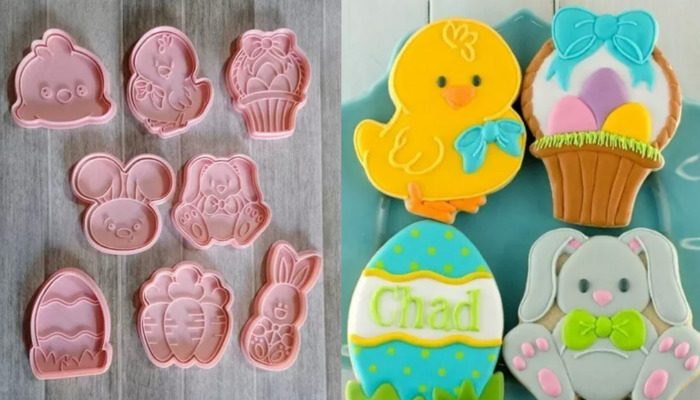 Easter Bunny Napkin Holder
How did the Easter bunny end up on the plate? With these napkin holders your table decoration for Easter becomes a real eye-catcher. So you surprise your guests and can give free rein to your creativity in the design. The napkin holders impress with a simple but creative design and can be painted or decorated as desired afterwards. The STL file is available here.
Voronoi Stanford Bunny
You have probably heard of Voronoi diagrams. They appear in most scientific fields, including materials science and architecture. Descartes was the first to devote himself to the geometric model, but it was only later subjected to mathematical analysis by Dirichlet and Georgi Feodosyevich Voronoi. In 3D printing, models based on the Voronoi diagram can be used to test the functioning of the printer for possible bridging or stringing. So why not make a bunny for Easter? The file and more detailed instructions can be found here.
Phoenix Egg Lamp
If you're not a big fan of themed decorations or like to invest in objects that can be used all year round, you should take a look at Joaquin Baldwin's designs. The artist experiments with different materials and makes cell phone cases, plant holders and jewelry, among other things. In addition, his website features the Phoenix Egg Lamp, in which the geometry is meant to resemble a cross between a Fabergé egg and a lotus. The lamp allows for the integration of a light fixture, but can also be used without one. This makes the Phoenix Egg Lamp multifunctional and as well as ready for use as a table decoration for Easter. You can find it here.
Rabbit Toy by Igor Khabibov
The 3D artist Igor Khabibov creates various graphic models, which can be purchased in different formats for download. On his website, the 3D generalist also records the individual design steps and illustrates how, for example, he made a rabbit figure using the FDM printing process. The file available for download prints the figure with a layer height of 0.12 mm and should eventually reach 90mm in height. According to the artist, however, this should be customizable. You can find the file here. Note that it does cost money to download.
Easter Egg Puzzle
Who doesn't know the concept – the eggs are hidden but the Easter Bunny even he has forgotten where he put them. Fortuntately, this won't happen to you with this Easter Egg puzzle guaranteed! Here the egg remains in place, although its parts do not. In this somewhat different kind of egg hunt, the disassembled egg must find its way back to its original shape and thus provides a successful change. The file can be downloaded for free and seems to be popular with other users with more than 4,000 views!
What do you think about how 3D printing can be used to celebrate Easter? Let us know in a comment below or on our Linkedin, Facebook and Twitter pages! Sign up for our free weekly Newsletter here, the latest 3D printing news straight to your inbox!